Visiting Barby and Harold in Europe
March 19-April 7, 2002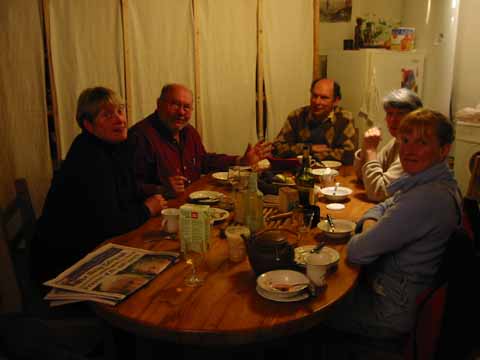 Here are some favorite shots from our visit to Barby and Harold's house in Augerans via London and Paris.
---
Starting in London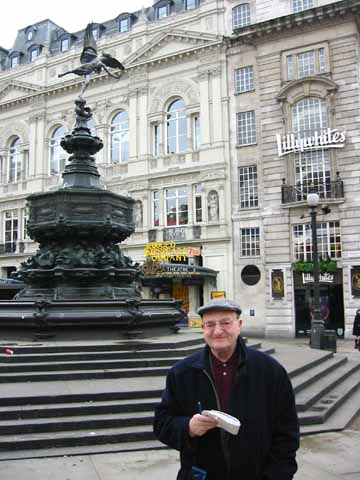 Street photographer, Piccadilly Circus (image 020321-D-427_1).
We flew from San Francisco to London and spent the nest two days sleeping off the jet lag in our hotel before I finally got up and walked outside. This old man is a career street hustler. He came up to me pretending to click his camera so I would feel obligated to buy photos he shot. In fact, he didn't expose any film until I agreed to it for two pounds. Well, he shot three shots and wanted two pounds for each of them. I gave him a five-dollar bill which wasn't enough (actually it was) so I gave him a ten and tried to get the five back and had to tug it from his hands. He said he took four and I said he only took three so I got my five back and only got fleeced by about 200 percent. It was all quite fun and worth every penny (cent).
Once this business transaction was over, he and I could chat freely. He told me he was housed in the Regent Palace hotel during the blitz in WWII and that the hotel took a bomb. It was not clear that he was in the hotel when it was hit. He was a ten-year-old boy at the time. Our friend John Roscoe said he stayed there once also.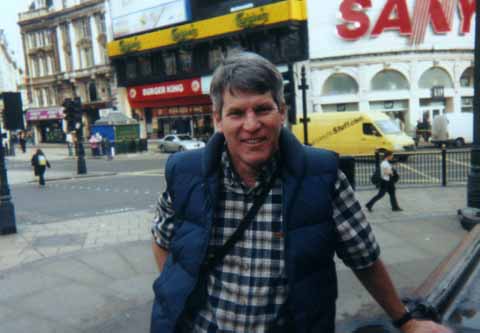 Mikie in Piccadilly Circus (image 020321-D-427_2).
He actually did mail me the three shots, one of which is pretty good.

Street photographer with new "customers" (image 020321-D-429).
I took a couple photos of the old street hustler hustling another couple whilst I took street scenes.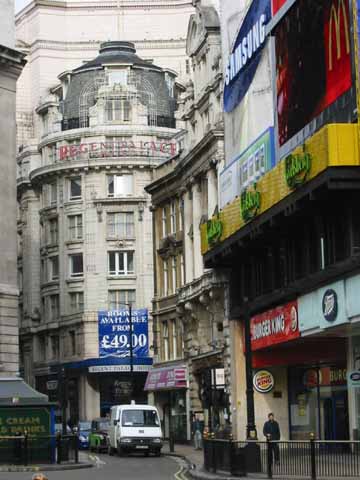 Regent Palace (image 020321-D-433).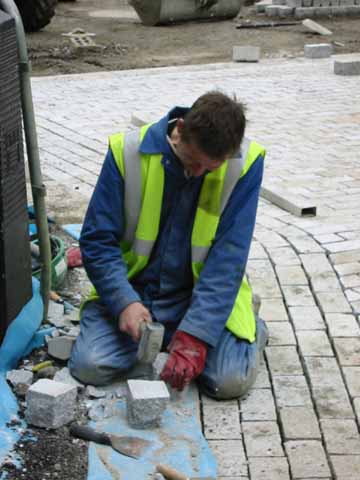 Stone cutter (image 020321-D-437).
This granite was shipped from China. He gave me a piece to take home.

London Hippodrome (image 020321-D-438).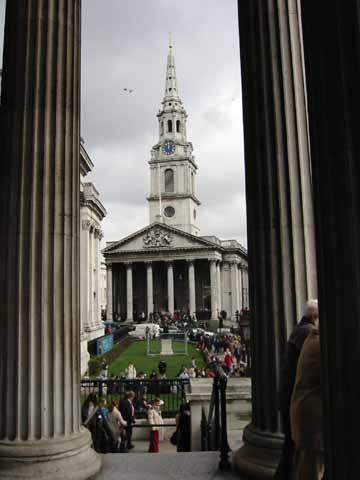 View from the National Gallary (image 020321-D-442).

St. Stephens Tower which houses Big Ben (image 020321-D-446).
"Big Ben" is actually the name that applies just to the deepest-sounding bell - the one that tolls the hours.

Looking up (image 020321-D-449).

Pretty fancy-looking barbed wire around Parliament (image 020321-D-447).

Parliament from across the river (image 020321-D-451).

Westminster Abbey with statues of 20th-Century Christian martyrs (image 020321-D-456).
Note Martin Luther King Jr., fifth from the left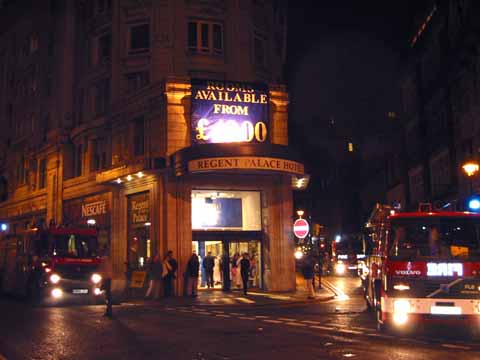 Fire alarm (image 020322-D-461).
Our hotel had lots of students and nearly every night somebody would pull a false-alarm and we'd have a fire drill.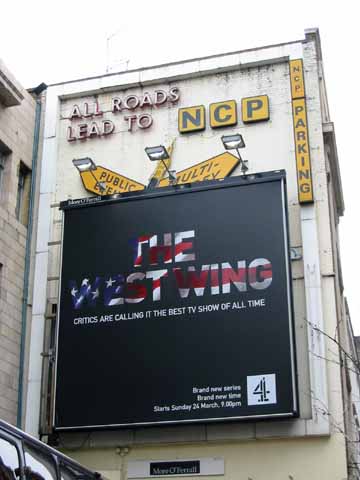 So the TV show "The West Wing" is coming to Europe (image 020322-D-467).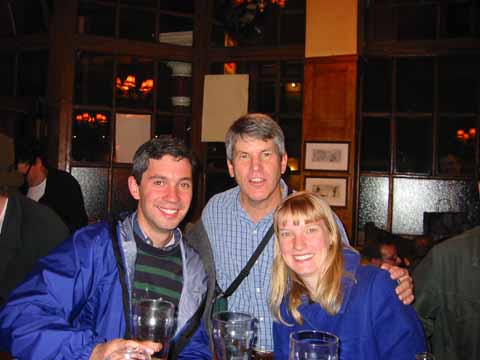 Thomas, Michael, and Mary Jane (image 020322-D-469).
Mary Jane and I met up with our Belgian friend Thomas who left the Earthquake Hazards Team at USGS to work on his Ph.D. in England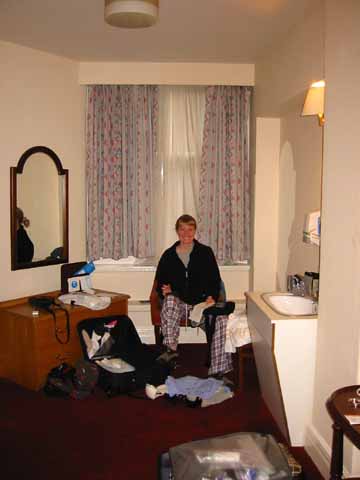 Our cluttered hotel room (image 020323-D-470).

Starbucks in an improvement for coffee drinkers in England (image 020323-D-474).
On to Paris
L'Ecritoire, our favorite coffee shop in Paris (no more Starbucks) (image 020325-D-477).
We took the Chunnel train from London to Paris' Gare du Nord and managed to survive the trains and get to our hotel in the Latin Quarter on the Left Bank. We had breakfast in this little place about three mornings in a row.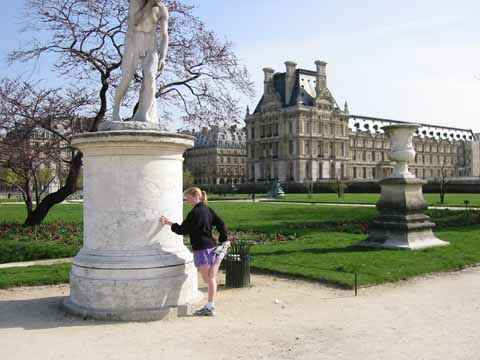 Mary Jane stretching before our run (image 020325-D-478).

Mike stretching before our run (image 020325-D-479).
We put on our shorts and running shoes and pretended we were going to get a long workout by running all over Paris. We actually did put on some seven or so miles but very little of it was at a run. We went from the hotel to Place du Concord, down the Champs Eylsees, over to the Tour Eiffel, past the war college and home again.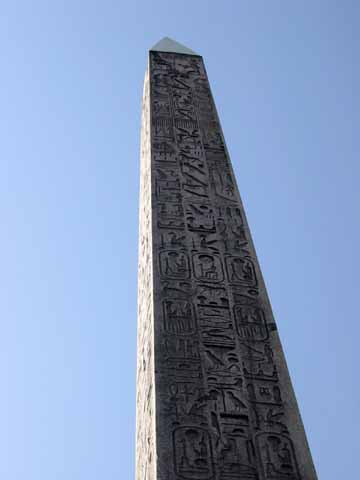 Luxor obelisk (image 020325-D-481).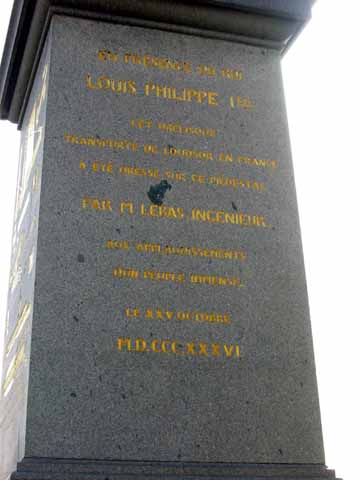 Base of the Luxor obelisk (image 020325-D-485).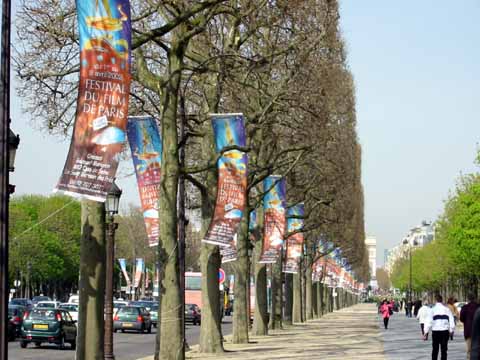 Festival du Film posters on the Champs Eylsees (image 020325-D-486).

Festival du Film poster (image 020325-D-487).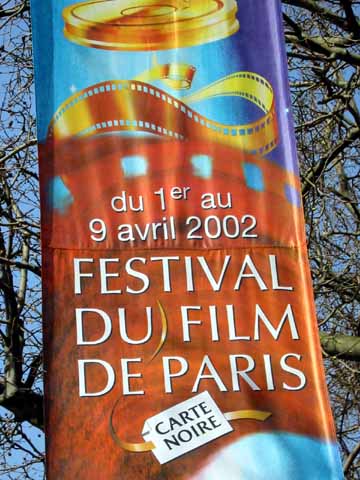 Festival du Film posters (image 020325-D-488).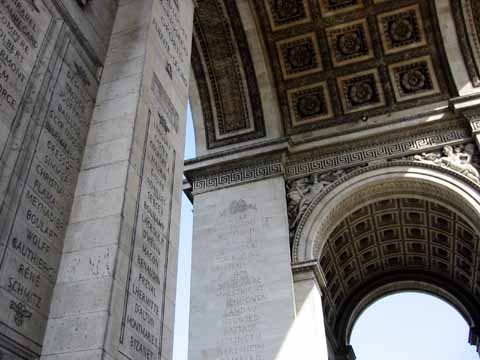 Battle names at the Arc de Triomphe (image 020325-D-48).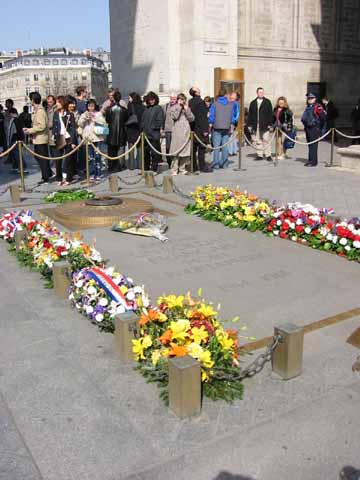 Tomb of the Unknown Soldier (image 020325-D-491).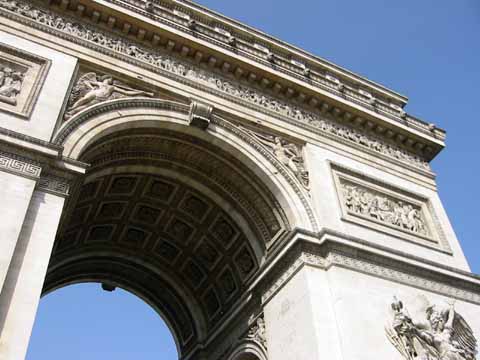 Arc de Triomphe (image 020325-D-492).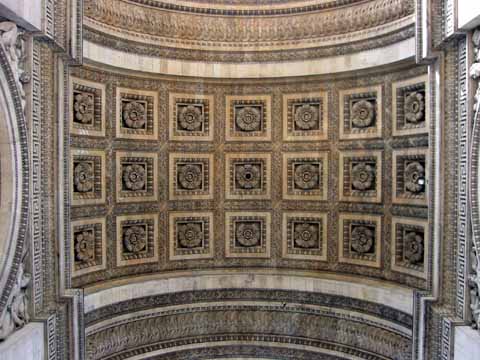 Looking up (image 020325-D-499).

Champs Eylsees (image 020325-D-495).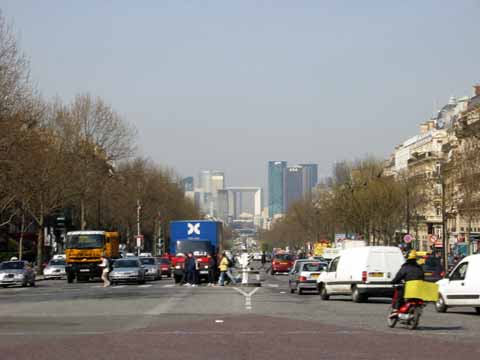 Grande Armee (image 020325-D-496).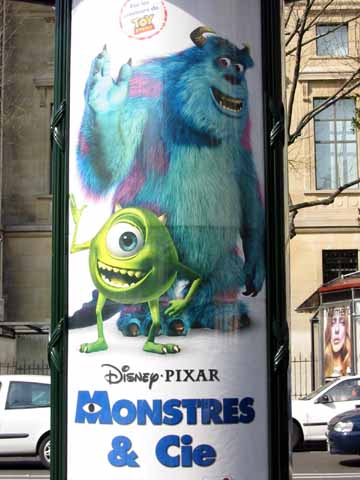 Monsters & Cie (image 020325-D-500).

Tour Eiffel (image 020325-D-501).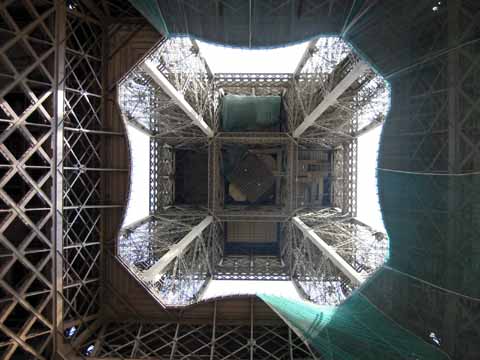 Looking up (image 020325-D-509).

The netting is part of a work project on the tower (image 020325-D-513).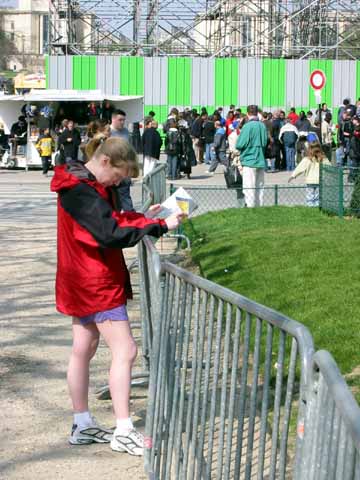 Beginning of the Champ du Mars (image 020325-D-516).

Musee d'Orsay line (image 020326-D-529). We went to Musee d'Orsay the next day and the queue went on forever. We gave up, had something to eat. When we got finished, the line had thinned out a lot so we went on in.

One-man band playing for the queue (image 020326-D-531).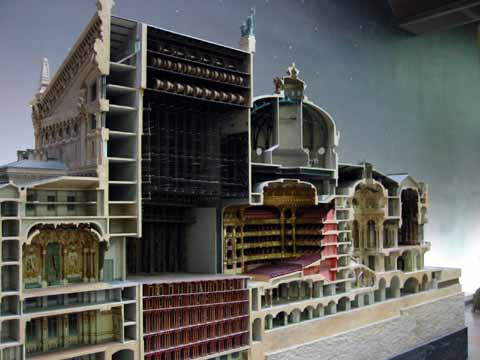 Model of the Opera house (image 020326-D-533).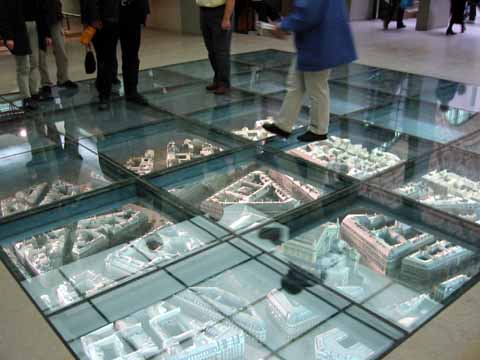 You can walk on the glass ceiling of this model of the Opera and surrounding buildings (image 020326-D-535).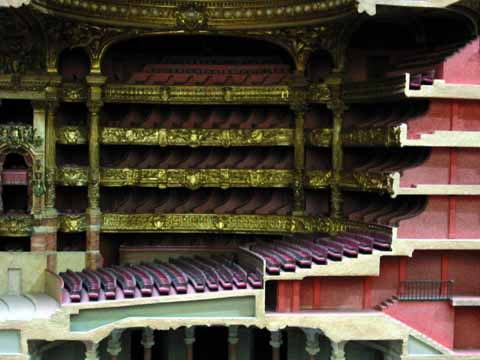 Model, detail (image 020326-D-539).

This sidewalk sculpture would look good outside the Earthquake Hazards building at USGS (image 020326-D-548).

View from our window (image 020326-D-553).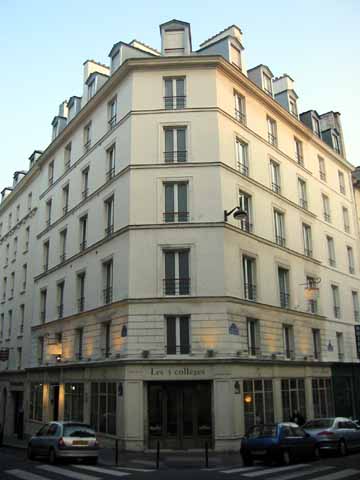 Our hotel (image 020327-D-557).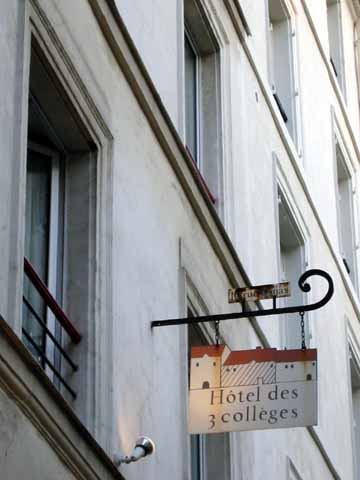 Hotel des 3 Colleges (image 020327-D-559).

Collection de Mineraux, the minerals museum (image 020327-D-561).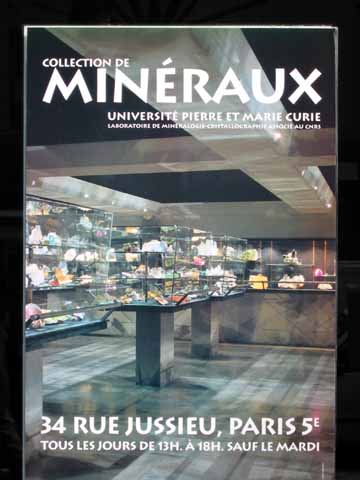 We had to visit the geology exhibit (image 020327-D-562).

Plan de la Bastille (image 020327-D-567).
This plaque shows the relative position of the present-day buildings (difficult to see in this photo) and the plan of the old prison. The Colonne de Juillet stands there now.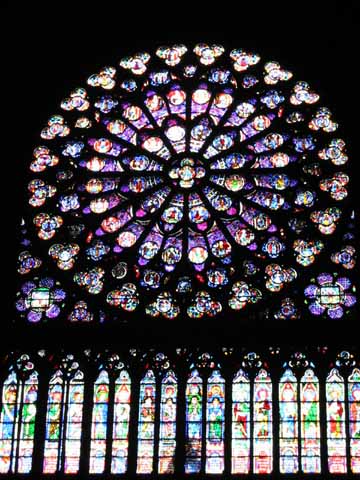 Notre-Dame (image 020327-D-575).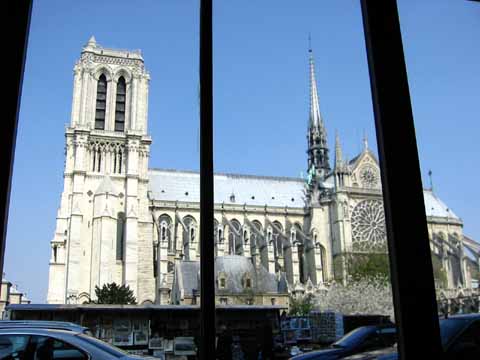 We hit a tourist cafe across the bridge from Notre-Dame but it was still just fine (image 020327-D-576).
South to Dole and Augerans
After our fiasco getting across town with our gear on the train, we indulged in the luxury of a taxi to get to Gare Leon to catch the TGV fast train south to Dole. Harold picked us up at the depot and we began the pastoral part of our visit

Dole (image 020328-D-578).

This is where you were kept if you were a leper (image 020328-D-579).

Harold and Mary Jane at the street market (image 020328-D-581).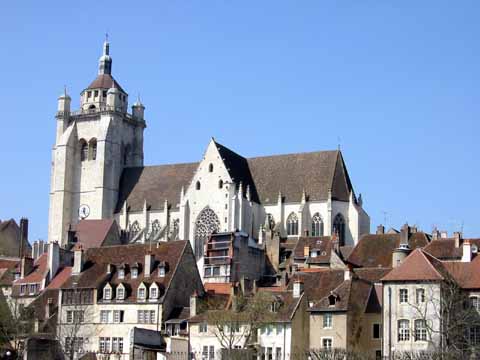 Dole cathedral (image 020328-D-589).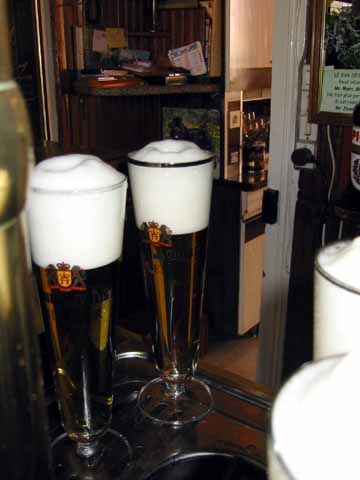 Time for a beer (image 020328-D-590).

Cartoon of the bartender (image 020328-D-591).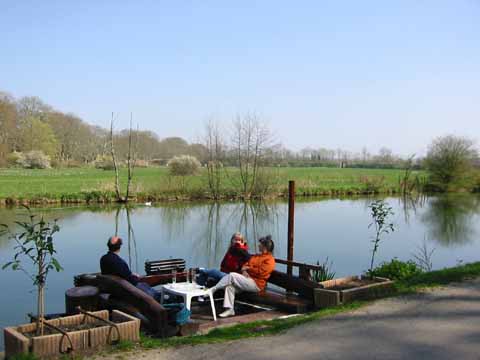 Lunch on the river (image 020328-D-592).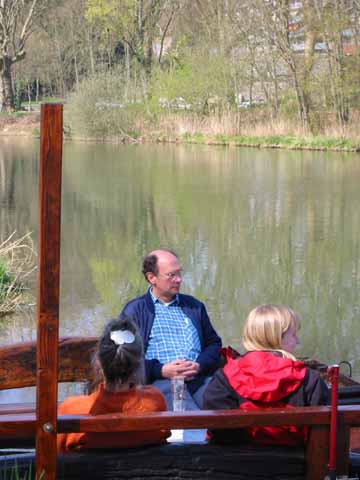 Barby, Harold, and Mary Jane (image 020328-D-593).

Looking back at our lunch spot (image 020328-D-594).

Harold, Mikie, and Barby (image 020328-D-595).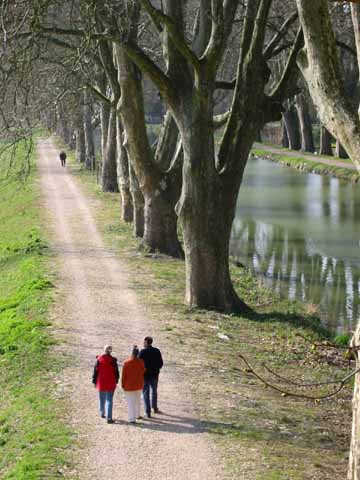 Mary Jane, Barby, and Harold (image 020328-D-599).

Mike and Twinkle Star (image 020329-D-603).

Mary Jane and Mikie at our lunch spot on the river bar (image 020329-D-604).
Harold took Mary Jane and me into Dole and let us off for the day. We walked downstream, followed the river when the canal split off, and ended up wandering through pastures and bushes to this lunch spot. We crawled under a barbed-wire fence, slogged through mud to get around a slough, found a dirt road that turned to a paved road that got to a town and phoned Harold and Barby for a ride home. We got about half way from Dole to Augerans; we are pretty proud of ourselves. We also figured out how to buy a phone card and use it.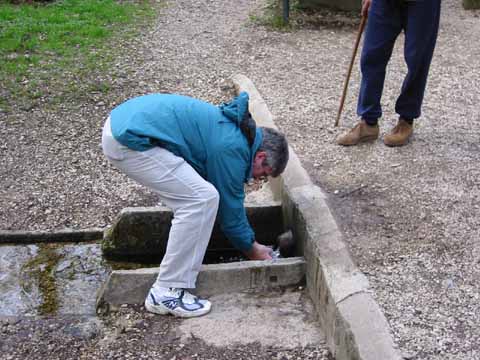 Spring water (image 020329-D-605).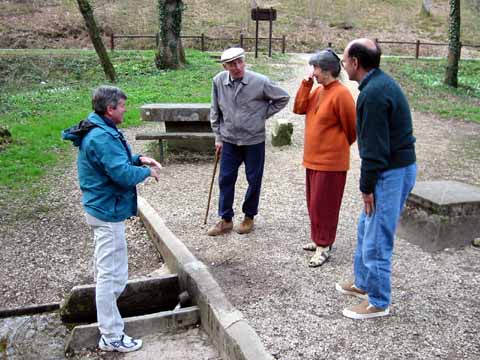 We met this old fellow at the spring (image 020329-D-606).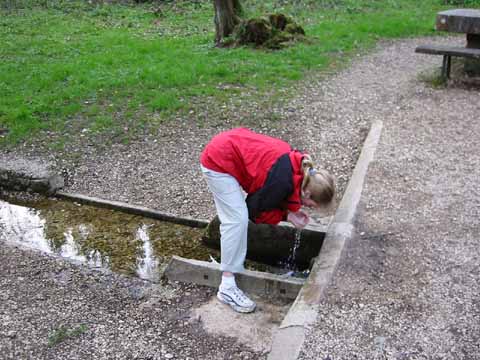 This is a nice forest preserve in the largest deciduous forest in Europe (image 020329-D-607).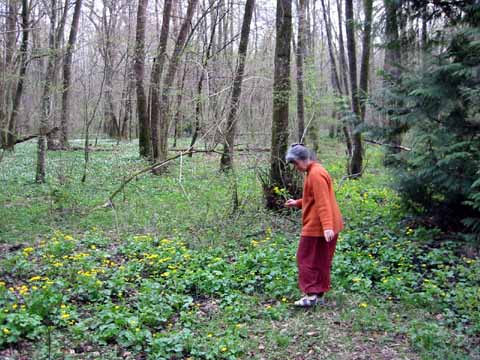 Picking flowers (image 020329-D-608).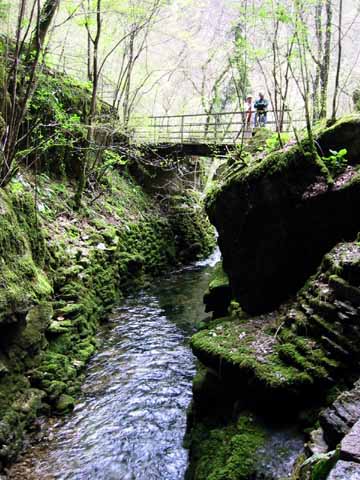 On the way to a tour of Cave Planches (image 020330-D-615).

Scour basin in the cave from intense Pleistocene melt runoff (image 020330-D-624).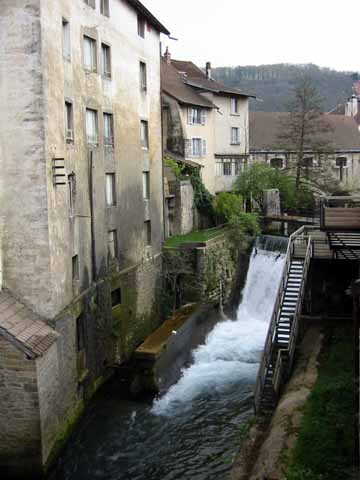 I think this is an old mill race to the left of the waterfall but the water wheel is gone now (image 020330-D-627).

River in Arbois (image 020330-D-628).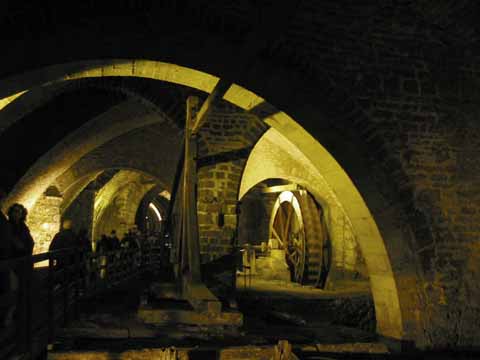 Salt mine. The water wheel runs the rocker arm overhead that runs brine pumps (image 020330-D-633).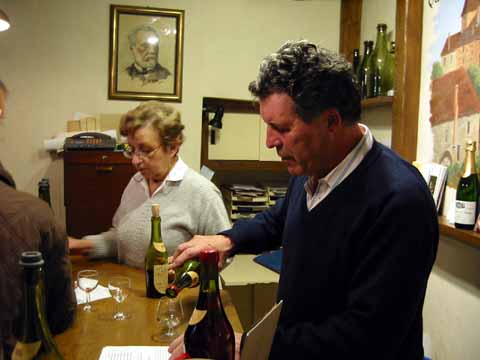 Jean-Francois Nevers (image 020330-D-646).
We bought about two cases of wine from these folks. They are the best. I have several bottles of Jurassian chardonnay at home now, along with a bottle of ten-year-old vin jaune that I'll open in mid October. It will still be good through New Years.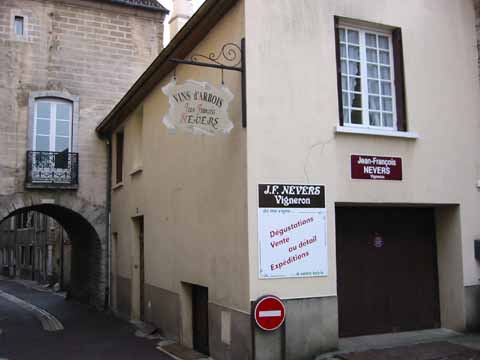 Vins d'Arbois Nevers (image 020330-D-647).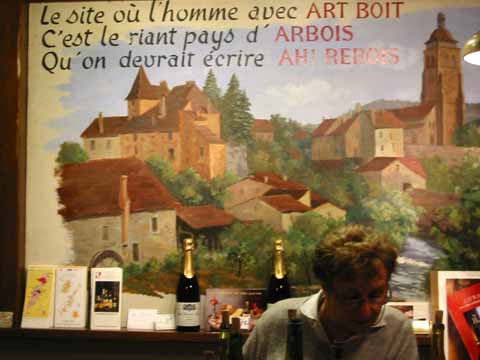 Poem (image 020330-D-650).
The site where man with art doth drink
It's the mirthful county of Arbois
Which one should write "until we drink again."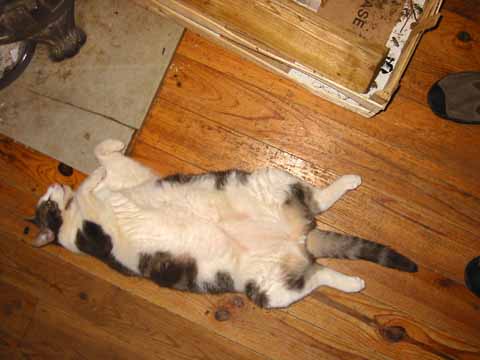 Twinkle Star (image 020330-D-651).
Also known as Mustard Brain and Flubber Guts; a great cat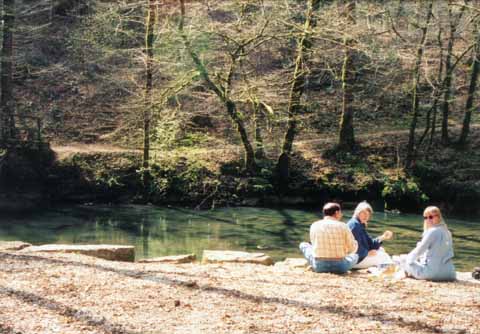 Yet another picnic on the banks of yet another river (image 0204N-06).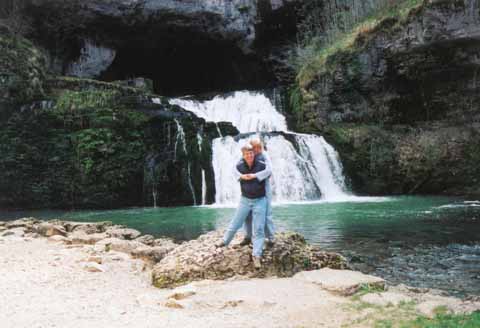 Mikie and MJ in front of yet another waterfall (image 0204N-07).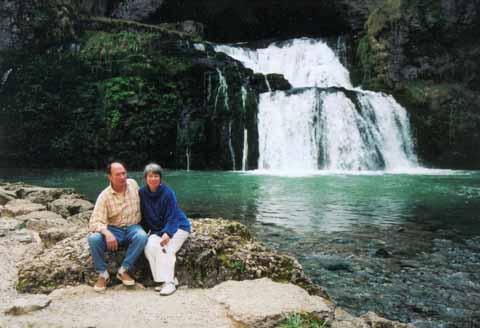 Harold and Barby looking quite cute (image 0204N-12).

We borrowed this yellow Labrador retriever for this shot of Mary Jane, Mikie, Barby, and Harold (image 0204N-15).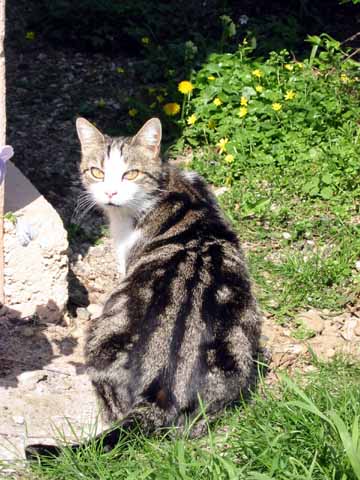 Little Mother (image 020330-D-654).
We kept expecting Little Mother to have her kittens any day. She seems to be having kittens every time you turn around, either that or bringing in mice. She is a kitten maker; she turns mice into kittens.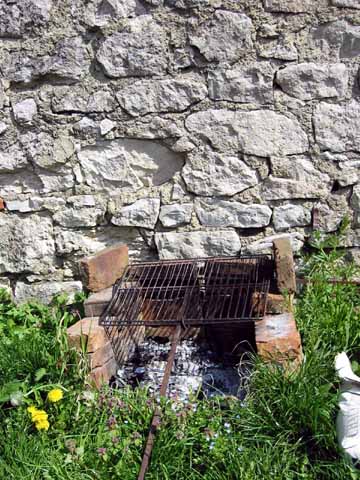 Old pit that served as a barbeque (image 020330-D-655).
Harold wanted to have a barbeque when Peggy and Bobby arrived from Scotland. The old fire pit just didn't seem good enough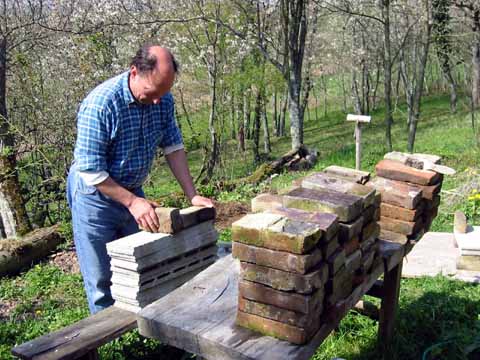 Fitting bricks (image 020330-D-656).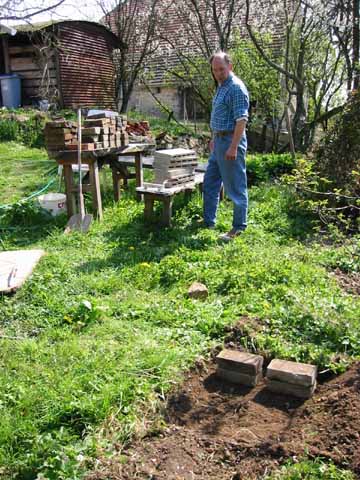 Laying the foundation (image 020330-D-657).

Mixing the sand and cement to make concrete (image 020330-D-658).

Mike's job was to scrub the moss off the used bricks (image 020330-D-659).

Laying first four courses (image 020330-D-660).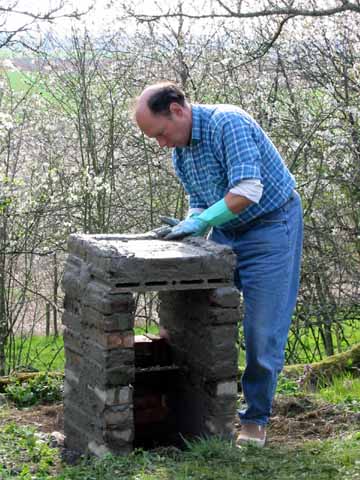 We had to wait for the first four or five courses to set before adding the weight of more (image 020330-D-661).

Finishing touches (image 020330-D-665).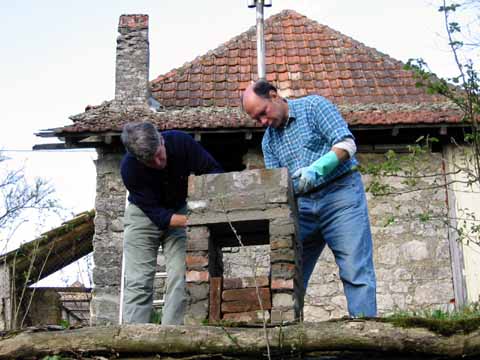 House in the background (image 020330-D-666).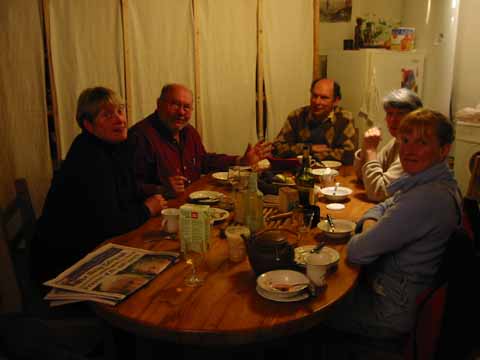 Peggy, Bobby, Harold, Barby, and Mary Jane (image 020401-D-671).
Here we are doing what we did a lot: sitting around the table eating cheese and drinking wine while we told innumerable stories.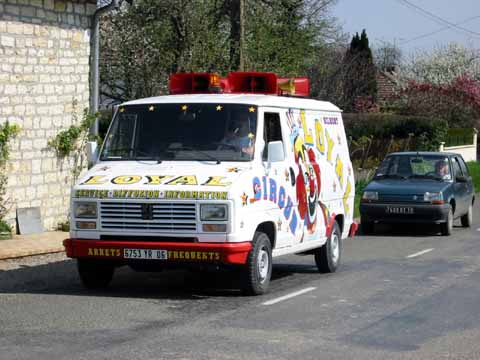 Circus van with loudspeakers (image 020403-D-682).
Mary Jane and I walked about half way from our little cottage on the river and this loudspeaker van rolled through town. He switched from French to English when he saw me act like a tourist and take his picture. Barby said he likely thought we were either German or Dutch; nobody else tours this area this time of year. She said we certainly wouldn't be from the U.S. And English is a likely language for any tourist to know so the van driver used it.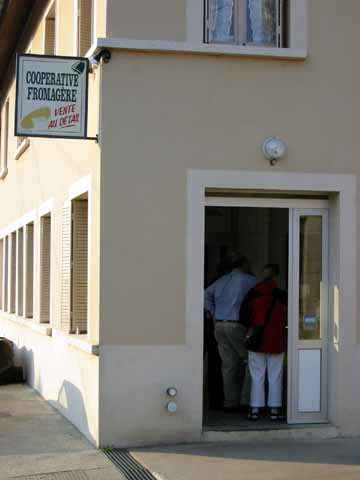 Cooperative Fomagere (image 020403-D-688).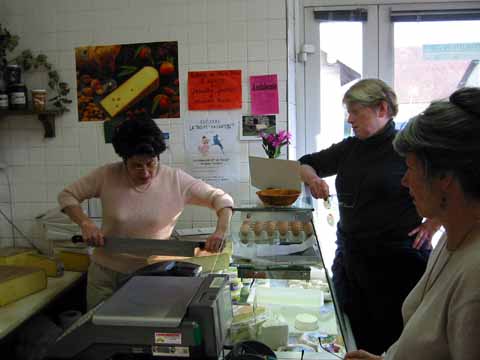 Our favorite cheese shop (image 020403-D-690).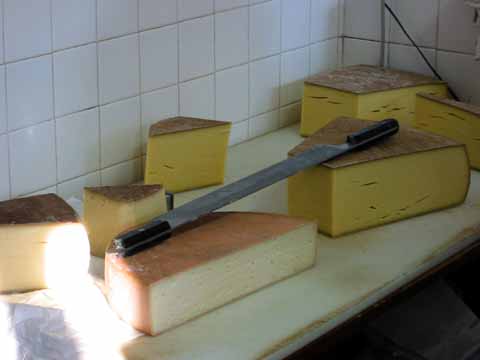 We got several kinds of cheese (image 020403-D-691).

We melted this block of rachlette ("to scrape") on one surface, scraped it off, and spread it on potatoes - yum! (image 020403-D-692).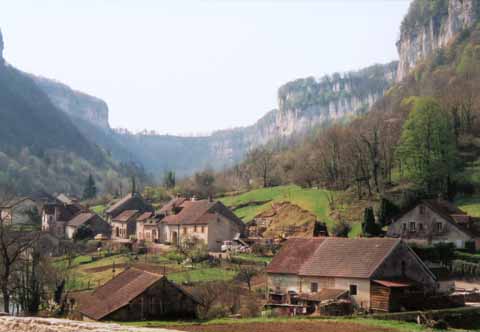 Village under the cliffs (image 0204N-28).
These cliffs are Jurassic limestone formed in a shallow marine environment similar to the Bahama Banks of today. The Jura is the type locality of the Jurassic time period. Mary Jane and I took some rock some samples home (we are geologists, after all). Barby and Anna also collected some ammonites some years back that had weathered out of the bedrock and were washed out in a stream. The ammonites went extinct as a result of the same meteor impact that killed the dinosaurs 63 million years ago. The Jurassic ammonites have septa that are far less crenulated than the Cretaceous ones. They look more like today's Nautiloids (which survived the impact). It is thought that the development of those crenulations made ammonites able to fit a particular niche well but unable to survive changes in their environment. Perhaps if the meteor had hit 100 million years sooner, we'd have ammonites today.

Peeking over a fence (image 0204N-32).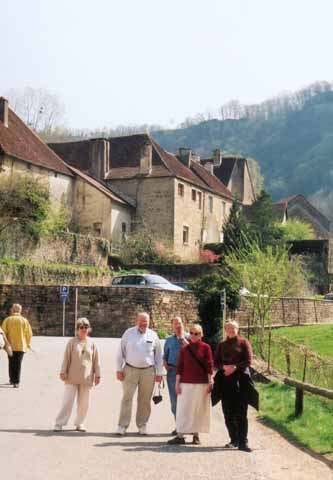 Barby, Bobby, Harold, Mary Jane, and Peggy (image 0204N-35).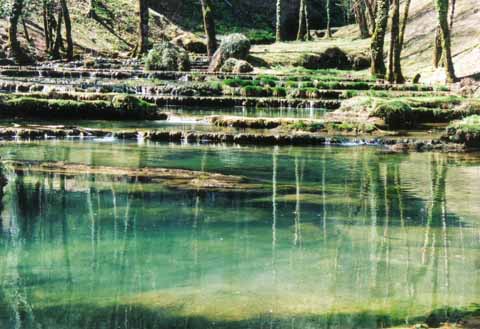 water pouring over the travertine it forms (image 0204P-03).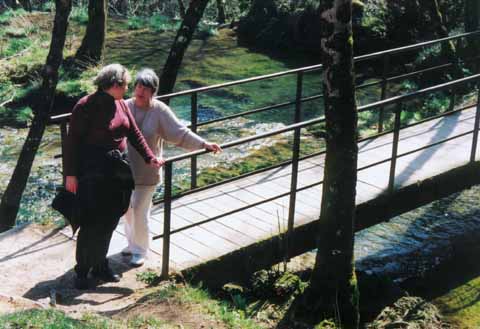 Peggy and Barby on the stream (image 0204P-05).

Mary Jane going to check out the patisserie (image 0204P-08).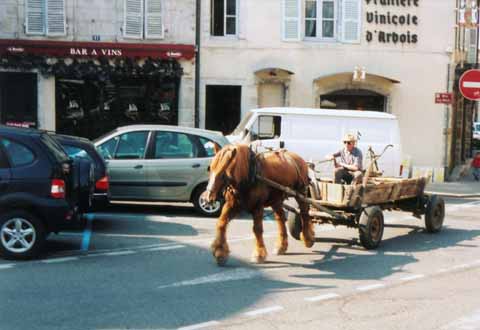 Traffic backed up behind this old fellow a bit but life is good (image 0204P-09).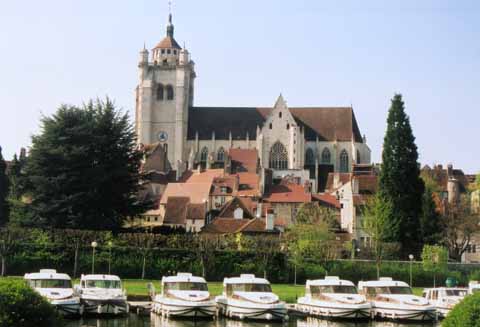 Dole, where you can rent one of these boats for a canal-trip vacation (image 0204P-24).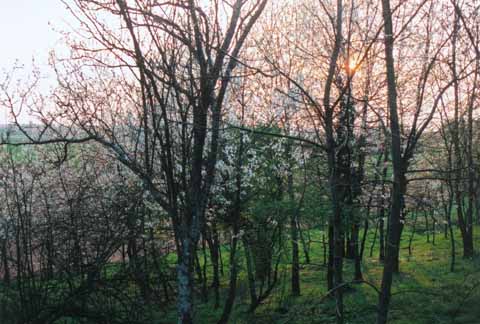 View from Barby and Harold's back yard (image 0204P-14).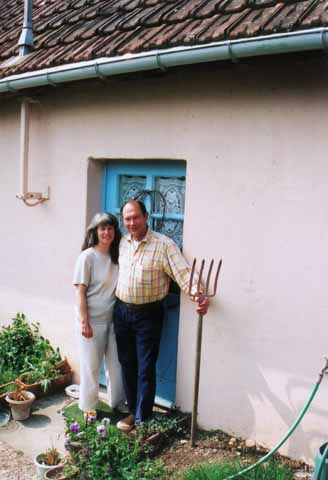 The classic shot at the cottage door (image 0204P-17).
Back to London and thence home to California
New Atlantic Hotel (image 020407-D-707).

Our window was in the middle on the left (image 020407-D-708).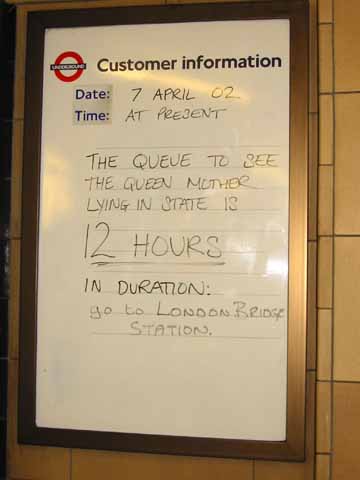 Sign in the Underground (image 020407-D-721).
We are sad that the Queen Mum passed away between when we left London and when we returned three weeks later. The queue was so long, the Underground would tell you which Tube stop should be used to get to the end of the line.

Harrod's getting a face lift (image 020407-D-718).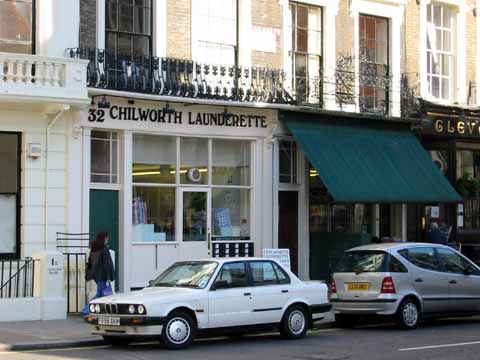 Chilworth Launderette (image 020407-D-710).
Ah, fresh laundry for sitting in an airplane for hours on end.
---
---
CLICK HERE to return to Mike Diggles' home page
---
The URL of this page is http://www.diggles.com/europe2002/index.html
Date created: 4/28/2002
Last modified: 5/27/2002

Web page by Michael and Mary Jane. email to Mike (mike@diggles.com) .