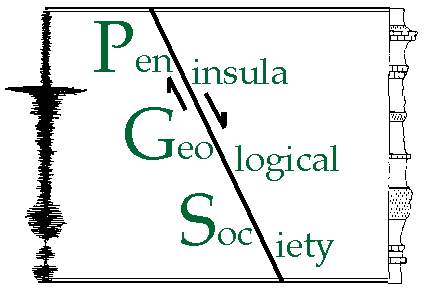 PENINSULA GEOLOGICAL SOCIETY
MENDOCINO: OUR VERY OWN TRIPLE JUNCTION, PART II
Seismicity of the Mendocino Triple Junction
Seismic images of the Mendocino Triple Junction - the '93, '94 Continental Dynamics Project

DINNER MEETING - Wednesday, May 8, 1996
Location: Stanford University
5:30 PM-Wine Tasting: Mitchell Bldg., first floor
6:00 PM-Dinner: . . . Mitchell Bldg., first floor
7:00 PM-Tour: . . . Reconstructed Geology Corner, led by Ben Page
7:30 PM-Meeting: Geology Corner on the Quad, Room 105 (formerly Room 320) (see map
Celebrate our return to the old Geology Building

Between the dinner and the lecture, BEN PAGE Will lead a tour through part of the reconstructed Geology Corner building at Stanford
See the results of a beautiful reconstruction
Hear what it was like to be in the building during the Loma Prieta earthquake.
Learn the location of Branner's office and of the offices of other professors.

The PGS dinner before the meeting will adjourn early to accommodate the tour
Anyone wishing to attend the tour and lecture only is welcome at no cost.
---
Stanford faculty and students: Please make dinner reservations by Monday, May 6. Contact Dr. Juhn Liou via his mailbox (and leave check), Geological and Environmental Sciences Office, Mitchell Bldg. (Rm. 138). Make checks out to "PGS."

All others, including faculty and students from other Bay Area universities and colleges and USGS: Please make dinner reservations by Monday, May 6. Contact John Galloway, at USGS, MS-904, 345 Middlefield Rd., Menlo Park, CA 94025, phone 415-329-5688. Send check made out to "PGS" to John.

Dinner is $22.00. Includes wine (5:30 to 6:00 PM.), dinner (6:00-7:30 PM.), tax, and tip.
For students from all universities and colleges, the dinner, including the social half-hour, is $10.00 and is partially subsidized thanks to the Associates of School of Earth Sciences, Stanford University

Dues for Academic Year 1995-96 ($5.00) should be sent to John Galloway, USGS, MS-904, 345 Middlefield Rd., Menlo Park, CA 94025. John's phone: 415-329-5688.

Officers: Chet Wrucke, President; Mike Diggles, Vice President; Vicki Langenheim, Secretary; John Galloway, Treasurer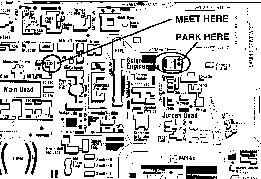 Date created: 04/24/1996
Last modified: 02/06/2003
Created by: Mike Diggles, Vice President, PGS.


c/o U.S. Geological Survey, MS-951, 345 Middlefield Road, Menlo Park, CA 94025. (650) 329-5404 email to mdiggles@usgs.gov Back to PGS Home Page