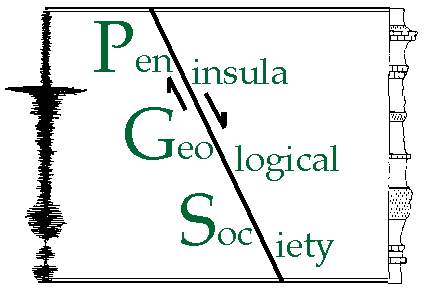 PENINSULA GEOLOGICAL SOCIETY
Presents
Aniakchak Volcano, a Holocene caldera in the Aleutian arc
DINNER MEETING - Tuesday, December 5, 2000
Location: Stanford University
5:30 PM-Wine Tasting: Mitchell Bldg., first floor
6:15 PM-Dinner: . . . Mitchell Bldg., first floor
7:30 PM-Meeting: . . . Skilling Auditorium

see map

Anyone wishing to attend the lecture only is welcome at no cost.

This will be the 332nd meeting since 1954.
---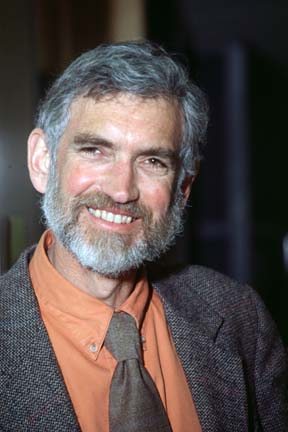 Charlie Bacon at the SHRIMP opening. Photograph by Mike Diggles, April, 1998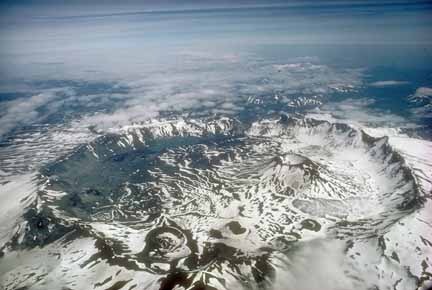 Aerial view, looking east, of Aniakchak caldera, one of the most spectacular volcanoes on the Alaska Peninsula. Formed during a catastrophic ash-flow producing eruption about 3,400 years ago, Aniakchak caldera is about 10 km (6 mi) across and averages 500 m (1,640 ft) in depth. Voluminous postcaldera eruptive activity has produced a wide variety of volcanic landforms and deposits within the caldera. The volcano is located in Aniakchak National Monument and Preserve, Alaska, which is administered by the National Park Service. Photograph by M. Williams, National Park Service, 1977.
Images available in Neal, Christina, and McGimsey, Robert, 1997, Volcanoes of the Alaska Peninsula and Aleutian Islands-selected photographs: U.S. Geological Survey Digital Data Series DDS-40 (CD-ROM and, low-resolution version, at http://caldera.wr.usgs.gov/#DDS_40_WEB).
---
Reservations: The preferred way to make reservations is simply to email Willie Lee at whklee@ix.netcom.com by Friday, December 1, tell him you will attend, commit to pay, and bring your payment to the meeting. A check made to "PGS" is preferred.

If you want to pay in advance:

Stanford faculty and students: Please make dinner reservations by Friday, Friday, December 1. Contact Dr. Juhn Liou via his mailbox (and leave check), Geological and Environmental Sciences Office, Mitchell Bldg. (Rm. 138). Make checks out to "PGS."

All others, including faculty and students from other Bay Area universities and colleges and USGS: Please make dinner reservations by Friday, November 3. Contact Willie Lee, at USGS, MS-977, 345 Middlefield Rd., Menlo Park, CA 94025, phone 650-329-4781. Send check made out to "PGS" to Willie.

Dinner is $25.00. Includes wine (5:30 to 6:15 PM.), dinner (6:15-7:30 PM.), tax, and tip. Note: PGS does not make revenue on this price.
Please note: Because dinners are contracted with our caterer, no-shows will be billed.

For students from all universities and colleges, the dinner, including the social half-hour, is $5.00 and is partially subsidized thanks to the Associates of School of Earth Sciences, Stanford University (Note, no-show reservations owe the full price).

Dues for Academic Year 2000-2001 ($10.00) should be sent to Willie Lee, USGS, MS-977, 345 Middlefield Rd., Menlo Park, CA 94025. Willie's phone: 650-329-4781.

Officers: Gary Ernst, President; Mike Diggles, Vice President; Vicki Langenheim, Secretary; Willie Lee, Treasurer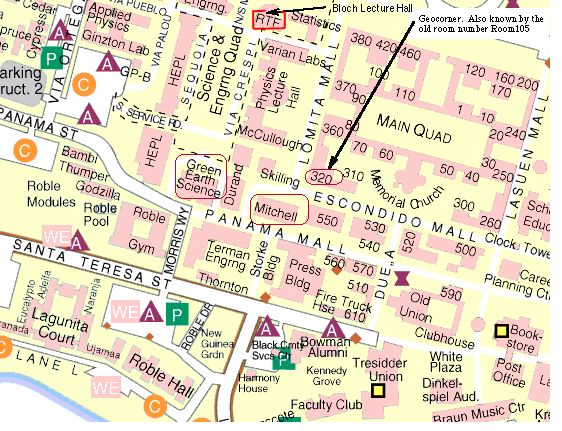 Date created: 11/20/2000
Last modified: 02/19/2003
Created by: Mike Diggles, Vice President, PGS.


c/o U.S. Geological Survey, MS-951, 345 Middlefield Road, Menlo Park, CA 94025. (650) 329-5404. email Mike Diggles at mdiggles@usgs.gov Back to PGS Home Page