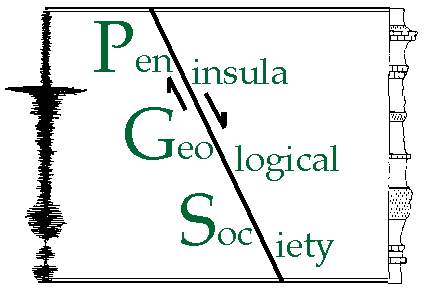 PENINSULA GEOLOGICAL SOCIETY
Presents
SWEATing the details: Stratigraphic ties between Death Valley and Antarctica?
DINNER MEETING - Tuesday, May 1, 2001
Location: Stanford University
5:30 PM-Wine Tasting: Mitchell Bldg., first floor
6:15 PM-Dinner: . . . Mitchell Bldg., first floor
7:30 PM-Meeting: . . . Skilling Auditorium

see map

Anyone wishing to attend the lecture only is welcome at no cost.

This will be the 337th meeting since 1954.
Abstract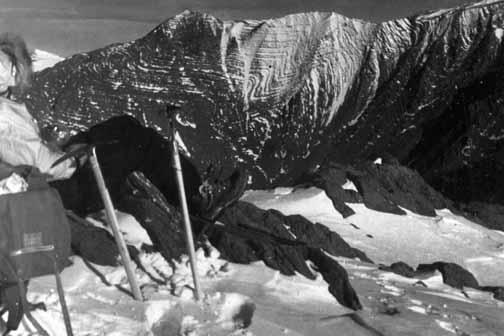 Pensacola Mountains, Antarctica. Photograph taken in the mid 1960's by Art Ford
Does the Patuxent Formation in the Pensacola Mountains, Antarctica (pictured above) correlate with the Kingston Peak Formation in Death Valley, California? This is one of several tests proposed by Eldridge Moores in his 1991 paper Southwest US-east Antarctic (SWEAT) connection: A hypothesis. Jim Calzia has completed this and other tests of this fantastic hypothesis; you are invited to hear him SWEAT the details at the next PGS Meeting May 1, 2001.
About the Speaker
Paula Kosunen and Jim Calzia at fieldwork on the eastern fringe of the Death Valley
Jim Calzia is a Research Geologist at the U.S. Geological Survey in Menlo Park, Calif. He has spent most of his 28-year career studying the geology and mineral resources of the southwest US, especially the Death Valley region. He received his PhD in Geology in 1990 from U.C. Davis; Eldridge Moores was his PhD advisor!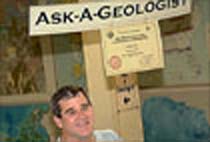 The"Ask-A-Geologist"guy
---
Also note: Field Trip
May 17 through 20, 2001 - Bob Christiansen and Gary Ernst will lead a four-day field trip to Mt. Shasta and the Klamath Mountains.
---
Reservations: The preferred way to make reservations is simply to email Willie Lee at whklee@ix.netcom.com by Friday, April 27, tell him you will attend, commit to pay, and bring your payment to the meeting. Willie always emails a confirmation; if you don't get one, assume email crashed yet again and email him a second time. A check made to"PGS"is preferred, payable at the meeting.

If you want to pay in advance:

Stanford faculty and students: Please make dinner reservations by Friday, April 27. Contact Dr. Juhn Liou via his mailbox (and leave check), Geological and Environmental Sciences Office, Geocorner - Bldg. 320 (Rm. 118). Make checks out to"PGS."

All others, including faculty and students from other Bay Area universities and colleges and USGS: Please make dinner reservations by Friday, April 27. Contact Willie Lee, at USGS, MS-977, 345 Middlefield Rd., Menlo Park, CA 94025, phone 650-329-4781. Send check made out to "PGS"to Willie.

Dinner is $26.00 (note price increase). Includes wine (5:30 to 6:15 PM.), dinner (6:15-7:30 PM.), tax, and tip. Note: PGS does not make revenue on this price.
Please note: Because dinners are contracted with our caterer, no-shows will be billed.

For students from all universities and colleges, the dinner, including the social half-hour, is $5.00 and is partially subsidized thanks to the Associates of School of Earth Sciences, Stanford University (Note, no-show reservations owe the full price).

Dues for Academic Year 2000-2001 ($10.00) should be sent to Willie Lee, USGS, MS-977, 345 Middlefield Rd., Menlo Park, CA 94025. Willie's phone: 650-329-4781.

Officers: Gary Ernst, President; Mike Diggles, Vice President; Vicki Langenheim, Secretary; Willie Lee, Treasurer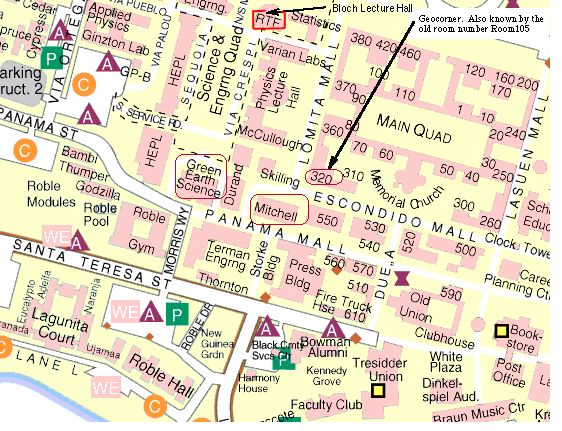 Date created: 04/12/2001
Last modified: 04/10/2003
Created by: Mike Diggles, Vice President, PGS.


c/o U.S. Geological Survey, MS-951, 345 Middlefield Road, Menlo Park, CA 94025. (650) 329-5404. email Mike Diggles at mdiggles@usgs.gov Back to PGS Home Page