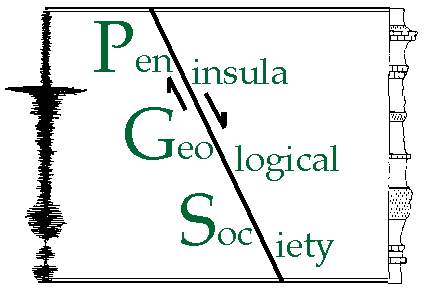 PENINSULA GEOLOGICAL SOCIETY
Field Trip
May 17 through 20, 2001 - Bob Christiansen and Gary Ernst will lead a four-day field trip to
Mt. Shasta and the Klamath Mountains.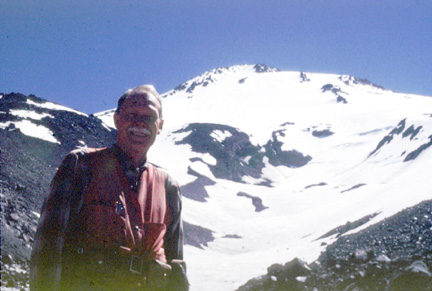 Bob Christiansen in his element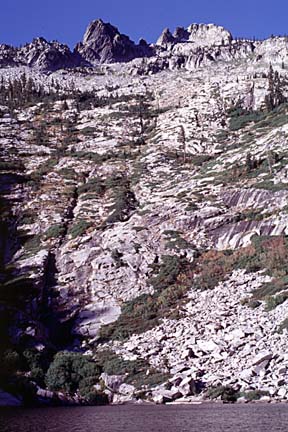 Gary Ernst's kind of country. Granite Lake photo by Mike Diggles
Schedule
Thursday, meet at either Geology Corner at Stanford or the main (northern) flagpole at USGS at 8:30 AM.

Some folks will stop at the Coffee Tree in Vacaville to join any "northerners" at about 10:30 AM.

Meet Bob Christiansen at the Chevron Station in the center of Mt. Shasta City at 1:30-2:00 PM.

Field work the rest of the day at Shasta and camp in a commercial campground there that Bob has picked out.

Friday, More field work at Shasta and move to the Klamath Mountains.

Camp at Idylwild Campground. Bring water for Idylwild.

Saturday, more field work in the Klamath Mountains.


Stay at Idylwild again

Sunday, a bit more field work and drive home.
---
We will pass out Klamath guidebooks at both gathering places Thursday morning and have several spares along for folks who join us along the way. Bob Christiansen will pass out Shasta guidebooks in Mt. Shasta City when we meet him there Thursday afternoon. If you want books after the trip (whether you went or not), email Mike Diggles at mdiggles@usgs.gov. Try to ridepool with other folks and get together in cooking groups as well. If all else fails, show up at one of the two meeting spots at 8:30 and we'll try to combine folks in fewer cars.

Sign Up: To come on this trip, just let us know. email Gary at ernst@pangea.stanford.edu and he will put your name on the list.
---
We would like it if you (or at least one member of a couple or family) were current member of PGS to come on this trip. Dues for Academic Year 2000-2001 ($10.00) should be sent to Willie Lee, USGS, MS-977, 345 Middlefield Rd., Menlo Park, CA 94025. Willie's phone: 650-329-4781.

Officers: Gary Ernst, President; Mike Diggles, Vice President; Vicki Langenheim, Secretary; Willie Lee, Treasurer

Date created: 05/04/2001
Last modified: 04/10/2003
Created by: Mike Diggles, Vice President, PGS.


c/o U.S. Geological Survey, MS-951, 345 Middlefield Road, Menlo Park, CA 94025. (650) 329-5404. email Mike Diggles at mdiggles@usgs.gov Back to PGS Home Page