7:30 PM-Meeting: . . . Skilling Auditorium

see map

Anyone wishing to attend the lecture only is welcome at no cost.

This will be the 340th meeting since 1954.
Abstract
Neogene marine sediments exposed in the Salton Trough, California, along the coast of Baja California, Mexico, on gulf islands, and along the Nayarit coast of mainland Mexico provide insights into the subsidence and marine history of basins intimately involved in the evolution of the Gulf of California. These sequences, along with data from DSDP sites in the gulf mouth area, allow analysis of patterns of basin subsidence, filling and deformation in a variety of crustal and depositional settings. Sediments and biofacies provide evidence of accompanying oceanographic and climatic events and the remarkably diverse tropical through temperate environments marking the gulf province. Geochronologic, lithologic and paleobathymetric data from stratigraphic sections arrayed from the northern reach of the gulf (Fish Creek-Split Mountain, California) to the mouth of the modern gulf (Isla Maria Madre, Mexico) allow use of backstripping techniques to derive rates of basin subsidence. The resulting subsidence curves reflect discrete phases in the subsidence and deformation of gulf basins. Estimated rates of subsidence during deposition of middle Miocene non-marine sediments in the western Salton Trough are typical of thermal decay. Earliest marine flooding of the southern gulf occurred during Miocene continental extension (ca 12-10 Ma) after spreading and subduction of microplates stopped off southern Baja California about 13 Ma. Initial mechanical subsidence to bathyal water depths occurred in the gulf mouth region about 10-6 Ma. Subsidence to bathyal water depths also occurred in the northernmost gulf at least as early as 7-6 Ma. Widespread subsidence to lower bathyal water depths occurred from 5-3 Ma accompanying Pliocene spreading, rifting and transform faulting within the evolving gulf. Seismic reflection profiles and data from onshore and DSDP sites illustrate that deformation of so-called Miocene "proto-gulf" sediments commenced along the eastern margin of the gulf as spreading and rapid subsidence were in progress along the evolving transform-rift boundary to the west. Finally, abyssal water depths were attained in the western gulf mouth region by 3.5-3 Ma. Late Pliocene, Pleistocene and Holocene deformation of Neogene basins has occurred along the entire western margin of the gulf in conjunction with continued spreading and oblique transform motion inside the gulf.
About the Speaker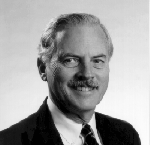 Jim Ingle is a marine stratigrapher and micropaleontologist who uses any excuse to travel to Baja California. Jim's first visit to Baja was in 1956 and he and his students have been treking south ever since. Jim's research is concerned with the depositional, paleoceanographic and tectonic history of continental margins around the Pacific Rim and associated marginal seas including the Sea of Japan and the Gulf of California. He has participated in DSDP and ODP investigations of these areas as well in many onshore expeditions to adjacent margins in Panama, Mexico, California, Japan and Korea. Jim's current research includes study of Neogene marine sequences exposed on islands in the Gulf of California including Isla Carmen and Isla San Jose.
See http://pangea.stanford.edu/GES/faculty/ingle.html for Jim's faculty Web site.
---
Reservations: The preferred way to make reservations is simply to email Janice Sellers at janice@seismosoc.org by Friday, November 9, tell her you will attend, commit to pay, and bring your payment to the meeting. Janice always emails a confirmation; if you don't get one, assume email crashed yet again and email her a second time. A check made to"PGS"is preferred, payable at the meeting.

If you want to pay in advance:

Stanford faculty and students: Please make dinner reservations by Friday, November 9. Contact Dr. Juhn Liou via his mailbox (and leave check), Geological and Environmental Sciences Office, Geocorner - Bldg. 320 (Rm. 118). Make checks out to"PGS."

All others, including faculty and students from other Bay Area universities and colleges and USGS: Please make dinner reservations by Friday, November 9. Contact Janice Sellers, at Seismological Society of America, 201 Plaza Professional Building, El Cerrito, CA 94530, phone (510) 559-1780. Send check made out to"PGS"to Janice.

Dinner is $26.00. Includes wine (5:30 to 6:15 PM.), dinner (6:15-7:30 PM.), tax, and tip.

For students from all universities and colleges, the dinner, including the social half-hour, is $5.00 and is partially subsidized thanks to the Associates of School of Earth Sciences, Stanford University (Note, no-show reservations owe the full price).

Dues for Academic Year 2001-2002 ($10.00) should be sent to Janice Sellers, Seismological Society of America, 201 Plaza Professional Building, El Cerrito, CA 94530. Janice's phone: (510) 559-1780.

Officers: Gary Ernst, President; Mike Diggles, Vice President; Vicki Langenheim, Secretary; Janice Sellers, Treasurer; Adina Paytan, Field-Trip Czarina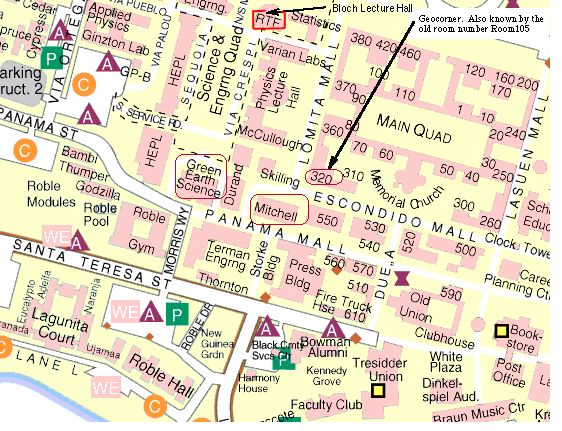 Date created: 10/17/2001
Last modified: 04/10/2003
Created by: Mike Diggles, Vice President, PGS.


c/o U.S. Geological Survey, MS-951, 345 Middlefield Road, Menlo Park, CA 94025. (650) 329-5404. email Mike Diggles at mdiggles@usgs.gov Back to PGS Home Page