7:30 PM-Meeting: . . . Skilling Auditorium

see map

Anyone wishing to attend the lecture only is welcome at no cost.

This will be the 341st meeting since 1954.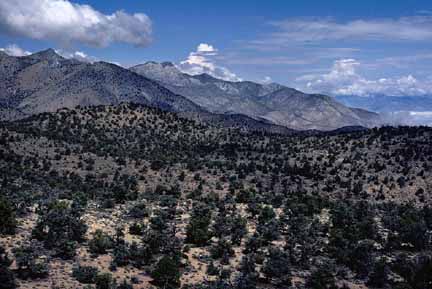 Inyo crest. View northward along the east side of the Inyo Mountains near Cerro Gordo (click photo for larger version).
Abstract
East-central California, an area of spectacular desert beauty with the backdrop of the Sierra Nevada, contains superb exposures of Paleozoic and Triassic rocks which provide a wealth of information concerning events that preceded the development of the Sierran magmatic arc. Beginning in the late Paleozoic the major geologic events we have identified are (1) Pennsylvanian basin formation and reorientation of the shelf margin, interpreted as probable evidence of continental truncation, (2) Early Permian contractional deformation interpreted to have resulted in emplacement of the Last Chance thrust, (3) a second widespread episode of thrusting and folding in the latter part of the Permian, (4) Early Triassic subsidence and deposition, (5) two subsequent periods of folding, probably in the Middle Triassic, (6) large-displacement dextral strike-slip faulting between the Inyo Mountains and Sierra Nevada in the Middle or Late Triassic, and (7) initial formation of the Sierran arc in the Late Triassic. These events have left a complex stratigraphic and structural record that has been further modified and partially obscured by later Mesozoic and Cenozoic events, making their recognition difficult and, in some cases, somewhat speculative. Despite this, however, the record clearly reflects a protracted and complex transition between the Paleozoic passive margin and the Mesozoic convergent margin in this part of California.
About the Speakers
Cal Stevens earned his B.S. from Univ. Colorado, 1956; M.S. from Univ. Colorado, 1958; and Ph.D. from Univ. Southern California 1963. He worked at Humble Oil (Exxon) 1958-1960 and has taught at San Jose State University 1963-present (Chairman 1976-1982). His geological interests include Permian corals, fusulinids, and stratigraphy, and Paleozoic and Triassic tectonics of the western U.S.

Paul Stone earned his B.A. from U.C. Berkeley, 1969; M.A. from U.C. Berkeley, 1977; and Ph.D. from Stanford, 1984. He works at the USGS 1977-present; currently with Earth Surfaces Processes Team. His geological interests include stratigraphy and tectonics of western U.S.

Cal and Paul have been working together on various problems related to late Paleozoic-early Mesozoic depositional systems, paleogeography, and tectonics of east-central California off and on for the last 20-plus years.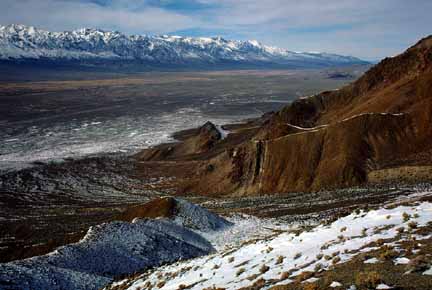 Looking across Owens Valley from the southern Inyo Mountains toward the Sierra north of Big Pine (click photo for larger version).
---
Reservations: The preferred way to make reservations is simply to email Janice Sellers at janice@seismosoc.org by Friday, November 30, tell her you will attend, commit to pay, and bring your payment to the meeting. Janice always emails a confirmation; if you don't get one, assume email crashed yet again and email her a second time. A check made to"PGS"is preferred, payable at the meeting.

If you want to pay in advance:

Stanford faculty and students: Please make dinner reservations by Friday, November 30. Contact Dr. Juhn Liou via his mailbox (and leave check), Geological and Environmental Sciences Office, Geocorner - Bldg. 320 (Rm. 118). Make checks out to"PGS."

All others, including faculty and students from other Bay Area universities and colleges and USGS: Please make dinner reservations by Friday, November 30. Contact Janice Sellers, at Seismological Society of America, 201 Plaza Professional Building, El Cerrito, CA 94530, phone (510) 559-1780. Send check made out to"PGS"to Janice.

Dinner is $26.00. Includes wine (5:30 to 6:15 PM.), dinner (6:15-7:30 PM.), tax, and tip.

For students from all universities and colleges, the dinner, including the social half-hour, is $5.00 and is partially subsidized thanks to the Associates of School of Earth Sciences, Stanford University (Note, no-show reservations owe the full price).

Dues for Academic Year 2001-2002 ($10.00) should be sent to Janice Sellers, Seismological Society of America, 201 Plaza Professional Building, El Cerrito, CA 94530. Janice's phone: (510) 559-1780.

Officers: Gary Ernst, President; Mike Diggles, Vice President; Vicki Langenheim, Secretary; Janice Sellers, Treasurer; Adina Paytan, Field-Trip Czarina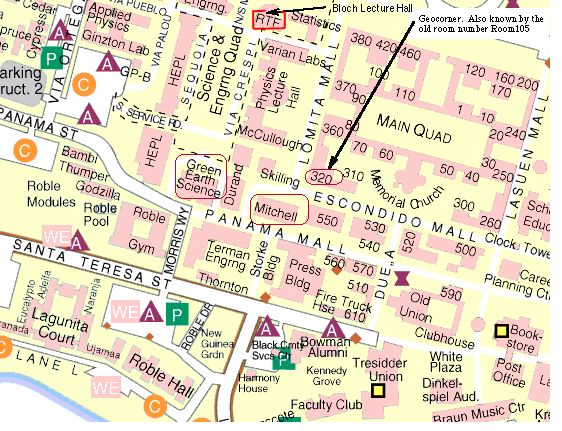 Date created: 11/15/2001
Last modified: 04/10/2003
Created by: Mike Diggles, Vice President, PGS.


c/o U.S. Geological Survey, MS-951, 345 Middlefield Road, Menlo Park, CA 94025. (650) 329-5404. email Mike Diggles at mdiggles@usgs.gov Back to PGS Home Page