7:30 PM-Meeting: . . . Bloch Lecture Hall (TCSEQ Room 201)

See map to Mitchell (Dinner)
See map to Bloch (Lecture)
See more info on the elegant new Teaching Center, Science and Engineering Quad TCSEQ Room 201 (Bloch Lecture Hall).
---
Anyone wishing to attend the lecture only is welcome at no cost.

This will be the 343rd meeting since 1954.
---
Abstract
What's underneath a volcano? How does the record of volcanism relate to the history of intrusion? How does the history of the subsurface geothermal system relate to magmatism? This talk will review previous geological and geophysical studies as they relate to the subsurface of Medicine Lake volcano. I will then discuss our recent work to study granitoid intrusions found in drillholes and as xenoliths in young lava flows. Many of these silicic intrusions appear to be created by rapid melting during episodes of mafic magmatism. The granites range from 330,000 years old to < 5,000 years old and are thus some of the youngest ever dated!

Aerial view of Medicine Lake from the northeast. Photo by Julie Donnelly-Nolan, USGS
About the Speaker
Jake Lowenstern is a research volcanologist and geochemist at the U.S. Geological Survey. A native of Virginia, he received his A.B. from Dartmouth College, and an M.S. and Ph.D. from Stanford University, finishing in 1992. He spent a year on Mt. Etna in Sicily, as a guest researcher and worked in Japan for a year as a postdoctoral fellow. His work for the USGS includes gas geochemistry, petrology and geochronology, and has focused on Medicine Lake volcano, as well as The Geysers geothermal system in California, the Danakil Depression of Eritrea, and Elbrus volcano in the Russian Caucasus.
---
Reservations: The preferred way to make reservations is simply to email Janice Sellers at janice@seismosoc.org by Friday, Febrary 8, tell her you will attend, commit to pay, and bring your payment to the meeting. Janice always emails a confirmation; if you don't get one, assume email crashed yet again and email her a second time. A check made to"PGS"is preferred, payable at the meeting.

If you want to pay in advance:

Stanford faculty and students: Please make dinner reservations by Friday, February 8. Contact Dr. Juhn Liou via his mailbox (and leave check), Geological and Environmental Sciences Office, Geocorner - Bldg. 320 (Rm. 118). Make checks out to"PGS."

All others, including faculty and students from other Bay Area universities and colleges and USGS: Please make dinner reservations by Friday, February 8. Contact Janice Sellers, at Seismological Society of America, 201 Plaza Professional Building, El Cerrito, CA 94530, phone (510) 559-1780. Send check made out to"PGS"to Janice.

Dinner is $26.00. Includes wine (5:30 to 6:15 PM.), dinner (6:15-7:30 PM.), tax, and tip.

For students from all universities and colleges, the dinner, including the social half-hour, is $5.00 and is partially subsidized thanks to the School of Earth Sciences, Stanford University (Note, no-show reservations owe the full price).

Dues for Academic Year 2001-2002 ($10.00) should be sent to Janice Sellers, Seismological Society of America, 201 Plaza Professional Building, El Cerrito, CA 94530. Janice's phone: (510) 559-1780.

Officers: Gary Ernst, President; Mike Diggles, Vice President; Vicki Langenheim, Secretary; Janice Sellers, Treasurer; Adina Paytan, Field-Trip Czarina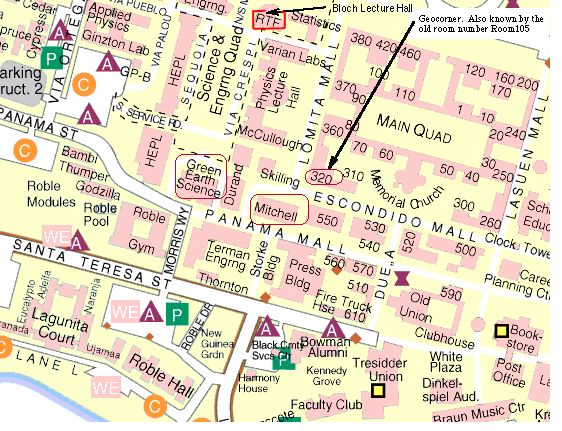 Date created: 12/05/2001
Last modified: 01/28/2002
Created by: Mike Diggles, Vice President, PGS.


c/o U.S. Geological Survey, MS-951, 345 Middlefield Road, Menlo Park, CA 94025. (650) 329-5404. email Mike Diggles at mdiggles@usgs.gov
Back to PGS Home Page