7:30 PM-Meeting: . . . Bloch Lecture Hall (TCSEQ Room 201)

see Map showing Mitchell
Map showing Bloch
---
Anyone wishing to attend the lecture only is welcome at no cost.

This will be the 347th meeting since 1954.
About the Speaker
Amos Nur is Professor of Geophysics, director of the Rock Physics and Borehole Geophysics Project, and was named holder of the Loel chair in 1988. A native of Israel, Amos earned his BS in geology at Hebrew University, Jerusalem, and his Ph.D. in geophysics at MIT in 1969. He was a research associate at MIT until 1970, when he joined Stanford's geophysics faculty. He was chair of the Geophysics Department 1986-1991 and from 1997- 2000.. Amos was the SEG Distinguished Lecturer in 1997, and the AAPG Distinguished Lecturer in 1998. Professor Nur's research interests are in wave propagation, fluid flow, permeability, fractures and electrostatic properties of sedimentary rocks and how these apply to geophysical exploration, reservoir evaluation, and geothermal resources. In the area of tectonophysics, Professor Nur is pursuing research on the mechanics of faults and accretion tectonics.
---
Reservations: The preferred way to make reservations is simply to email Janice Sellers at janice@seismosoc.org by Friday, June 7, tell her you will attend, commit to pay, and bring your payment to the meeting. Janice always emails a confirmation; if you don't get one, assume email crashed yet again and email her a second time. A check made to"PGS"is preferred, payable at the meeting.

If you want to pay in advance:

Stanford faculty and students: Please make dinner reservations by Friday, June 7. Contact Dr. Juhn Liou via his mailbox (and leave check), Geological and Environmental Sciences Office, Geocorner - Bldg. 320 (Rm. 118). Make checks out to"PGS."

All others, including faculty and students from other Bay Area universities and colleges and USGS: Please make dinner reservations by Friday, June 7. Contact Janice Sellers, at Seismological Society of America, 201 Plaza Professional Building, El Cerrito, CA 94530, phone (510) 559-1780. Send check made out to"PGS"to Janice.

Dinner is $26.00. Includes wine (5:30 to 6:15 PM.), dinner (6:15-7:30 PM.), tax, and tip.

For students from all universities and colleges, the dinner, including the social half-hour, is $5.00 and is partially subsidized thanks to the School of Earth Sciences, Stanford University (Note, no-show reservations owe the full price).

Dues for Academic Year 2002-2003 ($10.00) should be sent to Janice Sellers, Seismological Society of America, 201 Plaza Professional Building, El Cerrito, CA 94530. Janice's phone: (510) 559-1780.

Officers: Gary Ernst, President; Mike Diggles, Vice President; Vicki Langenheim, Secretary; Janice Sellers, Treasurer; Adina Paytan, Field-Trip Czarina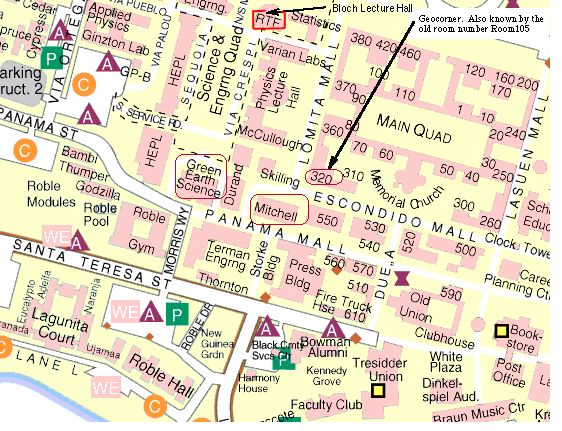 Date created: 05/16/2002
Last modified: 06/11/2002
Created by: Mike Diggles, Vice President, PGS.


c/o U.S. Geological Survey, MS-951, 345 Middlefield Road, Menlo Park, CA 94025. (650) 329-5404. email Mike Diggles at mdiggles@usgs.gov
Back to PGS Home Page