7:30 PM-Meeting: . . . Bloch Lecture Hall (TCSEQ Room 201) (we are unsure about this lecture site, so stay tuned)

see Map showing Mitchell and Skilling
Map showing Bloch
---
Anyone wishing to attend the lecture only is welcome at no cost.

This will be the 348th meeting since 1954.
Abstract
A test of the time-predictable earthquake recurrence model, which is often used in earthquake probability forecasts, shows that this model does not accurately predict the recurrence time of a moderate earthquake in central California.
About the Speaker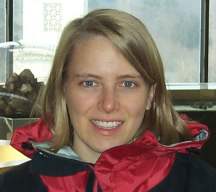 Jessica Murray grew up in Massachusetts and went to college at Dartmouth where she majored in geology. Jess came to California in 1998 to pursue a Ph.D. in geophysics at Stanford working with Paul Segall. She has been using geodetic data to infer spatial variations in fault slip on the San Andreas in central California, and is now extending this work to image temporal variations in fault slip as well. See these links for more information about her research.
---
Reservations: The preferred way to make reservations is simply to email Janice Sellers at janice@seismosoc.org by Friday, October 11, tell her you will attend, commit to pay, and bring your payment to the meeting. Janice always emails a confirmation; if you don't get one, assume email crashed yet again and email her a second time. A check made to"PGS"is preferred, payable at the meeting.

If you want to pay in advance:

Stanford faculty and students: Please make dinner reservations by Friday, October 11. Contact Dr. Juhn Liou via his mailbox (and leave check), Geological and Environmental Sciences Office, Geocorner - Bldg. 320 (Rm. 118). Make checks out to"PGS."

All others, including faculty and students from other Bay Area universities and colleges and USGS: Please make dinner reservations by Friday, October 11. Contact Janice Sellers, at Seismological Society of America, 201 Plaza Professional Building, El Cerrito, CA 94530, phone (510) 559-1780. Send check made out to"PGS"to Janice.

Dinner is $30.00. Includes wine (5:30 to 6:15 PM.), dinner (6:15-7:30 PM.), tax, and tip.

For students from all universities and colleges, the dinner, including the social half-hour, is $5.00 and is partially subsidized thanks to the School of Earth Sciences, Stanford University (Note, no-show reservations owe the full price).

Dues for Academic Year 2002-2003 ($10.00) should be sent to Janice Sellers, Seismological Society of America, 201 Plaza Professional Building, El Cerrito, CA 94530. Janice's phone: (510) 559-1780.

Officers: Bob Christiansen, President; Mike Diggles, Vice President; Vicki Langenheim, Secretary; Janice Sellers, Treasurer; Adina Paytan, Field-Trip Czarina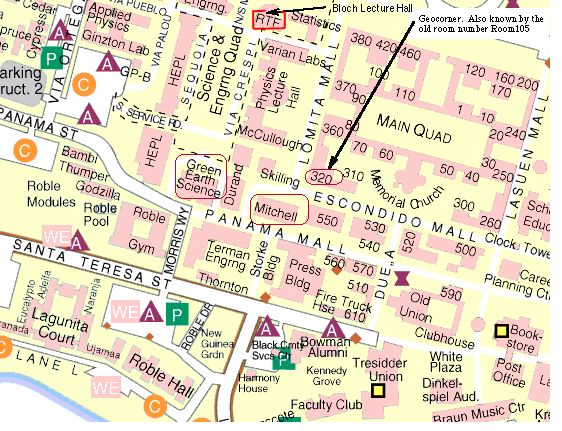 ---
---
Lost and Found
Did you loose a parka on the field trip?
Did you loose a pen case on the field trip?
---
End of an Era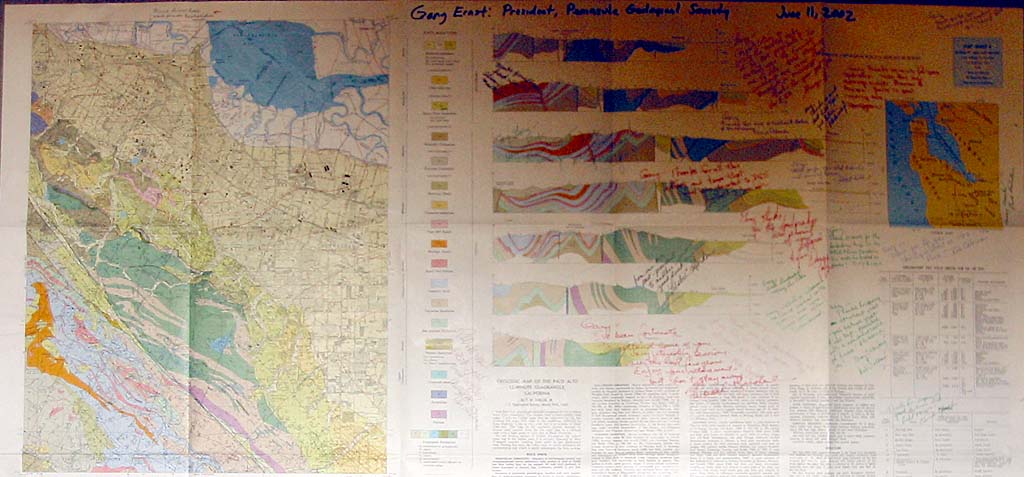 The June meeting marked the end of Gary Ernst's reign as President of the Peninsula Geological Society. He will be succeeded by Chris Christiansen of the Volcanic Hazards Team at USGS. Gary has been President since 1996 - a heroic feat. During that time, we had great lectures and grand field trips. To commemorate the Passing of the Baton, we put a copy of the Geologic Map of the Palo Alto Quadrangle by Tom Dibblee out on one of the tables along with a fistful of colored pens and thirty or forty people came up and defaced it by writing notes to Gary. He may be past President of the Geological Society of America and former Dean of the schools of Earth sciences at both UCLA and Stanford, but clearly, being past President of PGS is his most important achievement to date. He can go farther and we are sure he will, but it will be a stretch.
We will meet again in mid October. We will keep you posted as Chris and I build the schedule. Chris, after all, besides being the Scientist in Charge of the Yellowstone Volcano Observatory, attended the first meeting of the Peninsula Geological Society in 1954.
I hope you had a safe field season. --Mike Diggles
---
Date created: 10/02/2001
Last modified: 10/03/2002
Created by: Mike Diggles, Vice President, PGS.
c/o U.S. Geological Survey, MS-951, 345 Middlefield Road, Menlo Park, CA 94025. (650) 329-5404. email Mike Diggles at mdiggles@usgs.gov
Back to PGS Home Page