7:30 PM-Meeting: . . . Bloch Lecture Hall (TCSEQ Room 201)

see Map showing Mitchell
Map showing Bloch
---
Anyone wishing to attend the lecture only is welcome at no cost.

This will be the 353rd meeting since 1954.
Summary
My most recent project is an edited book with Antony Berger of Vancouver, Canada Geology and Health: Closing the Gap that will be the basis of the talk on 'Medical Geology' for presentation to the Peninsula Geological Society. With extra good luck a copy may be in my hands from Oxford Press by then. My goals are to integrate biogeochemical information into models and predictions providing data for future decisions for the earth and its inhabitants.
About the speaker, Catherine W. Skinner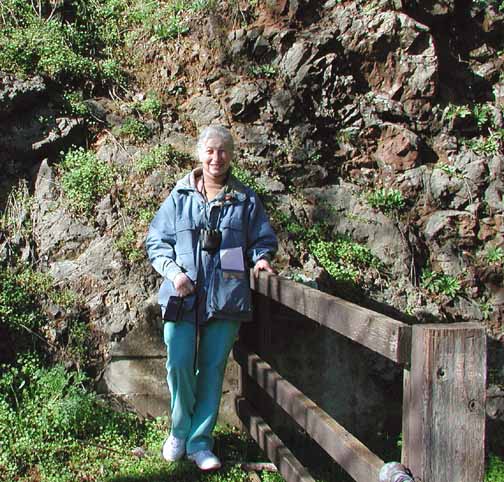 Cathy Skinner. Taken at Jasper Ridge (2/2/03) on the east abutment of the Searsville Lake dam with greenstone pillow lavas in the background (Photo by Bob Coleman).
I was born in Brooklyn, New York, and attended Mt. Holyoke College graduating with a major in Geology. After attaining a Masters degree from Radcliffe/Harvard in Mineralogy I moved with my new husband Brian Skinner to Adelaide, South Australia where he took up a position with the Geology Department as Assistant Professor. We returned to the US in 1959 with one and one half children (I now have three daughters) and settled in Washington D.C. so he could work for the Interior Dept. US Geologic Survey. We moved to Yale University in 1966 where Brian J. Skinner is now the Eugene Higgins Professor of Geology & Geophysics. I have a research/lecturing appointment in the Geology Dept. as well as in Orthopaedics and Rehabilitation Dept. of Yale Medical School. I will happily explain this "interesting" combination of my expertise on the day of the lecture. I am currently the Alan Cox Visiting Professor at Stanford Dept. of Geological and Environmental Sciences.
As background for that here is more information for you:
My Ph.D. research at Adelaide University on the deposition of carbonate minerals (dolomite) in lagoonal environments in South East Australia evolved into an interest in biominerals, those mineral materials found as part of, or because of, the activities of living creatures. On returning to the United States I elected to join the Arthritis Institute at the National Institutes of Health in the nascent field of protein crystallography primarily to draw on the exciting but brief sojourn I enjoyed at the Molecular Structure Section at Harvard University Medical School before I went to Australia. This allowed me to capitalize on my expertise in x-ray diffraction and broaden my knowledge of "life sciences".
When my husband came to Yale in 1966 I set up a laboratory in the Orthopedics Department at the Yale Medical School to study bones and teeth from the mineralogical view, that is, through investigations of the several basic calcium phosphate cell systems that form the mineral portion of vertebrate tissues.
Since then I have investigated not only calcium phosphates and carbonates, but iron and manganese oxyhydroxides, asbestos minerals, and recently (1997) published with four collaborators the 8th Edition of DANA's SYSTEM OF MINERALOGY, the classic reference book that includes all known minerals. I now work with colleagues who use the latest analytical methods and techniques to obtain more precise determinations not only of the inorganic, but of the organic and biologic portions of our living environment. My background at the atomic and molecular levels is invaluable when the focus is on the dynamic processes that involve mineral materials from their formation by earth processes to the growth, development, aging and pathology of mineralized tissues in a range of life forms from microbes to man.
I have been teaching a course "Minerals in the Biosphere" that links Geology in the broadest sense with health. The class integrates mineralogy, sedimentary and general geology and hydrology with geochemisty, paleontology, and the basic science side of orthopaedics and pathology. Not surprisingly I am intrigued by the larger questions such as how life forms "fit" into the environment and how we humans have become the major force on planet earth. Since the environment seems to include every science, and the humanities my role as a scientific omnivore has led me down some interesting paths.
SELECTED PUBLICATIONS:
Skinner, H.C.W., M. Ross, C. Frondel (1988) Asbestos and Other Fibrous Materials: Mineralogy, Crystal Chemistry and Health Effects. Oxford University Press, New York.
Skinner, H.C.W. and R.W. Fitzpatrick (Eds)Biomineralization Processes of Iron and Manganese, Modern and Ancient Environments. CATENA Supplement #21. Catena Verlag, Cremlingen, Germany.
Gaines, R.V., H.C.W. Skinner, E.E. Foord, B. Mason and A. Rosensweig (1997) Dana's New Mineralogy 8th Edition, John Wiley and Sons, New York.
RECENT PUBLICATIONS:
Poggi,S.H.,H.C.W. Skinner, J.J.Ague and D.Carter (1998)"Using Scanning Electron Microscopy to Study Mineral Deposits in Breast Tissues". American Mineralogist 83:1122-1126.
H.C.W. Skinner (2000) Minerals and Human Health. p.383-412 in Vaughan, D.J. and R.A. Wogelius Environmental Mineralogy. European Union of Mineralogy Eotvos University Press, Budapest, Hungary.
AND A COUPLE IN PRESS:
H.C.W. Skinner, S. Nicolescu & T.D. Raub "A tale of two Apatites" for a special environmental volume for Roumanian Scientific Academy.
H.C.W. Skinner, "Mineralogy of Bioapatites" a chapter for a two-volume work "Medical Geology" edited by Olle Selenus, Swedish Geological Survey.
---
Reservations: The preferred way to make reservations is simply to email Janice Sellers at janice@seismosoc.org by Friday, March 7, tell her you will attend, commit to pay, and bring your payment to the meeting. Janice always emails a confirmation; if you don't get one, assume email crashed yet again and email her a second time. A check made to"PGS"is preferred, payable at the meeting.

If you want to pay in advance:

Stanford faculty and students: Please make dinner reservations by Friday, March 7. Contact Dr. Juhn Liou via his mailbox (and leave check), Geological and Environmental Sciences Office, Geocorner - Bldg. 320 (Rm. 118). Make checks out to"PGS."

All others, including faculty and students from other Bay Area universities and colleges and USGS: Please make dinner reservations by Friday, March 7. Contact Janice Sellers, at Seismological Society of America, 201 Plaza Professional Building, El Cerrito, CA 94530, phone (510) 559-1780. Send check made out to"PGS"to Janice.

Dinner is $30.00. Includes wine (5:30 to 6:15 PM.), dinner (6:15-7:30 PM.), tax, and tip.

For students from all universities and colleges, the dinner, including the social half-hour, is $5.00 and is partially subsidized thanks to the School of Earth Sciences, Stanford University (Note, no-show reservations owe the full price).

Dues for Academic Year 2002-2003 ($10.00) should be sent to Janice Sellers, Seismological Society of America, 201 Plaza Professional Building, El Cerrito, CA 94530. Janice's phone: (510) 559-1780.

Officers: Bob Christiansen, President; Mike Diggles, Vice President; Vicki Langenheim, Secretary; Janice Sellers, Treasurer; Adina Paytan, Field-Trip Czarina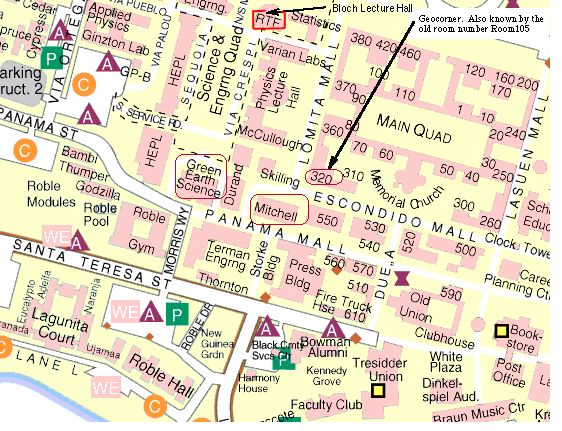 ---
---
---
Date created: 02/14/2003
Last modified: 03/27/2003
Created by: Mike Diggles, Vice President, PGS.
c/o U.S. Geological Survey, MS-951, 345 Middlefield Road, Menlo Park, CA 94025. (650) 329-5404. email Mike Diggles at mdiggles@usgs.gov
Back to PGS Home Page