7:30 PM-Meeting: . . . Bloch Lecture Hall (TCSEQ Room 201)

see Map showing Mitchell
Map showing Bloch
---
Anyone wishing to attend the lecture only is welcome at no cost.

This will be the 354th meeting since 1954.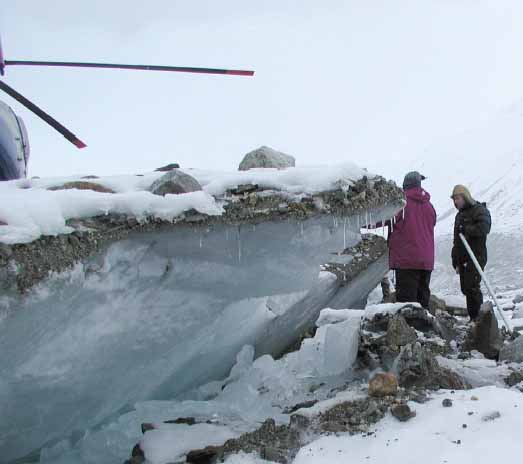 ---
This is the presentation that was originally scheduled as the USGS Public Lecture on March 27 but had to be canceled due to "Code Orange" alert status. Click here see the 'flyer' for that lecture. (160 KB PDF file)
Summary
* This powerful magnitude 7.9 quake ruptured the fault for 184 miles, creating offset as great as 29 feet and causing thousands of landslides

* The quake's shaking was felt in Anchorage and produced effects as far away as Louisiana

* Although the ground shifted 14 feet beneath the Trans-Alaska Oil Pipeline, the pipe did not break, a tribute to careful geologic studies and creative engineering

* The San Andreas Fault is similar to the Denali Fault and produces comparable quakes, but unlike the Denali, runs through densely populated urban areas

* Will intensified monitoring of the Denali Fault enable us to forecast where and when the next major quake will strike on that system?

Click here see the USGS Fact Sheet for the earthquake.
---
---
Reservations: The preferred way to make reservations is simply to email Janice Sellers at janice@seismosoc.org by Friday, April 4, tell her you will attend, commit to pay, and bring your payment to the meeting. Janice always emails a confirmation; if you don't get one, assume email crashed yet again and email her a second time. A check made to"PGS"is preferred, payable at the meeting.

If you want to pay in advance:

Stanford faculty and students: Please make dinner reservations by Friday, April 4. Contact Dr. Juhn Liou via his mailbox (and leave check), Geological and Environmental Sciences Office, Geocorner - Bldg. 320 (Rm. 118). Make checks out to"PGS."

All others, including faculty and students from other Bay Area universities and colleges and USGS: Please make dinner reservations by Friday, April 4. Contact Janice Sellers, at Seismological Society of America, 201 Plaza Professional Building, El Cerrito, CA 94530, phone (510) 559-1780. Send check made out to"PGS"to Janice.

Dinner is $30.00. Includes wine (5:30 to 6:15 PM.), dinner (6:15-7:30 PM.), tax, and tip.

For students from all universities and colleges, the dinner, including the social half-hour, is $5.00 and is partially subsidized thanks to the School of Earth Sciences, Stanford University (Note, no-show reservations owe the full price).

Dues for Academic Year 2003-2004 ($10.00) should be sent to Janice Sellers, Seismological Society of America, 201 Plaza Professional Building, El Cerrito, CA 94530. Janice's phone: (510) 559-1780.

Officers: Bob Christiansen, President; Mike Diggles, Vice President; Vicki Langenheim, Secretary; Janice Sellers, Treasurer; Adina Paytan, Field-Trip Czarina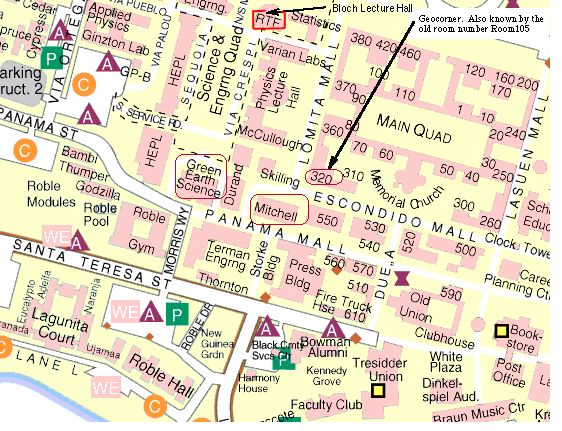 ---
---
---
Date created: 03/27/2003
Last modified: 03/27/2003
Created by: Mike Diggles, Vice President, PGS.
c/o U.S. Geological Survey, MS-951, 345 Middlefield Road, Menlo Park, CA 94025. (650) 329-5404. email Mike Diggles at mdiggles@usgs.gov
Back to PGS Home Page