7:30 PM-Meeting: . . . Bloch Lecture Hall (TCSEQ Room 201)

see Map showing Mitchell
Map showing Bloch
---
Anyone wishing to attend the lecture only is welcome at no cost.

This will be the 360th meeting since 1954.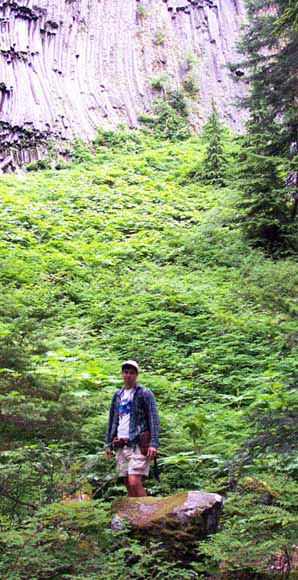 Abstract
Hydrothermally-altered rocks are present on many active volcanoes in the High Cascades in the Pacific Northwest of the United States, most notably on Mount Rainier near Seattle and the Pudget lowlands. Hydrothermal alteration can result in severely weakened volcanic edifices that may be susceptible to failure and catastrophic landslides. Recent studies of Mount Rainier have shown the important role that hydrothermal alteration played in development of long-traveled debris flows (lahars) and the need to better understand the distribution and origin of hydrothermally-altered rocks on Mount Rainier and other active volcanoes in order to make better assessments of future volcano hazards. For example, the 5600 B.P. Osceola Mudflow formed by the collapse of the north flank of Mount Rainier that was weakened by hydrothermal alteration. The resulting clay-rich debris flow traveled more than 120 km downvalley into the Pudget lowlands covering more than 250 square km. Integrated studies of hydrothermal alteration on Mount Rainier, Mt. Adams, Mt. Baker, and the Lassen Peak area are underway by the USGS to characterize active and recently active hydrothermal systems on these volcanoes and facilitate more complete assessments of volcano hazards in the Cascades.

Visit the web site for the project on Resources and Hazards of Hydrothermal Systems in Cascades Volcanoes.
About the Speaker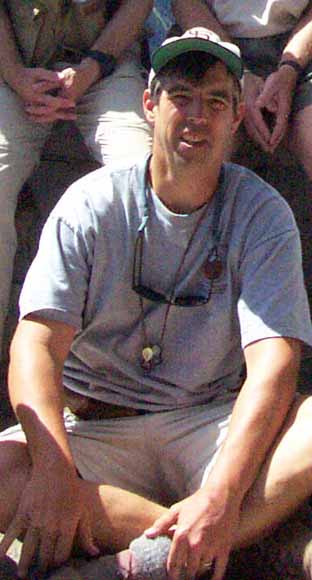 Dave John at Mt. Rainier
I have a BS degree in earth sciences from the University of California at Santa Cruz, and MS and PhD degrees in geology from Stanford University. My MS thesis was a metamorphic petrology study of the Gabilan Range near San Juan Bautista completed under Louie (Dr. Liou). My PhD dissertation was a study of hydrothermal systems related to middle Tertiary plutons in the central Wasatch Mountains, Utah, under Marco Einaudi. I have been a research geologist in the Mineral Resources Team of the U.S. Geological Survey since 1979. Most of my work has involved study of Mesozoic and Tertiary igneous rocks and associated mineral deposits in the Great Basin. In the past couple of years, I have headed a project studying hydrothermal alteration and mineral deposits in the Cascades arc from Washington to northern California. A part of this project involves study of hydrothermal alteration on active stratovolcanoes in the Cascades to help better evaluate potential hazards from these volcanoes.
---
---
Reservations: The preferred way to make reservations is simply to email Janice Sellers at janice@seismosoc.org by Feb. 6, tell her you will attend, commit to pay, and bring your payment to the meeting. Janice always emails a confirmation; if you don't get one, assume email crashed yet again and email her a second time. A check made to "PGS" is preferred, payable at the meeting.

If you want to pay in advance:

Stanford faculty and students: Please make dinner reservations by Feb. 6. Contact Dr. Juhn Liou via his mailbox (and leave check), Geological and Environmental Sciences Office, Geocorner - Bldg. 320 (Rm. 118). Make checks out to "PGS."

All others, including faculty and students from other Bay Area universities and colleges and USGS: Please make dinner reservations by Feb. 6. Contact Janice Sellers, at Seismological Society of America, 201 Plaza Professional Building, El Cerrito, CA 94530, phone (510) 559-1780. Send check made out to "PGS" to Janice.

Dinner is $30.00. Includes wine (5:30 to 6:15 PM.), dinner (6:15-7:30 PM.), tax, and tip.

For students from all universities and colleges, the dinner, including the social 3/4-hour, is $5.00 and is partially subsidized thanks to the School of Earth Sciences, Stanford University (Note, no-show reservations owe the full price).

Doris, whose wonderful crew prepares our meals, asked that we let you know that people who are late RSVP'ing and people who show up without a reservation will be welcome but that they will be eating on paper plates with plastic utensils (food supply permitting).

Dues for Academic Year 2003-2004 ($10.00) should be sent to Janice Sellers, Seismological Society of America, 201 Plaza Professional Building, El Cerrito, CA 94530. Janice's phone: (510) 559-1780.

Officers: Cheryl Smith, President; Mike Diggles, Vice President; Vicki Langenheim, Secretary; Janice Sellers, Treasurer; Adina Paytan, Field-Trip Czarina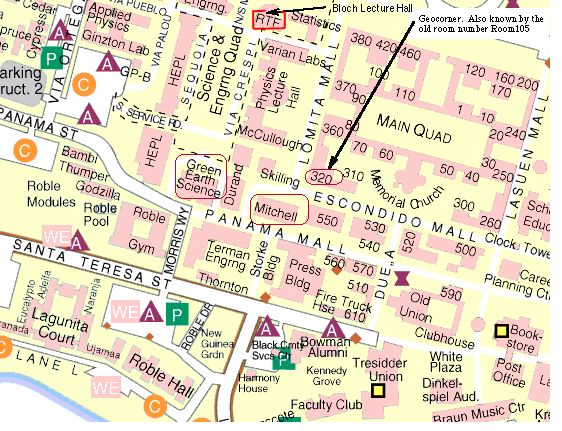 ---
---
---
Date created: 01/27/2004
Last modified: 03/01/2004
Created by: Mike Diggles, Vice President, PGS.
c/o U.S. Geological Survey, MS-951, 345 Middlefield Road, Menlo Park, CA 94025. (650) 329-5404. email Mike Diggles at mdiggles@usgs.gov
Back to PGS Home Page