7:30 PM-Meeting: . . . Bloch Lecture Hall (Hewlett 201)

see Map showing Mitchell
Map showing Bloch
---
Anyone wishing to attend the lecture only is welcome at no cost.

This will be the 367th meeting since 1954 - 50 years this month.

We may serve birthday cake for this one. This meeting will mark the 50th anniversary of the founding of the Peninsula Geological Society. The keynote presentation on this occasion will be Jim Moore's talk "Clarence King and the Lure of Mt. Shasta." Jim's Stanford-Press book, "King of the 40th Parallel, Discover in the American West," will be out in the summer of 2005.

Before Jim's talk, Mike Diggles will give a brief retrospective of the 366 lectures since December 2, 1954 - meeting no. 1 - when Adolph Knopf presented "Bathyliths in Time."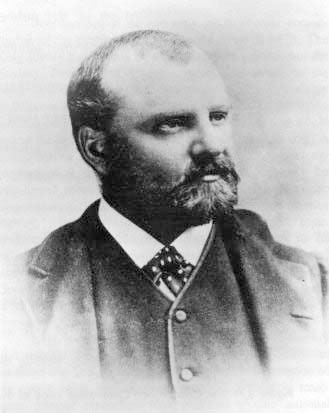 Clarence King
Abstract
Clarence King, destined to become the founding Director of the U.S. Geological Survey, enrolled in Yale College in 1859, the year that Charles Darwin published his Origin of Species. Through close association with two of his Yale professors, James Dana and George Brush, King was captivated by stories of Mt. Shasta and decided to go west to see this magnificent volcano.
Employed by the California Geological Survey, King was in the field party that discovered Mount Whitney, then the highest peak in the nation. On Mount Shasta in 1870 King discovered the first known glaciers in the U.S. and later described the Whitney and Shasta adventures in his book Mountaineering in the Sierra Nevada, a book that became a classic in western writing
He established and led the U.S. Geological Exploration of the 40th Parallel (1867-79), which mapped topography and geology along a 100-mile-wide strip from California to Wyoming. This survey was conjoined with other ongoing regional surveys and chartered to become the U.S. Geological Survey in 1879.

1884 topographic map of Mount Shasta - Whitney Glacier on the west

Seracs on Whitney Glacier (Diggles photo, 2002)
About the Speakers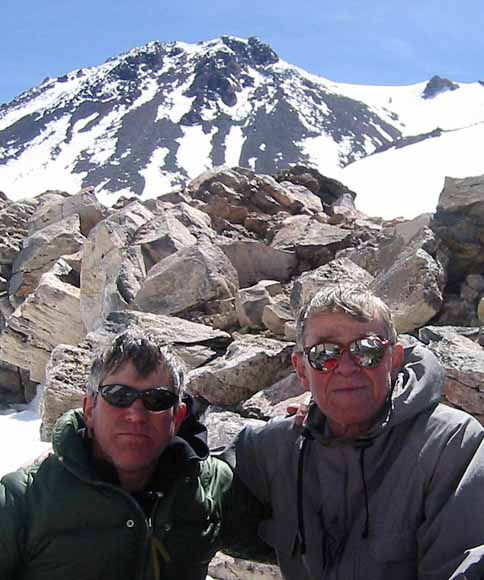 Mike Diggles and Jim Moore
James G. Moore is a Senior Research Geologist Emeritus with the U.S. Geological Survey in Menlo Park, California. Jim Moore's career includes extensive mapping in the highest Sierra; theoretical reckoning of the petrologic distribution of Cordillera granites and dike emplacements; pioneering submarine volcanology (including a record number of deep submarine excursions on the seafloor), directorship of the Hawaiian Volcano Observatory; SCUBA-dive explication of pillow basalt formation; significance of base surge in explosive volcanism; subsidence studies of the Hawaiian Ridge; discovery and assessment of giant submarine landslides; and studies of numerous active volcanoes including Kilauea, Loihi, Taal, Mayon, St. Helens, and Surtsey; and most recently, the use of manganese oxide crusts in dating submarine volcanic products.
Michael F. Diggles is a Geologist (Editor) with the Western Publications Group at USGS in Menlo Park. He was Secretary of the Peninsula Geological Society from 1984-85, Membership Tzar from 1985-94, and has been Vice President for the last decade. He joined USGS in 1977 as was the lead geologist on the Sierra Nevada Ecosystem Project.
---
---
Reservations: The preferred way to make reservations is simply to email Janice Sellers at janice@seismosoc.org by Dec. 10, tell her you will attend, commit to pay, and bring your payment to the meeting. Janice always emails a confirmation; if you don't get one, assume email crashed yet again and email her a second time. A check made to "PGS" is preferred, payable at the meeting.
If you want to pay in advance:
Stanford faculty and students: Please make dinner reservations by Dec. 10. Contact Dr. Juhn Liou via his mailbox (and leave check), Geological and Environmental Sciences Office, Geocorner - Bldg. 320 (Rm. 118). Make checks out to "PGS."
All others, including faculty and students from other Bay Area universities and colleges and USGS: Please make dinner reservations by Nov. 5. Contact Janice Sellers, at Seismological Society of America, 201 Plaza Professional Building, El Cerrito, CA 94530, phone (510) 559-1780. Send check made out to "PGS" to Janice.
Dinner is $30.00. Includes wine (5:30 to 6:15 PM.), dinner (6:15-7:30 PM.), tax, and tip.
For students from all universities and colleges, the dinner, including the social 3/4-hour, is $5.00 and is partially subsidized thanks to the School of Earth Sciences, Stanford University (Note, no-show reservations owe the full price).
Doris, whose wonderful crew prepares our meals, asked that we let you know that people who are late RSVP'ing and people who show up without a reservation will be welcome but that they will be eating on paper plates with plastic utensils (food supply permitting).
Dues for Academic Year 2004-2005 ($10.00) should be sent to Janice Sellers, Seismological Society of America, 201 Plaza Professional Building, El Cerrito, CA 94530. Janice's phone: (510) 559-1780.
Officers: Cheryl Smith, President; Mike Diggles, Vice President; Vicki Langenheim, Secretary; Janice Sellers, Treasurer; Adina Paytan, Field-Trip Czarina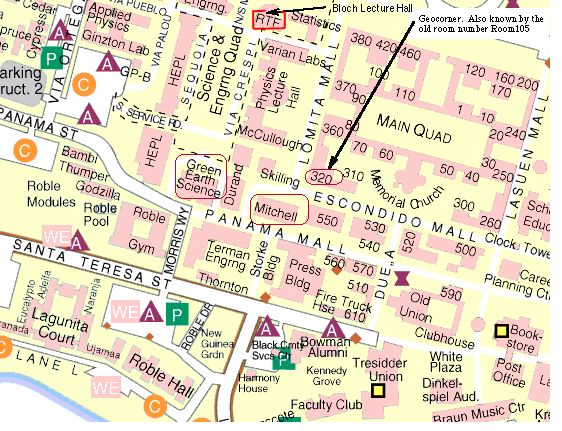 ---
---
---
Date created: 12/01/2004
Last modified: 12/01/2004
Created by: Mike Diggles, Vice President, PGS.


c/o U.S. Geological Survey, MS-951, 345 Middlefield Road, Menlo Park, CA 94025. (650) 329-5404. email Mike Diggles at mdiggles@usgs.gov