This meeting will be a celebration of Howard Oliver. Andy Griscom has come out from retirement in Massachusetts for this one.
7:30 PM-Meeting: . . . Bloch Lecture Hall (Hewlett 201)

see Map showing Mitchell
Map showing Bloch
---
Anyone wishing to attend the lecture only is welcome at no cost.

This will be the 368th meeting since 1954
Abstract
(From USGS Open-File Report 01-297 by Edwin H. McKee, Geoffery A. Phelps, and Edward A. Mankinen)

A 3-dimensional caldera model based on gravity inversion, drill-hole data, and geologic mapping offers the framework for a hydrogeologic evaluation of the Silent Canyon caldera in the central part of Pahute Mesa, Nevada.

It has been recognized for several decades that the central part of Pahute Mesa is the site of a buried caldera called the Silent Canyon caldera. Conceptually, the structural framework of the Silent Canyon caldera is based on the idea of collapse of the caldera roof over a shallow magma chamber to form a structural basin following violent volcanic eruptions. Calderas are common in certain volcanic regions of the world, and most well-exposed calderas are broadly similar to each other, particularly the arcuate or circular shape of their collapse depression. There are other reasons for modeling the Silent Canyon caldera as a circular feature in addition to knowledge that calderas throughout the world are generally circular features. The Silent Canyon caldera is the site of one of the largest gravity lows in the Western United States, indicating a thick accumulation of low-density rocks such as lavas and tuffs-a fact confirmed by drilling on Pahute Mesa. This gravity low is bowl-shaped, and the uppermost volcanic units on Pahute Mesa form a circular outcrop pattern of inward-dipping tuff interpreted to be the result of their filling the upper part of the bowl-shaped depression. Together, these features are consistent with, and indicative of, a circular collapse structural model for the Silent Canyon caldera. The collapse depression of the Silent Canyon caldera, bounded by arcuate faults, is filled with as much as 6 km (19,800 ft) of volcanic and sedimentary rocks that are considerably less dense than the underlying and surrounding basement rocks. The boundary surface between less dense caldera fill and more dense basement is modeled as the caldera ring fault. Rocks in the upper part of the caldera fill are penetrated by drilling, and the drill-hole data are the basis for 3-dimensional computer modeling of the thickness and distribution of the rock units. The displacement on younger N-S faults that cut the caldera is also determined by offset of the computer derived surfaces defined by the drill-hole intercepts of stratigraphic units.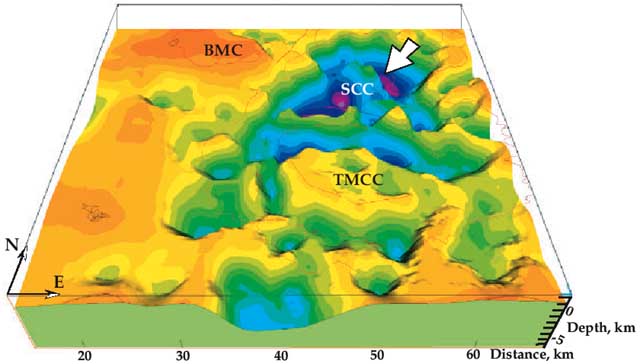 3-D view of the basement surface beneath the central part of the southwest Nevada volcanic field
About the Speaker
Ted McKee received his Bachelors from Yale in 1957 and his Ph.D. from Cal in 1962. His carreer at USGS has been doing regional studies in the Great Basin. Lately, he has been using geologic concepts to aid in hydrologic studies of groundwater flow.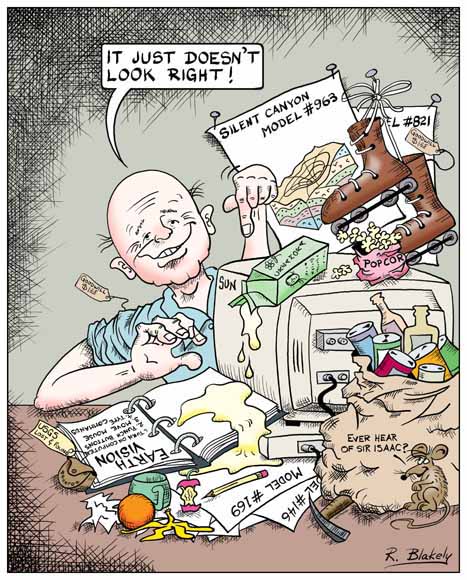 Ted McKee
---
About Howard Oliver
Howard is a past President of the Peninsula Geological Society. He is the person who founded the dinner meeting in this group. We had not had a meeting in a year until Howard resurrected PGS with this format; we have been alive and well ever since. He received his Ph.D. from Harvard and made his carrier at USGS as a geophysicist; he was particularly active in gravity studies. Howard is also responsible for the rhododendron gardens at the Menlo Park campus of USGS. He planted many of those rhodies 40 years ago and they are now half way up the second story of some buildings.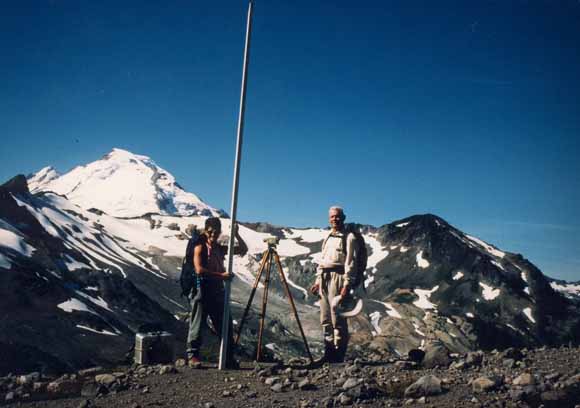 Judy Fierstein and Howard Oliver, Kulshan Caldera and Mt. Baker, 9/95. Photo by Betty Oliver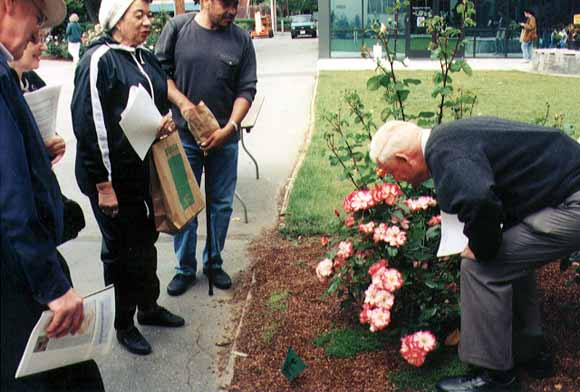 Howard sniffing roses (he condescended)

Rhodies

Azalias
---
---
Reservations: The preferred way to make reservations is simply to email Janice Sellers at janice@seismosoc.org by Jan. 9, tell her you will attend, commit to pay, and bring your payment to the meeting. Janice always emails a confirmation; if you don't get one, assume email crashed yet again and email her a second time. A check made to "PGS" is preferred, payable at the meeting.
If you want to pay in advance:
Stanford faculty and students: Please make dinner reservations by Jan. 9. Contact Dr. Juhn Liou via his mailbox (and leave check), Geological and Environmental Sciences Office, Geocorner - Bldg. 320 (Rm. 118). Make checks out to "PGS."
All others, including faculty and students from other Bay Area universities and colleges and USGS: Please make dinner reservations by Jan. 9. Contact Janice Sellers, at Seismological Society of America, 201 Plaza Professional Building, El Cerrito, CA 94530, phone (510) 559-1780. Send check made out to "PGS" to Janice.
Dinner is $30.00. Includes wine (5:30 to 6:15 PM.) and dinner (6:15-7:30 PM.).
For students from all universities and colleges, the dinner, including the social 3/4-hour, is $5.00 and is partially subsidized thanks to the School of Earth Sciences, Stanford University (Note, no-show reservations owe the full price).
(Doris will be out of town, so we'll do a nice meal from Draegers)
Dues for Academic Year 2004-2005 ($10.00) should be sent to Janice Sellers, Seismological Society of America, 201 Plaza Professional Building, El Cerrito, CA 94530. Janice's phone: (510) 559-1780.
Officers: Cheryl Smith, President; Mike Diggles, Vice President; Vicki Langenheim, Secretary; Janice Sellers, Treasurer; Adina Paytan, Field-Trip Czarina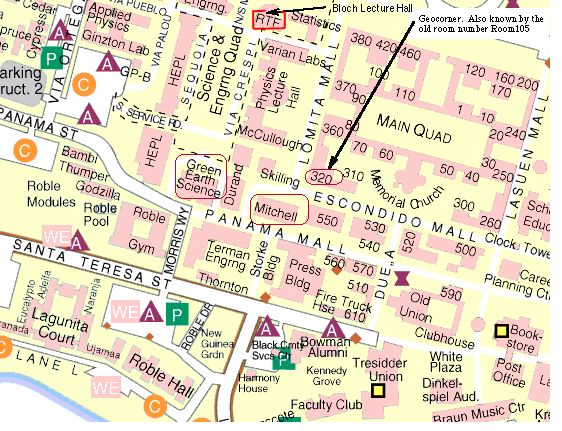 ---
---
---
Date created: Tuesday, January 4, 2005
Last modified: Tuesday, January 25, 2005
Created by: Mike Diggles, Vice President, PGS.


c/o U.S. Geological Survey, MS-951, 345 Middlefield Road, Menlo Park, CA 94025. (650) 329-5404. email Mike Diggles at mdiggles@usgs.gov