7:30 PM-Meeting: . . . Bloch Lecture Hall (Hewlett 201)

see Map showing Mitchell
Map showing Bloch
---
Anyone wishing to attend the lecture only is welcome at no cost.

This will be the 370th meeting since 1954
Field Trip Alert!
We have to limit the number of people on the May 13-15 Carrizo Plain-San Andreas Fault field trip to 50 including co-leaders and their spouses. Cost: $27. We will have a lottery for the forty-odd slots if we need to. The deadline to join the lottery will be the end of this next March-8 meeting. If you already signed the clipboard, you're already entered. Go to the field-trip Web site for trip details.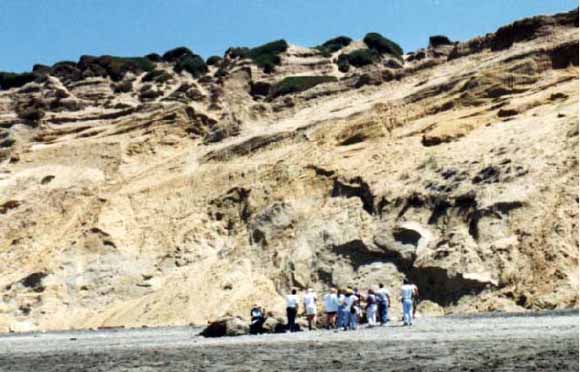 Here, along the beach at Fort Funston, San Francisco one can see tilted marine strata of the Merced Formation; all of the strata in this view are less than 600 ka. The possible modern equivalent of the environment of deposition of these beds is several km to the north offshore, where the San Andreas fault makes a right step. It appears that the basin at the right step migrated, 'orphaning' deposits that were once within it. In order for this to occur, the step-over (and associated basin) must migrate by progressive development of new transverse structures.
Abstract
Geologists traditionally interpret tectonic inversion as a consequence of a change in regional relative plate motion. Such models predict that tectonic inversion took place at approximately the same time over comparatively large regions. Similarly, most models of step-over evolution propose that structural relief in the step-over region increases progressively as more slip passes through the step-over. In such models material captured within active pull-apart basins is never left outside of the bounding faults, and regions deformed within restraining bends remain within the deforming region. In contrast to these traditional models, field relations along many strike-slip faults show evidence of tectonic inversion that took place out-of-phase with regional plate motion changes and the inversion process migrated along the strike of a strike-slip fault. This type of tectonic inversion appears to be related to the progressive development of step-overs along strike-slip faults. Such step-overs appear to migrate with respect to material that was once within these areas. In such a process, new transverse structures form progressively in the direction of migration. This process is the progressive asymmetric development of a strike-slip duplex. In addition to the locally-driven tectonic inversion, consequences of this type of step-over evolution include: (1) the amount of structural relief in the restraining step-over or bend region is less than expected and (2) pull-apart basin deposits are left outside of the active basin. This type of evolution of step-overs and bends may be common along the dextral San Andreas fault system of California; this process can be observed at scales from meters (including small push up structures and sag ponds) to tens of km. Descriptions of other step-over features globally appear to fit this model as well.
Background reading: Wakabayashi, J., Hengesh, J.V., and Sawyer, T.L.,2004, Four-dimensional transform fault processes: progressive evolution of step-overs and bends: Tectonophysics, v. 392, p. 279-301.
About the Speaker
John Wakabayashi is a lifelong Bay Area resident who has exploited this fact to revel in the extraordinary geology of this region. He received his bachelor's degree in geology from U.C. Berkeley in 1980, and his Ph.D. in geology from U.C. Davis in 1989, but he probably started his path toward geology in 1967 when he collected a quartz vein (with nice large terminated crystals) in blueschist grade metagraywacke on a Sierra Club hike to Pacheco Peak. Since graduating from Davis, he has worked as a geologic consultant in seismic hazards, engineering, and environmental geology, first (until 1992) with Earth Sciences Associates, and since the end of 1992 as an independent consultant. In addition to his consulting work, he has maintained an active research schedule that has included work on the metamorphism and tectonics of the Franciscan Complex, evolution of the San Andreas fault system, and tectonic geomorphology of the Sierra Nevada, as well as work on general tectonic and metamorphic processes associated with orogenic belts. His hobbies include trout fishing in high country lakes (fished over 600 of them) and beermaking, and his beer has found its way onto many a geologic field trip. This is why his "affiliation" on his name tag at GSA and AGU Meetings reads "Hayward Brewing Company". More information on his work in geology (including a full publication list) can be found on his website at: http://www.tdl.com/~wako His website, however, is best known for its high country fishing and beer pages. Read more about John on his web site.

John Wakabayashi
---
---
Reservations: The preferred way to make reservations is simply to email Janice Sellers at janice@seismosoc.org by Mar. 4, tell her you will attend, commit to pay, and bring your payment to the meeting. Janice always emails a confirmation; if you don't get one, assume email crashed yet again and email her a second time. A check made to "PGS" is preferred, payable at the meeting.
If you want to pay in advance:
Stanford faculty and students: Please make dinner reservations by Mar. 4. Contact Dr. Juhn Liou via his mailbox (and leave check), Geological and Environmental Sciences Office, Geocorner - Bldg. 320 (Rm. 118). Make checks out to "PGS."
All others, including faculty and students from other Bay Area universities and colleges and USGS: Please make dinner reservations by Mar. 4. Contact Janice Sellers, at Seismological Society of America, 201 Plaza Professional Building, El Cerrito, CA 94530, phone (510) 559-1780. Send check made out to "PGS" to Janice.
Dinner is $30.00. Includes wine (5:30 to 6:15 PM.) and dinner (6:15-7:30 PM.).
For students from all universities and colleges, the dinner, including the social 3/4-hour, is $5.00 and is partially subsidized thanks to the School of Earth Sciences, Stanford University (Note, no-show reservations owe the full price).
Doris, whose wonderful crew prepares our meals, asked that we let you know that people who are late RSVP'ing and people who show up without a reservation will be welcome but that they will be eating on paper plates with plastic utensils (food supply permitting).
Dues for Academic Year 2004-2005 ($10.00) should be sent to Janice Sellers, Seismological Society of America, 201 Plaza Professional Building, El Cerrito, CA 94530. Janice's phone: (510) 559-1780.
Officers: Cheryl Smith, President; Mike Diggles, Vice President; Vicki Langenheim, Secretary; Janice Sellers, Treasurer; Adina Paytan, Field-Trip Czarina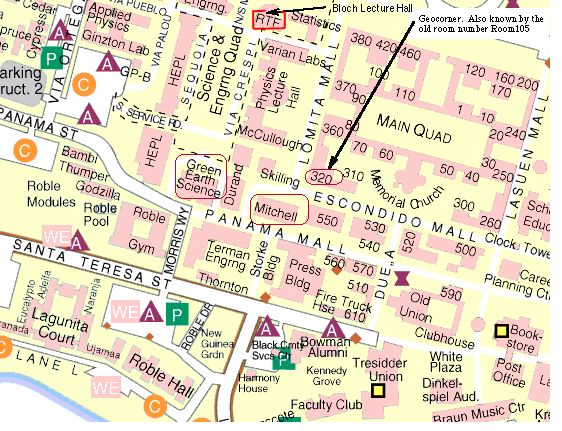 ---
---
---
Date created: February 24, 2005
Last modified: February 24, 2005
Created by: Mike Diggles, Vice President, PGS.


c/o U.S. Geological Survey, MS-951, 345 Middlefield Road, Menlo Park, CA 94025. (650) 329-5404. email Mike Diggles at mdiggles@usgs.gov