This will not only be an interesting pair of presentations, it is also the precursor to the May 13-15 Carrizo Plain-San Andreas Fault field trip (for which you should have already made reservations because it's full).
7:30 PM-Meeting: . . . Bloch Lecture Hall (Hewlett 201)

see Map showing Mitchell
Map showing Bloch
---
Anyone wishing to attend the lecture only is welcome at no cost.

This will be the 371st meeting since 1954
Satellite image of Carrizo Plain
Abstract
(From a talk by Mark Zoback, Stephen Hickman and William Ellsworth: "Testing Fundamental Theories of Earthquakes and Faulting: The San Andreas Fault Observatory at Depth")
On September 16, 2004, the San Andreas Fault Observatory at Depth (SAFOD) reached the planned total depth for Phase 1. After drilling vertically to a depth of ~ 1.5km at a site 1.8 km from the San Andreas Fault, the SAFOD drillhole is now deviated 54 degrees from vertical and has drilled 1.1 km toward the San Andreas fault, aiming directly at a patch of fault producing repeating M~2 microearthquakes at 3 km depth. The current vertical depth of the hole is 2.5 km. During drilling, gas emanations (He, CO2, CH4, H2, Rn, etc.) were continuously monitored, cuttings from the well were sampled at 3 m intervals, cores have been obtained from two depths and comprehensive geophysical measurements have been carried out in the hole.
The successful 2.2-km-deep, vertical SAFOD pilot hole was drilled into fractured granite at the same drillsite. Geophysical models suggested we would continue to drill through fractured granite until we encountered the highly deformed fault rocks of the San Andreas Fault Zone. However, when the main hole was only 213 m northeast of the pilot hole, sedimentary rock was encountered after drilling through a fault and the remainder of the hole was drilled in sandstone, with intervals of claystone and shale. A comprehensive suite of geophysical logs has been obtained to characterize the physical properties of the rocks already penetrated, the degree of faulting in these rocks and the in situ stress state. Various sets of geophysical data are being obtained in the SAFOD borehole to help reduce uncertainties in the exact location of the target microearthquakes: P- and S- velocity logs have been obtained, monitoring of microearthquakes near the target zone is happening utilizing a seismometer at the bottom of the main hole until Phase 2 drilling begins in early summer of 2005 and an 80-level seismic array will be deployed in April to record surface shots to better constrain existing seismic velocity models.
One of the highlights of the downhole measurements program was a mini-frac test at ~1.5km. The magnitude of the least principal stress obtained in this test confirms the strike slip/reverse stress state derived in the pilot hole (where no minifracs could be done) and helps establish the stress stress field outside the active fault zone. A fluid sampling test will be carried out during the hiatus in drilling between Phases 1 and 2 to obtain uncontaminated fluid samples and another minifrac stress measurement will be obtained at that time, at greater depth and much closer to the San Andreas Fault.
Numerous monitoring activities are underway related to construction of the SAFOD observatory. An integrated seismic, strain and pore pressure instrumentation sonde is being developed for deployment in the pilot hole next spring. A fiber optics laser strainmeter has been deployed behind casing in the main SAFOD hole at the end of September. The 80-level, high temperature seismic array mentioned above is being evaluated as a possible instrumentation backbone used for permanent deployment of seismic (and other) sensors in the main hole when coring operations come to an end in 2007.
About the Speakers
Mark Zoback received his B.S. in Geophysics from the University of Arizona in 1969, earned an M.S. (1973) and Ph.D. (1975) in Geophysics from Stanford University. He worked at Amoco Production for a couple years at the turn of the '60s, went to USGS from 1976-1984, and became a Professor of Geophysics at Stanford in 1984 where he is today. His seismological contributions include 1) Mapping the state of stress in the earth's crust, 2) Development of techniques for in situ measurement of stress at great depth and application to earthquake mechanics, and 3) Study of the processes responsible for intraplate seismicity.
Mike Rymer received his B.S. in Geology from San Jose State College in 1970 and his M.S. in Geology from San Jose State University in 1978. He has been a Geologist with the U.S. Geological Survey since 1973 and is in the Earthquake Hazards Team. His research interests and areas of contribution include (1) Geophysical and structural studies of fault zones; (2) Quaternary tectonics of San Andreas fault in central and southern California; (3) Paleoseismicity; (4) Seismotectonics of active fault systems (field work in U.S., El Salvador, China, Thailand, New Zealand)
---
---
Reservations: The preferred way to make reservations is simply to email Janice Sellers at janice@seismosoc.org by April 8, tell her you will attend, commit to pay, and bring your payment to the meeting. Janice always emails a confirmation; if you don't get one, assume email crashed yet again and email her a second time. A check made to "PGS" is preferred, payable at the meeting.
If you want to pay in advance:
Stanford faculty and students: Please make dinner reservations by April 8. Contact Dr. Juhn Liou via his mailbox (and leave check), Geological and Environmental Sciences Office, Geocorner - Bldg. 320 (Rm. 118). Make checks out to "PGS."
All others, including faculty and students from other Bay Area universities and colleges and USGS: Please make dinner reservations by April 8. Contact Janice Sellers, at Seismological Society of America, 201 Plaza Professional Building, El Cerrito, CA 94530, phone (510) 559-1780. Send check made out to "PGS" to Janice.
Dinner is $30.00. Includes wine (5:30 to 6:15 PM.) and dinner (6:15-7:30 PM.).
For students from all universities and colleges, the dinner, including the social 3/4-hour, is $5.00 and is partially subsidized thanks to the School of Earth Sciences, Stanford University (Note, no-show reservations owe the full price).
Doris, whose wonderful crew prepares our meals, asked that we let you know that people who are late RSVP'ing and people who show up without a reservation will be welcome but that they will be eating on paper plates with plastic utensils (food supply permitting).
Dues for Academic Year 2004-2005 ($10.00) should be sent to Janice Sellers, Seismological Society of America, 201 Plaza Professional Building, El Cerrito, CA 94530. Janice's phone: (510) 559-1780.
Officers: Cheryl Smith, President; Mike Diggles, Vice President; Vicki Langenheim, Secretary; Janice Sellers, Treasurer; Adina Paytan, Field-Trip Czarina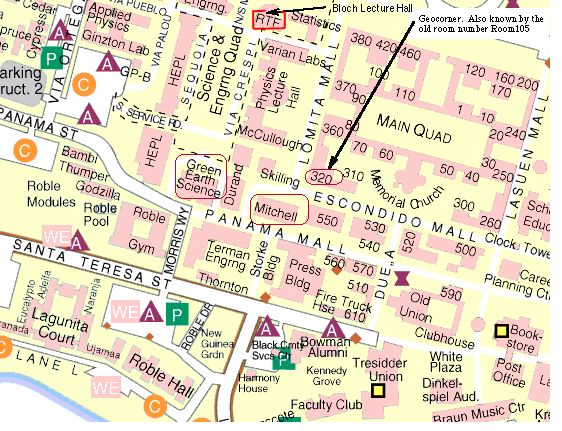 ---
---
---
Date created: March 31, 2005
Last modified: March 31, 2005
Created by: Mike Diggles, Vice President, PGS.


c/o U.S. Geological Survey, MS-951, 345 Middlefield Road, Menlo Park, CA 94025. (650) 329-5404. email Mike Diggles at mdiggles@usgs.gov