7:30 PM-Meeting: . . . GeoCorner Room 320-109

see Map showing Mitchell and GeoCorner Room 320
---
Anyone wishing to attend the lecture only is welcome at no cost.

This will be the 375th meeting since 1954
Abstract
(from Geology: Vol. 33, No. 7, pp. 557-560.)
Earth is the only known planet with subduction zones and plate tectonics, and this fact demonstrates that special conditions are required for this mode of planetary heat loss. Sinking of cold, dense lithosphere in subduction zones is the principal plate-driving force, so plate tectonics could not have begun until Earth cooled sufficiently to allow lithosphere to collapse into the underlying asthenosphere. Direct geologic evidence for when the modern episode of subduction tectonics began focuses on the first appearance of ophiolitic graveyards, blueschist facies metamorphic rocks, and ultrahigh-pressure metamorphic terranes. Ophiolites manifest two modes of lithospheric motion expected from subduction tectonics: seafloor spreading and obduction. High-pressure, low-temperature metamorphic blueschists and ultrahigh-pressure terranes indicate subduction and exhumation of oceanic and continental crust, respectively. These lines of evidence indicate that the modern style of subduction tectonics began in Neoproterozoic time. This revolution in the functioning of the solid Earth may have driven wild fluctuations in Earth's climate, described under the "snowball Earth" hypothesis. These conclusions may be controversial, but suggest fruitful avenues for research in geodynamics and paleoclimate.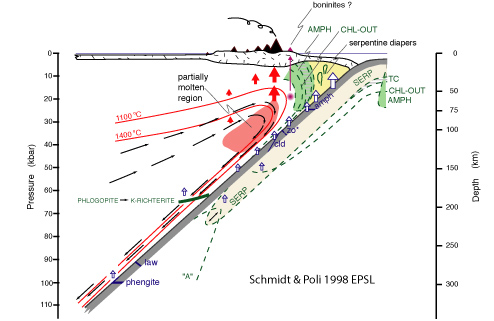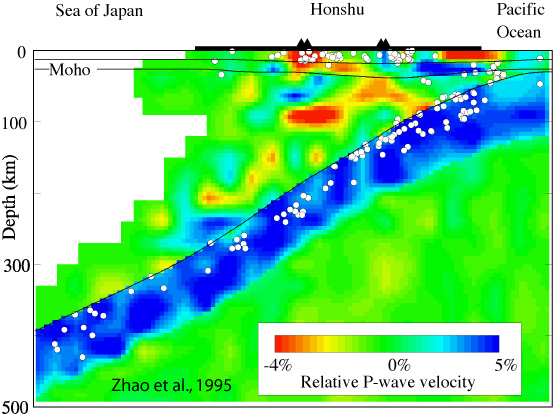 About the Speaker
Robert Stern's education includes a Postdoctoral Fellow, Dept of Terrestrial Magnetism, Carnegie Institute of Washington, 1979-1982, Ph.D., Earth Sciences, University of California at San Diego, 1979, and B.Sc., Geology, University of California at Davis, 1974.
His research interests include:
1) Evolution of the continental crust as approached by tectonic, chemical, and isotopic studies of modern processes and ancient products. Geographic foci of such studies include Izu-Bonin-Mariana island arc system in the Western Pacific and Neoproterozoic crust of NE Africa. These processes and products are studied using a wide range of analytical techniques, including major and trace element analyses, radiogenic isotopic compositions of Sr, Nd, and Pb, and Rb-Sr and U-Pb zircon geochronology, and Remote Sensing.
2) Applications of Remote Sensing for understanding the tectonics and resources of arid regions. Special focus is given to using synthetic aperture radar and Landsat-TM imagery to mapping basement structures and river systems and exploring for water, gold, and oil deposits in arid regions.
3) Geology of the Dallas-Fort Worth Metroplex.

Robert Stern
---
---
Reservations: The preferred way to make reservations is simply to email Janice Sellers at janicemsj@gmail.com by December 4, tell her you will attend, commit to pay, and bring your payment to the meeting. Janice always emails a confirmation; if you don't get one, assume email crashed yet again and email her a second time. A check made to "PGS" is preferred, payable at the meeting.
If you want to pay in advance:
Stanford faculty and students: Please make dinner reservations by December 4. Contact Dr. Elizabeth Miller via her mailbox (and leave check), Geological and Environmental Sciences Office, Geocorner - Bldg. 320 (Rm. 205). Make checks out to "PGS."
All others, including faculty and students from other Bay Area universities and colleges and USGS: Please make dinner reservations by December 4. Contact Janice Sellers, at 1066 28th Street, Oakland, CA 94608-4547, (510) 268-8254 . Send check made out to "PGS" to Janice.
Dinner is $30.00. Includes wine (5:30 to 6:15 PM.) and dinner (6:15-7:30 PM.).
For students from all universities and colleges, the dinner, including the social 3/4-hour, is $5.00 and is partially subsidized thanks to the School of Earth Sciences, Stanford University (Note, no-show reservations owe the full price).
Doris, whose wonderful crew prepares our meals, asked that we let you know that people who are late RSVP'ing and people who show up without a reservation will be welcome but that they will be eating on paper plates with plastic utensils (food supply permitting).
Dues for Academic Year 2005-2006 ($10.00) should be sent to Janice Sellers, 1066 28th Street, Oakland, CA 94608-4547. Janice's phone: (510) 268-8254.
Officers: Ray Wells, President; Dwight Harbaugh and Elizabeth Miller, Co-Vice Presidents; Mike Diggles, Secretary; Janice Sellers, Treasurer; Bob Coleman, Field-Trip Czar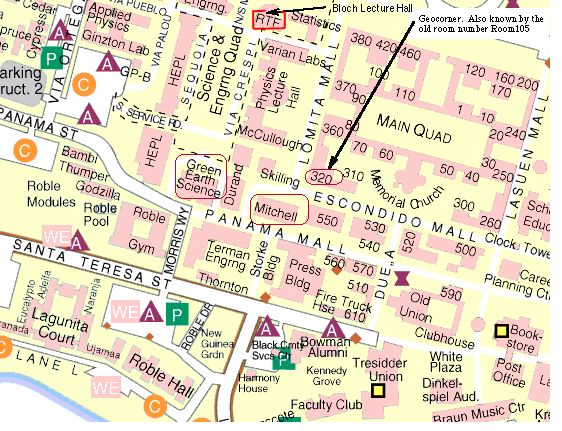 ---
---
---
Date created: November 18, 2005
Last modified: November 29, 2005
Created by: Mike Diggles, Vice President, PGS.


c/o U.S. Geological Survey, MS-951, 345 Middlefield Road, Menlo Park, CA 94025. (650) 329-5404. email Mike Diggles at mdiggles@usgs.gov