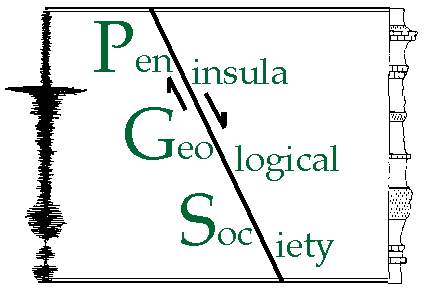 PENINSULA GEOLOGICAL SOCIETY
Grab your hat, boots, camera, hammer, and lunch (never go anywhere without a hammer...), and join our field trip in a little over a week:
THE 1906 EARTHQUAKE AND THE SAN ANDREAS FAULT ON THE SAN FRANCISCO PENINSULA
leaders: Carol Prentice and Bob McLaughlin, USGS
Meeting time and place: Saturday, June 24, 2006, 9:00 am, USGS flagpole (outside Bldg. 3)
345 Middlefield Rd., Menlo Park
http://online.wr.usgs.gov/kiosk/mparea3.html (map)
Note - please be prepared to car pool - at least four people/car. Cars may be parked for the day at USGS
We will be hiking around for a while (>1 hour), so appropriate footwear is essential, as are a hat, water, and sun screen.
We will go off trail, so long pants are strongly advised, especially for people sensitive to poison oak - people may want to bring poison oak avoidance products.
Gaitors are recommended - the grasses are full of clingy seeds and foxtails that will drive you crazy.
There are ticks and/or mosquitos in abundance, concerned folks might want to bring repellent.
People should bring a daypack for water and lunch.
Itinerary is below, times, of course, are approximate:
Meet @ USGS flagpole, 9 am
9:15 depart
10:00 arrive stop 1: overlook on Skyline
10:20 depart stop 1
10:30 arrive stop 2: Los Trancos Open Space parking lot, Page Mill Rd
12:30 lunch
1:00 depart stop 2
2:00 arrive stop 3, Westborough Rd and Fleetwood Dr., San Bruno
2:20 depart stop 3
2:30 arrive stop 4 Myrna Lane, South San Francisco
3:00 depart stop 4
3:45 arrive USGS
Trip description
This field trip is intended to highlight the Holocene active San Andreas Fault along the San Francisco Peninsula, in particular with respect to the 1906 San Francisco earthquake. Stops will be along the fault where the active trace is clearly visible in the geomorphology as well as in the urban corridor south of San Francisco where development has obscured the precise location of the fault trace. Topics of discussion will include 1906 surface rupture, seismic hazard, and new mapping using historical data to help refine the locations of the 1906 rupture through the urbanized section of the fault.
Please direct questions to:
Carol Prentice
Western Earthquake Hazards
U.S. Geological Survey
345 Middlefield Rd., MS 977
Menlo Park, CA 94025
phone: 650-329-5690
Carol Prentice (cprentice@usgs.gov)
Photographs of the field trip
These scenes were taken by Anne Sanquini. Thank you, Anne
Stop 1, Overlook from Cloud's Rest on Skyline, looking East / Northeast
Bob and Carol give us the fault basics.
More detail of what we are seeing.
Bob's custom maps showing offset along Pilarcitos and modern SAF
Group shot at the entrance to Los Trancos, Stop #2
On the faultline, on the bench, uphill scarp nearby; float of
serpentinite near fence.
The Faux Fault Fence
Coming to a sag pond
Under a tree changed in shape from 1906?
Entering Montebello by a sag pond
Carol reviews stream offsets while we are here in the shade.
Discussions
How to recognize a fault vs a drainage
Believe it or not, no ticks.
Offset stream
Recent landslide at Montebello
Oh, yes, it is still active.
We examine the slide from many angles. Sandstone then fault then
colluvium then metabasalt. No surface expression of fault.
Rock inspection
Stop #3
Wow! 20 degree plus temperature change.
Trust me, through the fog, you can see urbanization over the fault.
We' re outta here.
Stop #4. The sag pond is now a playground
The fault trace goes across here, into the red fence (I stood here with Doc Bonilla ca 15 years ago -MFD).
---
Date created: July 2, 2006
Last modified: January 21, 2018
Created by: Anne Sanquini. Maintained by Mike Diggles, Webmaster, PGS.


email Mike Diggles at mike@diggles.com