7:30 PM-Meeting: . . . GeoCorner Room 320-105

see Map showing Mitchell and GeoCorner Room 320
---
Anyone wishing to attend the lecture only is welcome at no cost.

This will be the 385th meeting since 1954

USGS Photograph taken in September 1985 by Lyn Topinka (click image for a larger view)

Here is a related abstract Andy wrote with Wes Hildreth and Judy Fierstein for the International Association of Volconology and Chemistry of the Earth's Interior General Assembly 2004 in Pucon, Chile:

Argon Chronology of Two Young Sisters, Three Sisters Volcanic Cluster, Oregon

The Three Sisters volcanic cluster in the central Oregon Cascades consists of basalt to andesite stratovolcanoes encircled by basalt to rhyolite lava flows and domes. Fifty mapped units have been dated with 40Ar/39Ar techniques. More than 20 of the silicic domes and flows that surround Middle (3062m) and South (3157m) Sisters yield high-precision ages younger than 50ka, and growth of much of the two cones is coeval. The upper 2/3 of Middle Sister consists of two andesite flow packages overlain by ~300m of olivine basalt. Andesite of the lower package yields 37±9ka (all 1-sigma) and the upper package is bracketed between 26±2ka and 14±3ka dacites. The capping basalt is younger than 21±2ka, older than a 14±3ka dacite erupted on its south flank, and two of its flows yield 21±19ka and 16±11ka. South Sister is a composite cone with an andesite/dacite base (Hodge Crest) and a young (<27±3ka) draping andesitic summit sequence. The south flank of South Sister is dominated by the late Holocene rhyolites of Rock Mesa and the Devils Hill chain and about ten 24-50ka silicic domes and flows. Thick silicic lavas also erupted low on Middle and South Sisters' flanks at 18±2ka and 27±2ka (Middle/North Sister saddle), 21±2ka (Lane Plateau), 32±2ka (Dew Lake), 35±2ka (Squaw Creek) and 38±2ka (Obsidian Cliff). All these silicic units lie within the area of uplift imaged by INSAR, the focus of the anomaly lying underneath the contact between the 32ka Dew Lake dacite and older basalt flows.
---
---
Reservations: The preferred way to make reservations is simply to email Janice Sellers at janicemsj@gmail.com by Jan. 5, tell her you will attend, commit to pay, and bring your payment to the meeting. Janice always emails a confirmation; if you don't get one, assume email crashed yet again and email her a second time. A check made to "PGS" is preferred, payable at the meeting.
If you want to pay in advance:
Stanford faculty and students: Please make dinner reservations by Jan. 5. Contact Dr. Elizabeth Miller via her mailbox (and leave check), Geological and Environmental Sciences Office, Geocorner - Bldg. 320 (Rm. 205). Make checks out to "PGS."
All others, including faculty and students from other Bay Area universities and colleges and USGS: Please make dinner reservations by Jan. 5. Contact Janice Sellers, at 1066 28th Street, Oakland, CA 94608-4547, (510) 268-8254 . Send check made out to "PGS" to Janice.
Dinner is $30.00. Includes wine (5:30 to 6:15 PM.) and dinner (6:15-7:30 PM.).
For students from all universities and colleges, the dinner, including the social 3/4-hour, is $5.00 and is partially subsidized thanks to the School of Earth Sciences, Stanford University (Note, no-show reservations owe the full price).
Doris, whose wonderful crew prepares our meals, asked that we let you know that people who are late RSVP'ing and people who show up without a reservation will be welcome but that they will be eating on paper plates with plastic utensils (food supply permitting).
Dues for Academic Year 2006-2007 ($10.00) should be sent to Janice Sellers, 1066 28th Street, Oakland, CA 94608-4547. Janice's phone: (510) 268-8254.
Officers: Ray Wells, President; Dwight Harbaugh and Elizabeth Miller, Co-Vice Presidents; Mike Diggles, Secretary; Janice Sellers, Treasurer; Bob Coleman, Field-Trip Czar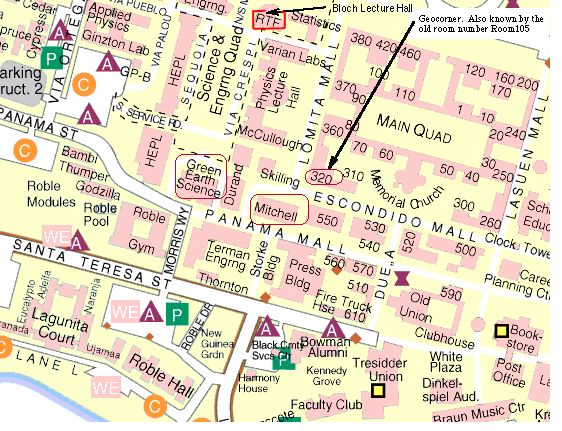 ---
---
---
Date created: January 5, 2007
Last modified: January 5, 2007
Created by: Mike Diggles, Webmaster-Secretary, PGS.


c/o U.S. Geological Survey, MS-951, 345 Middlefield Road, Menlo Park, CA 94025. (650) 329-5404. email Mike Diggles at mdiggles@usgs.gov