7:30 PM-Meeting: . . . GeoCorner Room 320-105

see Map showing Mitchell and GeoCorner Room 320
---
Anyone wishing to attend the lecture only is welcome at no cost.

This will be the 386th meeting since 1954
Abstract
Caves are among nature's most fascinating phenomena, and the scientific information that caves contain or preserve includes the fields of biology, geology, hydrology, paleontology, paleoclimatology, tectonics, and more. Most folks are well aware of Sequoia and Kings Canyon National Parks as "mountain and tree" parks. However, the Parks are also "cave" parks that contain more than 250 caves and karst features, including California's longest cave at nearly 22 miles surveyed length, all in carbonate aquifers preserved in metamorphic "roof pendant" terranes scattered among the region's various batholiths.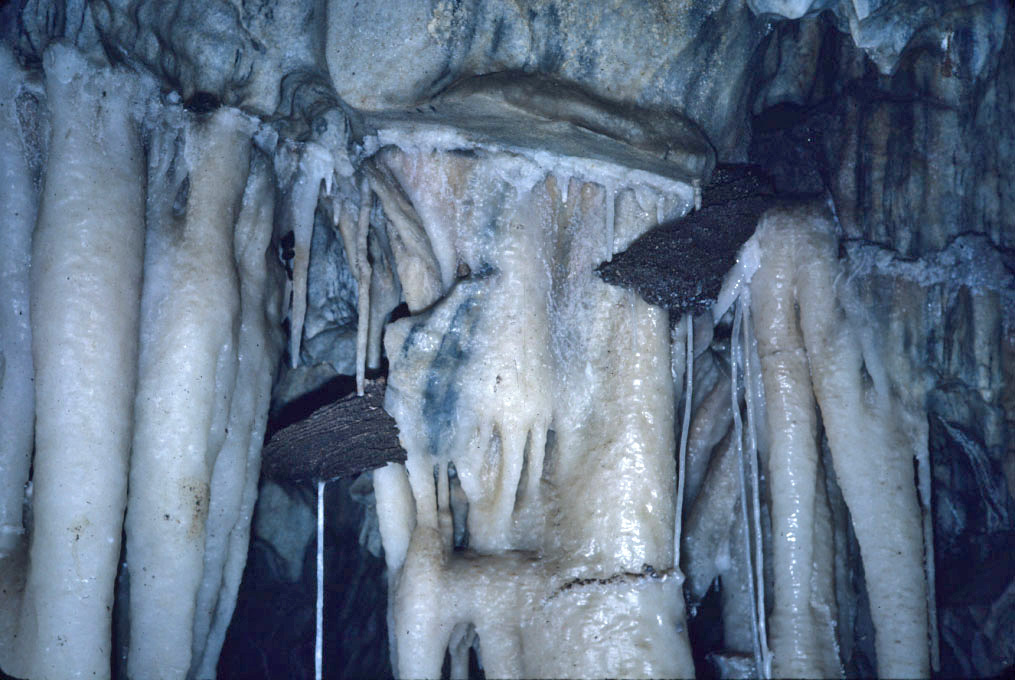 Tonight's presentation, an illustrated tour of selected significant karst features of the Parks, is a minor potpourri of speleology. I will touch on diverse aspects of the geology of solution caves, and I'll show images of recent discoveries — a new cave that made news this past year, newly-discovered species of cave-dwelling critters, skeletons of former cave-dwelling critters, the behavior of a rare ebb-and-flow spring, and other intriguing phenomena from a largely unseen world beneath our feet. Caves offer much future potential for significant contributions to the earth sciences.
About the Speaker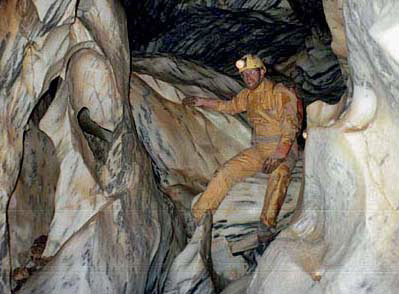 John Tinsley

John C. Tinsley — Geologist, U.S. Geological Survey

John C. Tinsley is a Quaternary stratigrapher currently with the Earthquake Hazards Team at the USGS in Menlo Park, California. He majored in geology at Colorado College and holds Masters and Doctoral degrees from Stanford University. Current research projects emphasize basin analyses of the Santa Clara Valley and East Bay areas on the basis of deep coreholes (with Randy Hanson, James Borchers, Carl Wentworth, Robert Jachens, and many others) and studies effectively re-defining the Quaternary of the Los Angeles Basin using sequence-stratigraphic techniques (with Dan Ponti, Eric Reichard, Brian Edwards, and a cast of dozens). A native of Missouri, Tinsley has spent innumerable hours engaged in numerous underground pursuits. He has thus acquired a significant reputation as a speleologist with emphasis on cave and karst sedimentology. Since 1982, he has led a somewhat secretive existence, largely outside the purview of the USGS, beneath the mountains and canyons of Sequoia and Kings Canyon National Parks, where he coordinates a multi-disciplinary karst research project staffed by dedicated volunteers for the Cave Research Foundation, a not-for-profit Kentucky corporation that has spearheaded the mapping of Mammoth Cave in Kentucky for 50 years.
---
---
Reservations: The preferred way to make reservations is simply to email Janice Sellers at janicemsj@gmail.com by Feb. 9, tell her you will attend, commit to pay, and bring your payment to the meeting. Janice always emails a confirmation; if you don't get one, assume email crashed yet again and email her a second time. A check made to "PGS" is preferred, payable at the meeting.
If you want to pay in advance:
Stanford faculty and students: Please make dinner reservations by Feb. 9. Contact Dr. Elizabeth Miller via her mailbox (and leave check), Geological and Environmental Sciences Office, Geocorner - Bldg. 320 (Rm. 205). Make checks out to "PGS."
All others, including faculty and students from other Bay Area universities and colleges and USGS: Please make dinner reservations by Feb. 9. Contact Janice Sellers, at 1066 28th Street, Oakland, CA 94608-4547, (510) 268-8254 . Send check made out to "PGS" to Janice.
Dinner is $30.00. Includes wine (5:30 to 6:15 PM.) and dinner (6:15-7:30 PM.).
For students from all universities and colleges, the dinner, including the social 3/4-hour, is $5.00 and is partially subsidized thanks to the School of Earth Sciences, Stanford University (Note, no-show reservations owe the full price).
Doris, whose wonderful crew prepares our meals, asked that we let you know that people who are late RSVP'ing and people who show up without a reservation will be welcome but that they will be eating on paper plates with plastic utensils (food supply permitting).
Dues for Academic Year 2006-2007 ($10.00) should be sent to Janice Sellers, 1066 28th Street, Oakland, CA 94608-4547. Janice's phone: (510) 268-8254.
Officers: Ray Wells, President; Dwight Harbaugh and Elizabeth Miller, Co-Vice Presidents; Mike Diggles, Secretary; Janice Sellers, Treasurer; Bob Coleman, Field-Trip Czar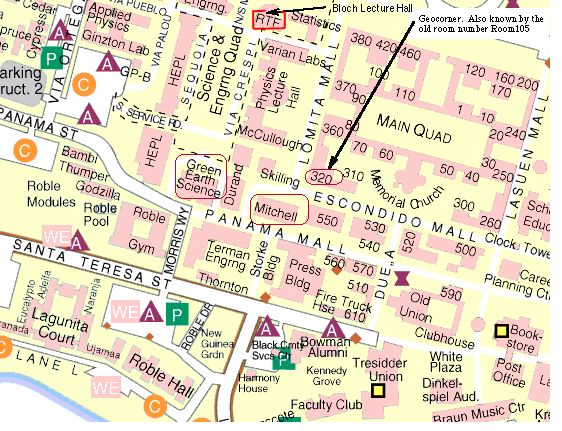 ---
---
---
Date created: February 1, 2007
Last modified: February 1, 2007
Created by: Mike Diggles, Webmaster-Secretary, PGS.


c/o U.S. Geological Survey, MS-951, 345 Middlefield Road, Menlo Park, CA 94025. (650) 329-5404. email Mike Diggles at mdiggles@usgs.gov