7:30 PM-Meeting: . . . GeoCorner Room 320-105

see Map showing Mitchell and GeoCorner Room 320
---
Anyone wishing to attend the lecture only is welcome at no cost.

This will be the 399th meeting since 1954
Abstract
October 21st, 2008, marks the 140th anniversary of the M6.8 1868 Hayward Earthquake. This anniversary has particular significance because paleoseismic investigations show that the average earthquake recurrence on the southern Hayward Fault is about 140 years.  Although few Bay Area residents know about this earthquake, it was the first great "San Francisco" earthquake.  At the time the region that experienced the strongest shaking, San Leandro, Hayward, and Fremont, had fewer than 2000 inhabitants.  Despite the sparse population, this earthquake was one of the most damaging in California history.  The population now at risk from a Hayward Fault earthquake exceeds 2.4 million.  Damage produced by strong ground shaking alone in the next Hayward Fault earthquake will exceed $120 to $150 billion, representing about 10% of property value in the Bay Area.  To learn more about the hazards posed by the Hayward Fault, the USGS has recently published a ShakeMap for the 1868 quake, obtained new LiDAR data for the Hayward Fault, performed ground motion simulations for a Hayward Fault earthquake, and obtained a revised chronology of earthquakes on the Hayward Fault. To promote earthquake safety and mitigation, over 140 public and private agencies and many individuals have joined the 1868 Hayward Earthquake Alliance. The Alliance has sponsored several activities in the past year and will be hosting a commemoration of the 1868 earthquake at Mission San Jose in Fremont, as well as the Third Conference on Earthquake Hazards in Eastern San Francisco Bay at CSU East Bay, Hayward, from October 22 to 24.
About the Speaker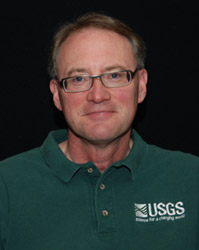 Tom Brocher, a senior seismologist at the U.S. Geological Survey, is currently serving as the Coordinator for Earthquake Hazard Investigations in Northern California.. After receiving degrees in Geology and Geophysics from the University of Michigan and Princeton University, he worked several years at the Hawaii Institute of Geophysics and Woods Hole Oceanographic Institution. In his over 20-year career at the USGS, he has studied earthquake faults throughout the western United States and recently developed a new seismic hazard model for the Seattle fault zone. His interest in the mitigation of seismic risk led to his participation in the multilingual translation of the popular earthquake preparedness pamphlet, Putting Down Roots in the San Francisco Bay Area. Tom was a Member of the Team which made computer animations of the ground shaking produced by the 1989 Loma Prieta and 1906 San Francisco earthquakes. Tom is the chair of the Steering Committee for the "1868 Hayward Earthquake Alliance."
On October 1, the day after his PGS presentation, Tom becomes Team Chief Scientist of the Earthquake Hazards Team at USGS in Menlo Park.
Also of interest
1868 Hayward Earthquake Information
1868 Hayward Earthquake Alliance
The Hayward Fault—Is It Due for a Repeat of the Powerful 1868 Earthquake? (USGS Fact Sheet)
---
---
Reservations: The preferred way to make reservations is simply to email John Spritzer at jspritzer@usgs.gov by September 26, tell him you will attend, commit to pay, and bring your payment to the meeting. John always emails a confirmation; if you don't get one, assume email crashed yet again and email him a second time. A check made to "PGS" is preferred, payable at the meeting.
If you want to pay in advance:
Everyone (including Stanford folks now) Please make dinner reservations by September 26. Contact John Spritzer, at U.S. Geological Survey, 345 Middlefield Road, MS-973 Menlo Park, CA 94025, Tel.: (650) 329-4833. Send check made out to "PGS" to John.
Dinner is $30.00. Includes wine (5:30 to 6:15 PM.) and dinner (6:15-7:30 PM.).
For students from all universities and colleges, the dinner, including the social 3/4-hour, is $5.00 and is partially subsidized thanks to the School of Earth Sciences, Stanford University (Note, no-show reservations owe the full price).
Doris, whose wonderful crew prepares our meals, asked that we let you know that people who are late RSVPing and people who show up without a reservation will be welcome but that they will be eating on paper plates with plastic utensils (food supply permitting).
Dues for Academic Year 2008-2009 ($10.00) should be sent to John Spritzer, U.S. Geological Survey, 345 Middlefield Road, MS-973 _Menlo Park, CA 94025. John's phone: (650) 329-4833.
Officers: Tom Moore, President; Keith Howard, Vice President; Mike Diggles, Secretary; John Spritzer, Treasurer; Elizabeth Miller, PGS Stanford University Coordinator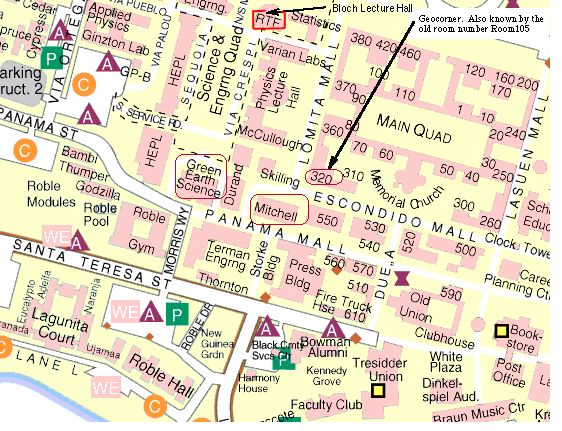 ---
---
---
Date created: September 23, 2008
Last modified: September 23, 2008
Created by: Mike Diggles, Webmaster-Secretary, PGS.


c/o U.S. Geological Survey, MS-951, 345 Middlefield Road, Menlo Park, CA 94025. (650) 329-5404. email Mike Diggles at mdiggles@usgs.gov