7:30 PM-Meeting: . . . GeoCorner Room 320-105
---
Anyone wishing to attend the lecture only is welcome at no cost.

This will be the 402nd meeting since 1954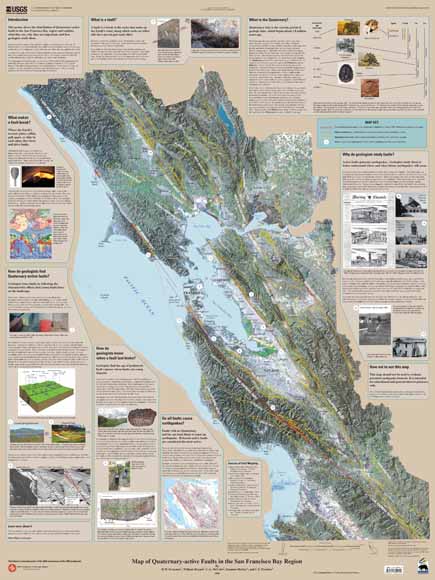 Screenshot of USGS Scientific Investigations Map 2919, Map of Quaternary-active Faults in the San Francisco Bay Region, By R.W. Graymer, William Bryant, C.A. McCabe, Suzanne Hecker, and C.S. Prentice [http://pubs.usgs.gov/sim/2006/2919/]
See also
Geologic Map of the San Francisco Bay Region, By R.W. Graymer, B.C. Moring, G.J. Saucedo, C.M. Wentworth, E.E. Brabb, and K.L. Knudsen[http://pubs.usgs.gov/sim/2006/2918/]
Abstract
Although the tectonics and earthquake hazards of the East San Francisco Bay Area have been extensively studied, there is still much to be considered.  In this talk I will review the results of a decade of studies in the East Bay, including a proposed tectonic history of the East Bay Fault System in general and the Hayward Fault in particular, including it's changing connection to the Calaveras Fault.  I will also review the 3-D geology of the Hayward Fault Zone and it's correlation with fault behavior.  I will describe uncertainties and inconsistencies in our analyses of earthquake hazards in the East Bay, and discuss the potential for previously unrecognized earthquake scenarios.  Finally, I will focus on the presently active Hayward-Calaveras Fault connection and the potential for earthquakes larger than the 1868 M6.8 earthquake.
About the Speaker
Here is Russ' biographical info:
B.S. California Institute of Technology, 1985: field/paloemag lab assistant for Ray Weldon, Phelan Formation and long-term San Andreas Fault offsets
Ph.D. University of California, Berkeley, 1992: Structural evolution of the central part of the Foothills terrane, Sierra Nevada, California (thesis advisor, David L. Jones), differentiating multiple accreted terranes and discerning their accretionary history
Post-doc, Univ. of California, Berkeley, 1992-1994: Geology and earthquake potential of the Mission Fault
USGS, 1994 (contractor) - 1996 (real job) - present, geologic mapping, Quaternary-active fault mapping, 3-D geologic mapping, and landslide susceptibility studies in northern California
---
---
Reservations: The preferred way to make reservations is simply to email John Spritzer at jspritzer@usgs.gov by January 9, tell him you will attend, commit to pay, and bring your payment to the meeting. John always emails a confirmation; if you don't get one, assume email crashed yet again and email him a second time. A check made to "PGS" is preferred, payable at the meeting.
If you want to pay in advance:
Everyone (including Stanford folks now) Please make dinner reservations by January 9. Contact John Spritzer, at U.S. Geological Survey, 345 Middlefield Road, MS-973 Menlo Park, CA 94025, Tel.: (650) 329-4833. Send check made out to "PGS" to John.
Dinner is $30.00. Includes wine (5:30 to 6:15 PM.) and dinner (6:15-7:30 PM.).
For students from all universities and colleges, the dinner, including the social 3/4-hour, is $5.00 and is partially subsidized thanks to the School of Earth Sciences, Stanford University (Note, no-show reservations owe the full price).
Doris, whose wonderful crew prepares our meals, asked that we let you know that people who are late RSVPing and people who show up without a reservation will be welcome but that they will be eating on paper plates with plastic utensils (food supply permitting).
Dues for Academic Year 2008-2009 ($10.00) should be sent to John Spritzer, U.S. Geological Survey, 345 Middlefield Road, MS-973 _Menlo Park, CA 94025. John's phone: (650) 329-4833.
Officers: Keith Howard, President; Vicki Langenheim, Vice President; Mike Diggles, Secretary; John Spritzer, Treasurer; Elizabeth Miller, PGS Stanford University Coordinator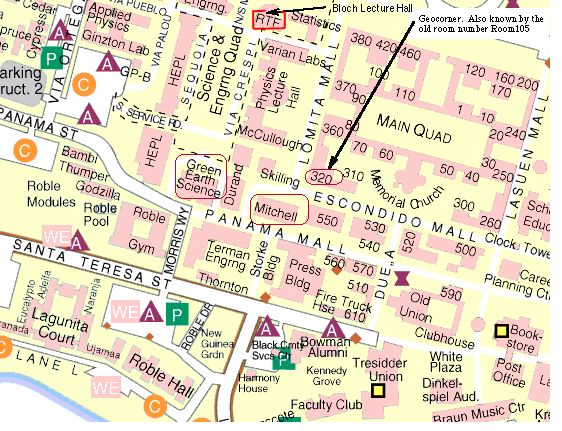 ---
---
---
Date created: December 19, 2008
Last modified: January 19, 2009
Created by: Mike Diggles, Webmaster-Secretary, PGS.


c/o U.S. Geological Survey, MS-951, 345 Middlefield Road, Menlo Park, CA 94025. (650) 329-5404. email Mike Diggles at mdiggles@usgs.gov