7:30 PM-Meeting: . . . GeoCorner Room 320-105
---
Anyone wishing to attend the lecture only is welcome at no cost.

This will be the 403rd meeting since 1954
Abstract
Southern California preserves a comparatively complete record of crustal assembly, sedimentation, and rifting along the southwestern North American continental margin. The oldest exposed rocks are metasedimentary gneisses and amphibolite, preserving cryptic evidence of recycling of yet older crust. These gneisses enclose intrusive suites that range from tonalite to granite. Discrete magmatic episodes occurred at approximately 1790 to 1730 and 1690 to 1640 Ma. Peak metamorphic conditions reached middle amphibolite to granulite facies; metamorphism occurred locally from 1795 to 1640 Ma, with widespread evidence for metamorphism at 1711 to 1689 Ma and 1670 to 1650 Ma. Structures record early, tight to isoclinal folding and penetrative west-vergent shear during the final metamorphic event along the continental edge. These basement rocks are overlain by siliciclastic-carbonate sequences of Mesoproterozoic, Neoproterozoic and Cambrian age, recording environmental change over the course of the transition from stable cratonic crust to the rifted Cordilleran margin. Neoproterozoic to Cambrian miogeoclinal clastic rocks record an end to rifting and establishment of the Cordilleran miogeocline in southern California by latest Neoproterozoic to Early Cambrian time.
About the Speaker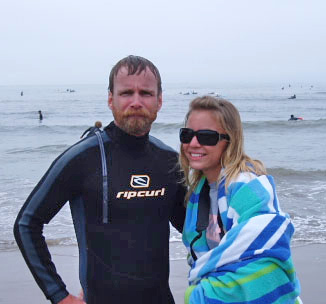 Andy and his daughter Lauren
Andy Barth is a professor of earth sciences at IUPUI (just ask if you need to know the story behind that!) and a visiting professor at Stanford University, with an interest in petrologic processes and the geodynamic evolution of the Cordillera. He received BS and MS degrees in geology from Cal State L.A. and a Ph.D. in earth sciences from the University of Southern California.
---
---
Reservations: The preferred way to make reservations is simply to email John Spritzer at jspritzer@usgs.gov by January 30, tell him you will attend, commit to pay, and bring your payment to the meeting. John always emails a confirmation; if you don't get one, assume email crashed yet again and email him a second time. A check made to "PGS" is preferred, payable at the meeting.
If you want to pay in advance:
Everyone (including Stanford folks now) Please make dinner reservations by January 30. Contact John Spritzer, at U.S. Geological Survey, 345 Middlefield Road, MS-973 Menlo Park, CA 94025, Tel.: (650) 329-4833. Send check made out to "PGS" to John.
Dinner is $30.00. Includes wine (5:30 to 6:15 PM.) and dinner (6:15-7:30 PM.).
For students from all universities and colleges, the dinner, including the social 3/4-hour, is $5.00 and is partially subsidized thanks to the School of Earth Sciences, Stanford University (Note, no-show reservations owe the full price).
Doris, whose wonderful crew prepares our meals, asked that we let you know that people who are late RSVPing and people who show up without a reservation will be welcome but that they will be eating on paper plates with plastic utensils (food supply permitting).
Dues for Academic Year 2008-2009 ($10.00) should be sent to John Spritzer, U.S. Geological Survey, 345 Middlefield Road, MS-973 _Menlo Park, CA 94025. John's phone: (650) 329-4833.
Officers: Keith Howard, President; Vicki Langenheim, Vice President; Mike Diggles, Secretary; John Spritzer, Treasurer; Elizabeth Miller, PGS Stanford University Coordinator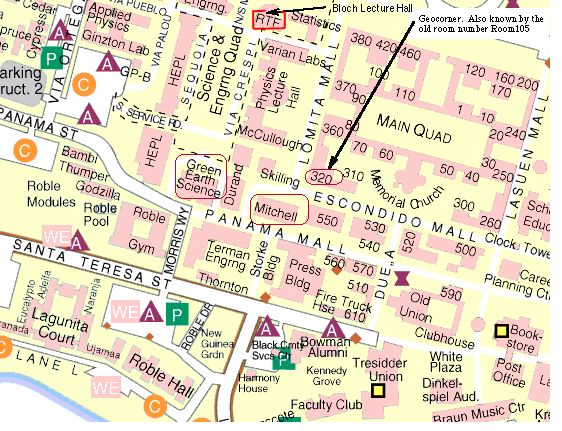 ---
---
---
Date created: January 22, 2009
Last modified: February 4, 2009
Created by: Mike Diggles, Webmaster-Secretary, PGS.


c/o U.S. Geological Survey, MS-951, 345 Middlefield Road, Menlo Park, CA 94025. (650) 329-5404. email Mike Diggles at mdiggles@usgs.gov