7:30 PM-Meeting: . . . GeoCorner Room 320-105
---
Anyone wishing to attend the lecture only is welcome at no cost.

This will be the 405th meeting since 1954
Abstract
The Hanford nuclear complex in Washington State was the premiere plutonium production facility (the larger of only two in the United States), operating between 1944 and 1986. The 1,500 square-kilometer complex housed the world's first full-scale nuclear reactors and fuel-reprocessing facilities--built in wartime haste, without benefit of pilot or environmental studies. Hanford's setting atop massive glacial Lake Missoula Jökulhlaups deposits, and other alluvium nestled between Rattlesnake Mountain and cliffs across a bend in the Columbia River afforded it secrecy, ample amounts of high-quality process and cooling water, and a thick unsaturated zone for waste disposal. However, the capacity of the unsaturated zone to absorb wastes threatened at times to limit production. Eleven-hundred kilometers to the south-southeast, the Amargosa Desert near Beatty, Nevada, became home to the Nation's first disposal facility for civilian radioactive wastes. Operating from 1962-92, in early years it accepted virtually the entire waste stream (except spent fuel rods) from the nascent nuclear industry in California and other states. As at Hanford, a thick sequence of unsaturated alluvial sediments effected waste isolation. Lessons from the "restoration" of Hanford and from ongoing studies at the Amargosa Desert Research Site show the value of high-resolution geologic framework characterization and the need for process understanding of hydrochemically altered systems to enable the Nation to deal with nuclear waste--past, present and future.
About the Speaker

Dave Stonestrom
Dave Stonestrom is a research hydrologist with the USGS National Research Program. Stationed in Menlo Park, Calif., his interests lie in earth-surface processes involving flow and transport through unsaturated zones. These interests have evolved through studies of unsaturated zones from the rain forests of Puerto Rico to southwestern U.S. deserts. Dave served on a National Research Council committee advising the U.S. Department of Energy on environmental restoration of the Hanford facility. He holds a B.S. in Geology from Dickinson College and M.S. and Ph.D. degrees in Hydrology from Stanford University.
---
---
Reservations: The preferred way to make reservations is simply to email John Spritzer at jspritzer@usgs.gov by April 3, tell him you will attend, commit to pay, and bring your payment to the meeting. John always emails a confirmation; if you don't get one, assume email crashed yet again and email him a second time. A check made to "PGS" is preferred, payable at the meeting.
If you want to pay in advance:
Everyone (including Stanford folks now) Please make dinner reservations by April 3. Contact John Spritzer, at U.S. Geological Survey, 345 Middlefield Road, MS-973 Menlo Park, CA 94025, Tel.: (650) 329-4833. Send check made out to "PGS" to John.
Note: the prices have gone up a little.
Dinner is $35.00. Includes wine (5:30 to 6:15 PM.) and dinner (6:15-7:30 PM.).
For students from all universities and colleges, the dinner, including the social 3/4-hour, is $8.00 and is partially subsidized thanks to the School of Earth Sciences, Stanford University (Note, no-show reservations owe the full price).
Doris, whose wonderful crew prepares our meals, asked that we let you know that people who are late RSVPing and people who show up without a reservation will be welcome but that they will be eating on paper plates with plastic utensils (food supply permitting).
Dues for Academic Year 2008-2009 ($10.00) should be sent to John Spritzer, U.S. Geological Survey, 345 Middlefield Road, MS-973 _Menlo Park, CA 94025. John's phone: (650) 329-4833.
Officers: Keith Howard, President; Vicki Langenheim, Vice President; Mike Diggles, Secretary; John Spritzer, Treasurer; Elizabeth Miller, PGS Stanford University Coordinator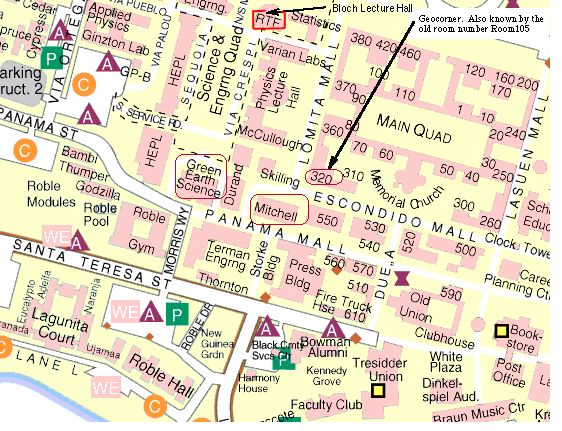 ---
---
---
Date created: March 25, 2009
Last modified: March 25, 2009
Created by: Mike Diggles, Webmaster-Secretary, PGS.


c/o U.S. Geological Survey, MS-951, 345 Middlefield Road, Menlo Park, CA 94025. (650) 329-5404. email Mike Diggles at mdiggles@usgs.gov