7:30 PM-Meeting: . . . GeoCorner Room 320-105
---
Anyone wishing to attend the lecture only is welcome at no cost.

This will be the 406th meeting since 1954
Abstract
The modern Sierra Nevada and Great Basin were likely the site of a high-elevation orogenic plateau supported by thick crust from the late Mesozoic to at least the Oligocene. Although crustal thickening at this scale can and does lead to extension, the relationship between Mesozoic shortening and subsequent formation of the Basin and Range is difficult to unravel because it is unclear which of the many documented episodes of extension were the most significant in terms of net widening and crustal thinning. New geologic and geochronologic data from north-central Nevada (south of Battle Mountain and Elko) in the heart of the hypothesized orogenic plateau are consistent with only minor surface extension during major Eocene and Oligocene volcanism, at which time ash-flow tuffs were able to disperse widely across a low-relief landscape. Widespread extension did not begin until about 17-16 Ma and was partitioned into high-strain domains separated by relatively unextended crustal blocks. This deformation was over no later than 10-12 Ma, and was followed by relatively slow extension on the widely-spaced, high-angle normal faults that formed the modern basin-range topography of the region. Major widening of the Basin and Range at this latitude thus took place during a relatively restricted time window in the middle Miocene, and the apparent lack of contemporaneous compression on the Pacific plate margin suggests that it played an important role in allowing extension to occur when it did, as rapidly as it did. The onset of extension of extension ca. 16-17 Ma was coeval with both Pacific Northwest flood-basalt volcanism and the hypothesized final demise of the shallow Farallon slab that was beneath the western United States in the early Tertiary, but it is unclear if these events were also necessary prerequisites for extension or are (especially in the case of "hotspot volcanism") themselves consequences of rapid extension and/or reorganization of the plate boundary.
About the Speaker

Joe Colgan
Joe Colgan received his B.A. from Carlton College and his Ph.D. from Stanford University. His association with the USGS in Menlo Park includes work between his degrees, and the 2005 award of a USGS Mendenhall Postdoctoral Fellowship. His interests in Cenozoic tectonics of the western United States have led him to extensive research in the Basin and Range province.
---
---
Reservations: The preferred way to make reservations is simply to email John Spritzer at jspritzer@usgs.gov by May 8, tell him you will attend, commit to pay, and bring your payment to the meeting. John always emails a confirmation; if you don't get one, assume email crashed yet again and email him a second time. A check made to "PGS" is preferred, payable at the meeting.
If you want to pay in advance:
Everyone (including Stanford folks now) Please make dinner reservations by May 8. Contact John Spritzer, at U.S. Geological Survey, 345 Middlefield Road, MS-973 Menlo Park, CA 94025, Tel.: (650) 329-4833. Send check made out to "PGS" to John.
Note: the prices have gone up a little.
Dinner is $35.00. Includes wine (5:30 to 6:15 PM.) and dinner (6:15-7:30 PM.).
For students from all universities and colleges, the dinner, including the social 3/4-hour, is $8.00 and is partially subsidized thanks to the School of Earth Sciences, Stanford University (Note, no-show reservations owe the full price).
Doris, whose wonderful crew prepares our meals, asked that we let you know that people who are late RSVPing and people who show up without a reservation will be welcome but that they will be eating on paper plates with plastic utensils (food supply permitting).
Dues for Academic Year 2008-2009 ($10.00) should be sent to John Spritzer, U.S. Geological Survey, 345 Middlefield Road, MS-973 _Menlo Park, CA 94025. John's phone: (650) 329-4833.
Officers: Keith Howard, President; Vicki Langenheim, Vice President; Mike Diggles, Secretary; John Spritzer, Treasurer; Elizabeth Miller, PGS Stanford University Coordinator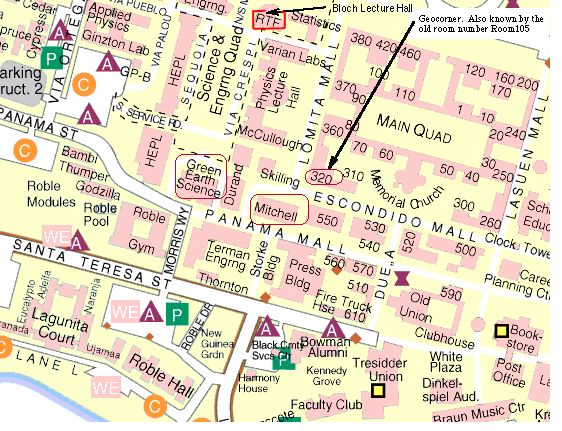 ---
---
---
Date created: April 14, 2009
Last modified: April 14, 2009
Created by: Mike Diggles, Webmaster-Secretary, PGS.


c/o U.S. Geological Survey, MS-951, 345 Middlefield Road, Menlo Park, CA 94025. (650) 329-5404. email Mike Diggles at mdiggles@usgs.gov