7:30 PM-Meeting: . . . Geology Corner Room 320-105
---
Anyone wishing to attend the lecture only is welcome at no cost.

This will be the 413th meeting since 1954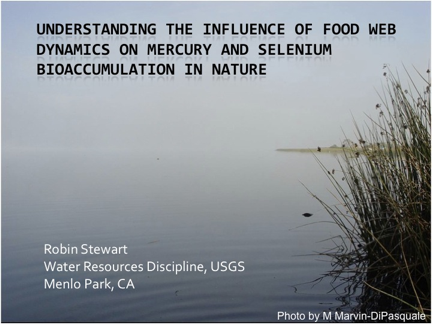 Abstract
Mercury and selenium are dietary contaminants that pose a significant threat to humans and wildlife in rivers, lakes, estuaries and oceans in the United States and internationally. These organometals are strongly impacted by load from variable sources (atmospheric, mining and industrial) and biogeochemical processes that control the formation of bioavailable species (e.g. methylmercury). Ultimately, their fate in ecosystems is modified by biology and food web characteristics. Assessments in nature are complicated by spatial and temporal gradients in physics, geology, chemistry and biology, and thus, a łtrue˛ interdisciplinary approach is needed. Synthesizing results from several interdisciplinary field studies conducted in a variety of ecosystems, this presentation provides a quantitative assessment of the contribution of biology and food web complexity relative to load and biogeochemical processes in determining concentrations of organometals in top predators.
About the Speaker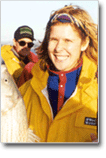 Robin Stewart
A. Robin Stewart is a Research Hydrologist with the U.S. Geological Survey's Water Resources National Research Program. She received her B.S. in Biology from the University of Victoria and her Ph.D. in Biology from the University of Matitoba. Her research focuses on understanding transport, fate and bioaccumulation of trace metals, elements and organic contaminants in aquatic systems. she has studied a range of contaminants including trace elements (metals, Se, Hg) and organochlorine pesticides (PCBs, DDT), in a variety of aquatic systems including lakes and reservoirs, wetlands, estuaries and rivers, and in biota ranging in size from zooplankton to diving ducks and sturgeon. These diverse research interests have led her to a greater understanding of how contaminants behave chemically in the environment, interact with biological systems and manifest their effects in nature. Each research area is of sufficient importance and interest to continue dedicated research on them; however, it is how they interact in a larger ecosystem context that she finds most intriguing. In the past, the goal of understanding complex environmental problems in nature was seen as unattainable. However, with new tools and combined approaches from a variety of disciplines she believes we will soon be able to develop ecosystem models that accurately depict mechanisms of contamination at all levels of ecosystem organization. It is only through this level of awareness that will we truly be able to understand chemical stressors and protect our environment.
---
---
Reservations: The preferred way to make reservations is simply to email John Spritzer at jspritzer@usgs.gov by March 5, tell him you will attend, commit to pay, and bring your payment to the meeting. John always emails a confirmation; if you don't get one, assume email crashed yet again and email him a second time. A check made to "PGS" is preferred, payable at the meeting.
If you want to pay in advance:
Everyone (including Stanford folks now) Please make dinner reservations by March 5. Contact John Spritzer, at U.S. Geological Survey, 345 Middlefield Road, MS-973 Menlo Park, CA 94025, Tel.: (650) 329-4833. Send check made out to "PGS" to John.
Dinner is $35.00. Includes wine (5:30 to 6:15 PM.) and dinner (6:15-7:30 PM.).
For students from all universities and colleges, the dinner, including the social 3/4-hour, is $8.00 and is partially subsidized thanks to the School of Earth Sciences, Stanford University (Note, no-show reservations owe the full price).
Doris, whose wonderful crew prepares our meals, asked that we let you know that people who are late RSVPing and people who show up without a reservation will be welcome but that they will be eating on paper plates with plastic utensils (food supply permitting).
Dues for Academic Year 2009-2010 ($10.00) should be sent to John Spritzer, U.S. Geological Survey, 345 Middlefield Road, MS-973 _Menlo Park, CA 94025. John's phone: (650) 329-4833.
Officers: Vicki Langenheim, President; Jon Hagstrum, Vice President; Mike Diggles, Secretary; John Spritzer, Treasurer; Elizabeth Miller, PGS Stanford University Coordinator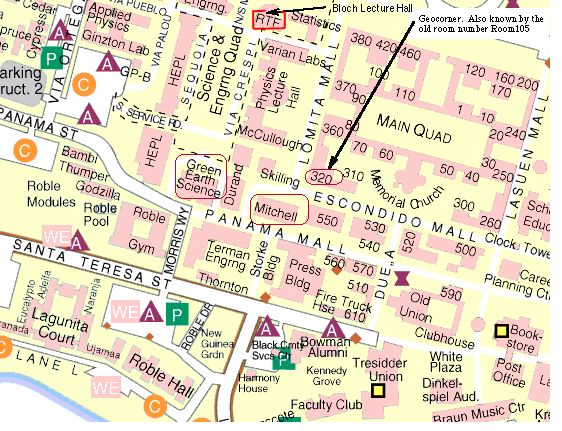 ---
---
---
Date created: February 22, 2010
Last modified: February 23, 2010
Created by: Mike Diggles, Webmaster-Secretary, PGS.


c/o U.S. Geological Survey, MS-951, 345 Middlefield Road, Menlo Park, CA 94025. (650) 329-5404. email Mike Diggles at mdiggles@usgs.gov