7:30 PM-Meeting: . . . Geology Corner Room 320-105
---
Anyone wishing to attend the lecture only is welcome at no cost.

This will be the 417th meeting since 1954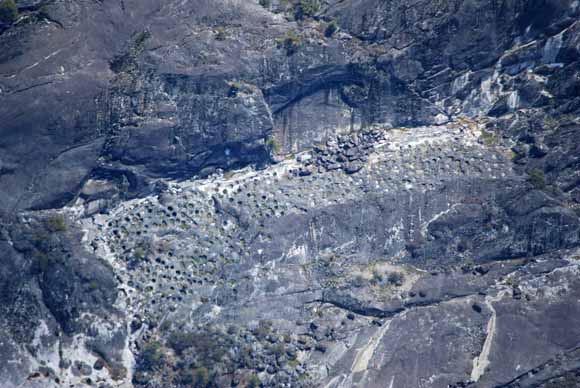 Abstract
Hundreds of meter-size granite basins at 220 sites occur along a 240-km-long belt from Lake Isabella north to the San Joaquin River on the west slope of the southern Sierra Nevada. The circular basins carved in granitic outcrops range in volume from 40 to 1400 liters. The man-made basins, commonly associated with campsite middens and mortars for grinding acorns, required enormous, sustained labor to excavate. Until now their apparent purpose was believed to be some aspect of food processing or storage. About 120 km north of this belt a tight cluster of more than 350 similar granite basins occurs near a rare salt spring. They were clearly made by Indians to contain saline water to produce salt by evaporation.
In July 2010 (and again in September) volcanic ash was discovered in a typical granite basin in the southern belt NW of Giant Forest. Microprobe analysis established it to be Tephra 1 of Wood (1977) originating from an explosive eruption of one of the Inyo Craters on the NW rim of Long Valley Caldera. This eruption, dated by tree-ring techniques, occurred in late summer of AD 1350 (Millar, King, Westfall, Alden, Delany, 2006). It killed a fossil forest that differs from modern forests by more diverse tree species typical of a milder climate as would be expected during the warmer climate of the Medieval Warm Period (MWP: AD 800-1350)—an era when drought conditions prevailed at lower elevations (Stine, 1994; Millar et al, 2006).
Basins in the southern belt were apparently also excavated to serve as cisterns for storing water, but in their case, fresh water. Using this stored water the tribal groups could prolong their stay at these summer food-gathering camps as streams dwindled and died in the late summer during the droughts of the MWP. The ash presence indicates that these cisterns were made and in use somewhat before the volcanic activity 660 years ago. The cisterns apparently mark those camps that suffered from a shortage of water prior to AD 1350 probably in the Medieval Warm Period.
About the Speaker

Jim Moore
James G. Moore has conducted geologic fieldwork during 34 summers in the highest Sierra Nevada. His work outlined the geology of Sequoia and Kings Canyon National Parks and led to a book, Exploring the Highest Sierra. He has also explored the new ground created during 20 on-going volcanic eruptions in Hawaii, Washington, Japan, Philippines, Italy, and Iceland.
---
---
Reservations: The preferred way to make reservations is simply to email John Spritzer at jspritzer@usgs.gov by Oct. 1, tell him you will attend, commit to pay, and bring your payment to the meeting. John always emails a confirmation; if you don't get one, assume email crashed yet again and email him a second time. A check made to "PGS" is preferred, payable at the meeting.
If you want to pay in advance:
Everyone (including Stanford folks now) Please make dinner reservations by Oct. 1. Contact John Spritzer, at U.S. Geological Survey, 345 Middlefield Road, MS-973 Menlo Park, CA 94025, Tel.: (650) 329-4833. Send check made out to "PGS" to John.
Dinner is $35.00. Includes wine (5:30 to 6:15 PM.) and dinner (6:15-7:30 PM.).
For students from all universities and colleges, the dinner, including the social 3/4-hour, is $8.00 and is partially subsidized thanks to the School of Earth Sciences, Stanford University (Note, no-show reservations owe the full price).
Doris, whose wonderful crew prepares our meals, asked that we let you know that people who are late RSVPing and people who show up without a reservation will be welcome but that they will be eating on paper plates with plastic utensils (food supply permitting).
Dues for Academic Year 2010-2011 ($10.00) should be sent to John Spritzer, U.S. Geological Survey, 345 Middlefield Road, MS-973 _Menlo Park, CA 94025. John's phone: (650) 329-4833.
Officers: Jon Hagstrum, President; David Bedford, Vice President; Mike Diggles, Secretary; John Spritzer, Treasurer; Elizabeth Miller, PGS Stanford University Coordinator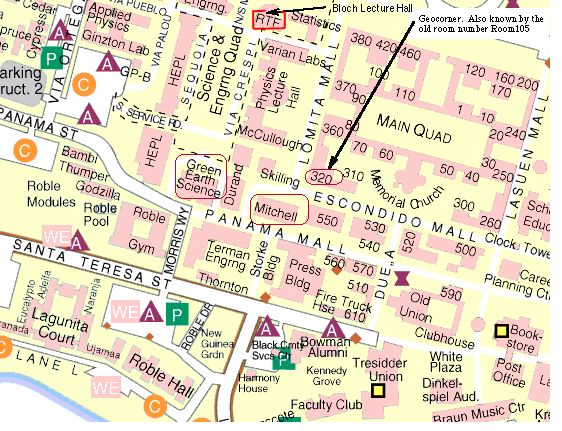 ---
---
---
Date created: September 21, 2010
Last modified: September 21, 2010
Created by: Mike Diggles, Webmaster-Secretary, PGS.


c/o U.S. Geological Survey, MS-951, 345 Middlefield Road, Menlo Park, CA 94025. (650) 329-5404. email Mike Diggles at mdiggles@usgs.gov