7:30 PM-Meeting: . . . Geology Corner Room 320-105
---
Anyone wishing to attend the lecture only is welcome at no cost.

This will be the 420th meeting since 1954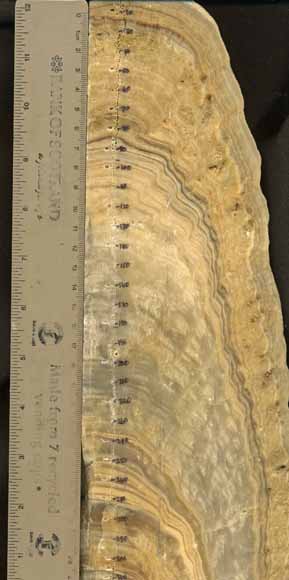 Abstract
Recent studies document the synchronous nature of shifts in North Atlantic regional climate, East Asian monsoon intensity, and precipitation in northern South America during the last glacial period. Yet questions remain as to what climate mechanisms influenced continental regions far removed from the North Atlantic and beyond the direct influence of the inter-tropical convergence zone. During this presentation, I will be discussing multi-proxy, U-series-calibrated paleoclimate records that I have developed using stalagmites from two central Sierra Nevada foothills caves that document precipitation changes that are approximately coeval with Greenland temperature changes during the last glacial period. The Moaning Cave stalagmite proxies record variations in precipitation between 16.5 and 8.7 ka. This record suggests drier and possibly warmer conditions during Northern Hemisphere warm periods and wetter and possibly colder conditions during Northern Hemisphere cool periods. Similarly, paleoclimate proxy records from the McLean's Cave stalagmite, which precipitated between 68 and 56 ka, document drier conditions during interstadials and wetter conditions during stadials associated with the millennial-scale Dangsgaard-Oeschger temperature cycles noted in the Greenland ice core record.
The precipitation changes documented by the Moaning and McLean's Cave stalagmites lend further support to growing evidence of strong connections between changes in ice extent at high northern latitudes and thermohaline circulation in the North Atlantic, and precipitation in western North America that persist throughout the last glacial period. Such relationships suggest that the Sierra Nevada region may see reductions in Pacific moisture under conditions of continued global warming, an occurrence that would have significant consequences in an area already characterized by marginally sufficient water resources.
About the Speaker
Jessica Oster is a postdoctoral scholar in the Department of Geological and Environmental Sciences at Stanford University. She recently completed her PhD at the University of California, Davis. Jessica's research focuses on reconstructing past precipitation variability using terrestrial paleoclimate archives such as speleothems and pedogenic minerals. Jessica employs a number of different geochemical proxies of climate change, including stable oxygen and carbon isotopes, uranium-series isotopes, and elemental concentrations to evaluate the hydrologic response of mid-latitude terrestrial environments to past climate events.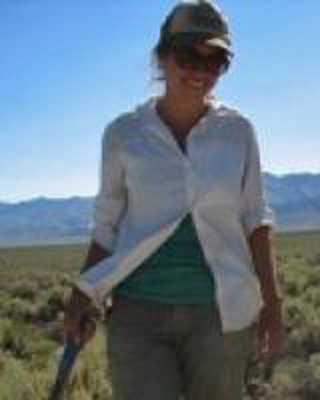 Jessica Oster
---
---
Reservations: The preferred way to make reservations is simply to email John Spritzer at jspritzer@usgs.gov by Jan. 7, tell him you will attend, commit to pay, and bring your payment to the meeting. John always emails a confirmation; if you don't get one, assume email crashed yet again and email him a second time. A check made to "PGS" is preferred, payable at the meeting.
If you want to pay in advance:
Everyone (including Stanford folks now) Please make dinner reservations by Jan. 7. Contact John Spritzer, at U.S. Geological Survey, 345 Middlefield Road, MS-973 Menlo Park, CA 94025, Tel.: (650) 329-4833. Send check made out to "PGS" to John.
Dinner is $35.00. Includes wine (5:30 to 6:15 PM.) and dinner (6:15-7:30 PM.).
For students from all universities and colleges, the dinner, including the social 3/4-hour, is $8.00 and is partially subsidized thanks to the School of Earth Sciences, Stanford University (Note, no-show reservations owe the full price).
Doris, whose wonderful crew prepares our meals, asked that we let you know that people who are late RSVPing and people who show up without a reservation will be welcome but that they will be eating on paper plates with plastic utensils (food supply permitting).
Dues for Academic Year 2010-2011 ($10.00) should be sent to John Spritzer, U.S. Geological Survey, 345 Middlefield Road, MS-973 _Menlo Park, CA 94025. John's phone: (650) 329-4833.
Officers: Jon Hagstrum, President; David Bedford, Vice President; Mike Diggles, Secretary; John Spritzer, Treasurer; Elizabeth Miller, PGS Stanford University Coordinator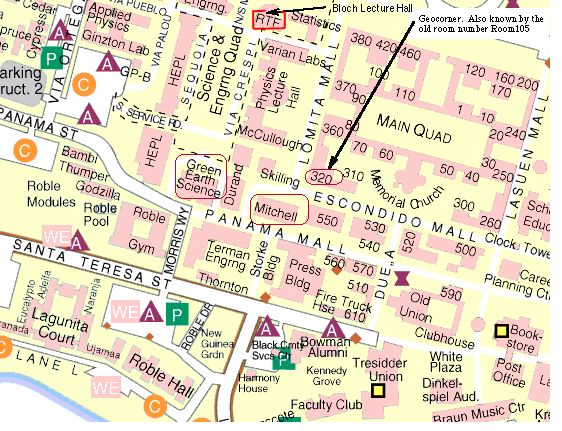 ---
---
---
Date created: December 18, 2010
Last modified: December 21, 2010
Created by: Mike Diggles, Webmaster-Secretary, PGS.


c/o U.S. Geological Survey, MS-951, 345 Middlefield Road, Menlo Park, CA 94025. (650) 329-5404. email Mike Diggles at mdiggles@usgs.gov