7:30 PM-Meeting: . . . Geology Corner Room 320-109
---
Anyone wishing to attend the lecture only is welcome at no cost.

This will be the 423rd meeting since 1954
Abstract
Neotropical biomass burning reconstructions synthesized from soil and sedimentary charcoal records indicate a period of reduced biomass burning sustained for several centuries after ~500 cal. yr BP. Proxy records of solar irradiance, El Niño events, temperature, and precipitation document regionally variable climate-related trends that do not account for the uniform reduction in burning across the Neotropics. Decreased human ignition resulting from pandemic-induced mortality offers an alternative, geographically comprehensive explanation. In addition, natural (solar-volcanic) factors can explain only ~1.3 ppm out of the rapid 6-10 ppm CO2 decrease between AD 1525 and the early 1600s. Reforestation following land abandonment due to population collapse has the potential to account for the rest of this CO2 decline, and variations in the 13C/12C of atmospheric CO2 and CH4 are consistent with both a major reduction in Neotropical landscape management by fire and massive reforestation. Our findings are demonstrative of the scale at which pre-industrial human activities influenced Earth's atmospheric greenhouse gas budget.
About the Speaker
Richard J. Nevle graduated from Amherst College in 1987, and he received his Ph.D. in Geological and Environmental Sciences from Stanford University. He teaches at Bellarmine College Preparatory and at Santa Clara University. In his research, Nevle employs geological techniques to illuminate questions of historic human-landscape interaction, and he is interested in how these interactions affect Earth system processes. He is a devoted husband and father, a passionate advocate for the environment, and can occasionally be found seeking refuge in Sierra Nevada.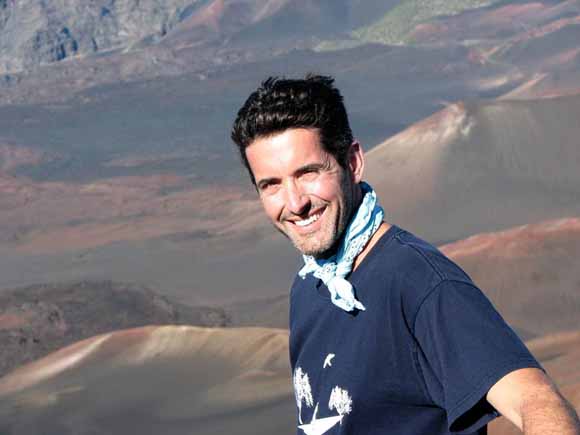 Richard Nevle
---
---
Reservations: The preferred way to make reservations is simply to email John Spritzer at jspritzer@usgs.gov by April 11, tell him you will attend, commit to pay, and bring your payment to the meeting. John always emails a confirmation; if you don't get one, assume email crashed yet again and email him a second time. A check made to "PGS" is preferred, payable at the meeting.
If you want to pay in advance:
Everyone (including Stanford folks now) Please make dinner reservations by April 11. Contact John Spritzer, at U.S. Geological Survey, 345 Middlefield Road, MS-973 Menlo Park, CA 94025, Tel.: (650) 329-4833. Send check made out to "PGS" to John.
Dinner is $35.00. Includes wine (5:30 to 6:15 PM.) and dinner (6:15-7:30 PM.).
For students from all universities and colleges, the dinner, including the social 3/4-hour, is $8.00 and is partially subsidized thanks to the School of Earth Sciences, Stanford University (Note, no-show reservations owe the full price).
Doris, whose wonderful crew prepares our meals, asked that we let you know that people who are late RSVPing and people who show up without a reservation will be welcome but that they will be eating on paper plates with plastic utensils (food supply permitting).
Dues for Academic Year 2010-2011 ($10.00) should be sent to John Spritzer, U.S. Geological Survey, 345 Middlefield Road, MS-973 _Menlo Park, CA 94025. John's phone: (650) 329-4833.
Officers: Jon Hagstrum, President; David Bedford, Vice President; Mike Diggles, Secretary; John Spritzer, Treasurer; Elizabeth Miller, PGS Stanford University Coordinator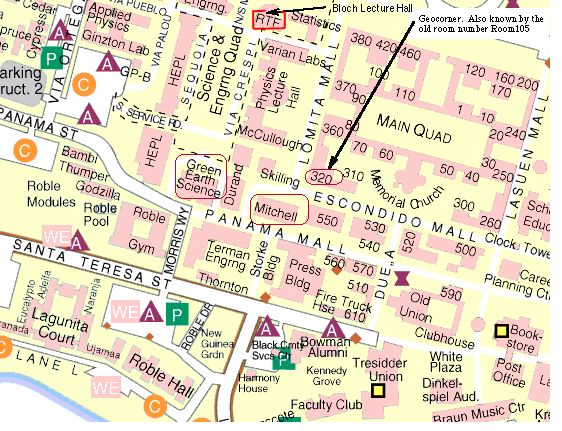 ---
---
---
Date created: April 1, 2011
Last modified: April 10, 2011
Created by: Mike Diggles, Webmaster-Secretary, PGS.


c/o U.S. Geological Survey, MS-951, 345 Middlefield Road, Menlo Park, CA 94025. (650) 329-5404. email Mike Diggles at mdiggles@usgs.gov