7:30 PM-Meeting, Jordan Hall, Main Quad, Rm 41
---
Anyone wishing to attend the lecture only is welcome at no cost.

This will be the 426th meeting since 1954
Abstract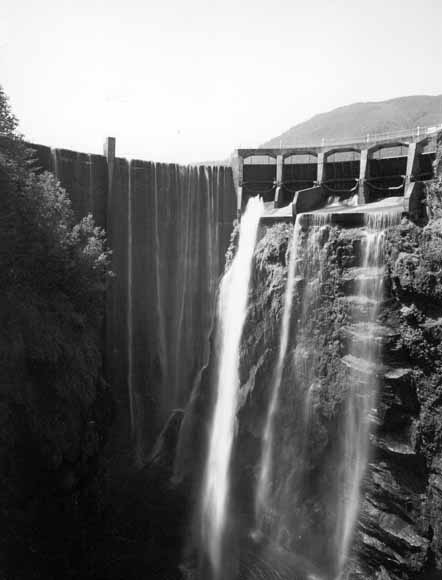 Beginning on September 15, 2011, the U.S. Department of Interior commenced an unprecedented dam removal project on the Elwha River, Washington. This 2.5-year project will result in the removal of two large dams, the 32 meter high Elwha Dam and the 64 meter Glines Canyon Dam. The primary goal of this dam removal project is the restoration of spawning salmon to over 150 kilometers of pristine Elwha River habitat in the Olympic National Park. Dam removal will also expose over 20 million cubic meters of sediment and woody debris that has settled behind the dams, and erosion and transport of this sediment will elevate downstream turbidity, and restore downstream fluvial and coastal habitats.
In this lecture I will provide an overview of the Elwha River, the dam removal and the ongoing science and monitoring related to this project. Although my research is focused on the coastal erosion and sediment transport near the mouth of the Elwha River, I will provide details about the multi-discipline and multiple agency activities to measure and understand the response of the river and its fish to this event.
For further information about the Elwha River, see the Special Report by the Seattle Times: http://seattletimes.nwsource.com/flatpages/specialreports/elwha/
And the USGS website on Elwha River research: http://www.usgs.gov/elwha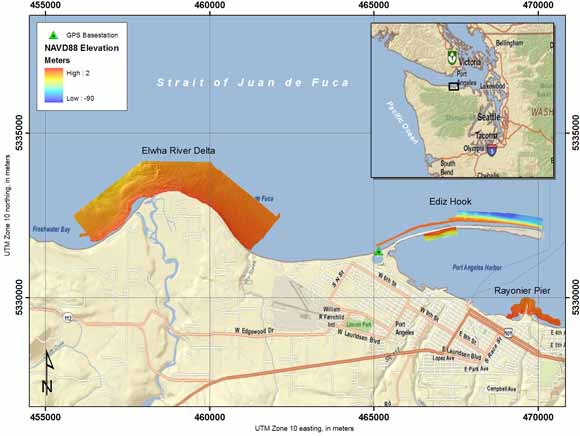 About the Speaker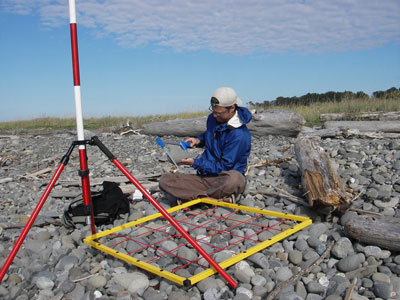 Jon Warrick
Jon received his B.Sc. from California Polytechnic State University, San Luis Obispo in 1993 his M.Sc. from University Wisconsin-Madison in 1995, and his Ph.D. from University of California, Santa Barbara in 2002. His Research interests include dispersal of river water and sediment in the coastal ocean, coastal and fluvial geomorphology, coastal watersheds, and human impacts His Active research focuses on sources, transport and fate of sediment, nutrients and pollutants in coastal settings. Most of this work is conducted along the U.S. West Coast with a focus on the effects of California's and Washington's rivers. This region has high natural rates of sediment input from the land, numerous human impacts—including land use change, damming of rivers and rapid population growth—and valuable marine resources and ecosystems. Research is conducted with regional, national and international collaborators.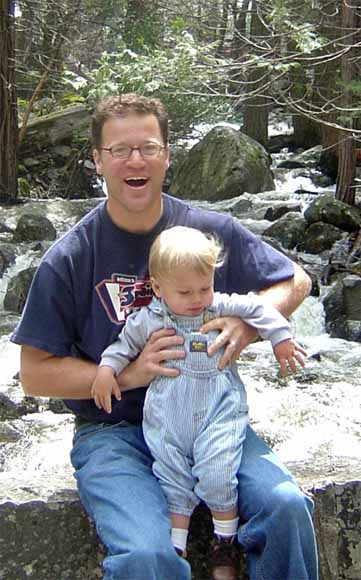 ---
---
Reservations: The preferred way to make reservations is simply to email Mike Diggles at mdiggles@usgs.gov by Sept. 30, tell him you will attend, commit to pay, and bring your payment to the meeting. Mike always emails a confirmation; if you don't get one, assume email crashed yet again and email him a second time. A check made to "PGS" is preferred, payable at the meeting.
If you want to pay in advance:
Everyone (including Stanford folks now) Please make dinner reservations by Sept. 30. Contact Mike Diggles, at U.S. Geological Survey, 345 Middlefield Road, MS-951 Menlo Park, CA 94025, Tel.: (650) 329-5404. Send check made out to "PGS" to Mike.
Dinner is $35.00. Includes wine (5:30 to 6:15 PM.) and dinner (6:15-7:30 PM.).
For students from all universities and colleges, the dinner, including the social 3/4-hour, is $8.00 and is partially subsidized thanks to the School of Earth Sciences, Stanford University (Note, no-show reservations owe the full price).
Doris, whose wonderful crew prepares our meals, asked that we let you know that people who are late RSVPing and people who show up without a reservation will be welcome but that they will be eating on paper plates with plastic utensils (food supply permitting).
Dues for Academic Year 2011-2012 ($10.00) should be sent to Mike Diggles, U.S. Geological Survey, 345 Middlefield Road, MS-951, Menlo Park, CA 94025. Mike's phone: (650) 329-5404.
Officers: Mireya Berrios, President; Joe Colgan, Vice President; Mike Diggles, Secretary-Treasurer; Elizabeth Miller, PGS Stanford University Coordinator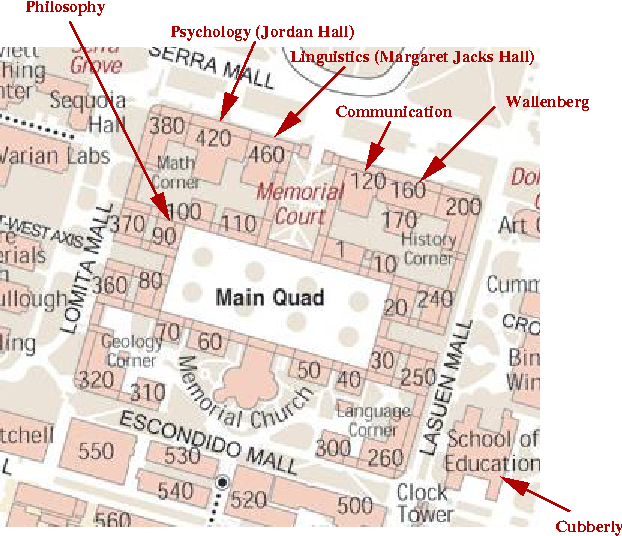 ---
---
---
Date created: September 26, 2011
Last modified: September 26, 2011
Created by: Mike Diggles, Webmaster-Secretary-Treasurer, PGS.


c/o U.S. Geological Survey, MS-951, 345 Middlefield Road, Menlo Park, CA 94025. (650) 329-5404. email Mike Diggles at mdiggles@usgs.gov