7:30 PM-Meeting, Also in Hartley
---
Anyone wishing to attend the lecture only is welcome at no cost.

This will be the 432nd meeting since 1954
Abstract
For decades following the initial description of Triceratops by O.C. Marsh in 1889, the typical collector attitude was, "Bigger is better." Emerging scientific institutions and museums with newly constructed exhibit halls demanded the biggest and newest dinosaurs. This historical practice, influenced by facies and taphonomic factors in the Upper Cretaceous Hell Creek Formation of Montana and contemporaneous formations in neighboring states, resulted in the under-representation of nonadult Triceratops in museum collections. This biased fossil record played a considerable role in the evolution of Triceratops systematics and resulted in the naming of as many as 16 species on the basis of horn and frill morphology. This practice contributed to the false notion that nonadult Triceratops specimens are rarely preserved in the fossil record—until now. New dinosaur discoveries from the Hell Creek Project, a multi-institutional paleontological and geological investigation of the entire Hell Creek Formation exposed in eastern Montana, initiated in 2000 by Jack Horner, provides evidence that extreme modification of dinosaur skulls occurs when these skulls approach 50 percent adult size, particularly in the ceratopsids, or horned dinosaurs, and their close relatives, the pachycephalosaurs, or dome-headed dinosaurs. A more complete assessment of dinosaur diversity, paleobiology, cranial morphology, and ontogeny of these and the co-occurring dinosaurs Edmontosaurus and Tyrannosaurus, is now possible.
About the Speaker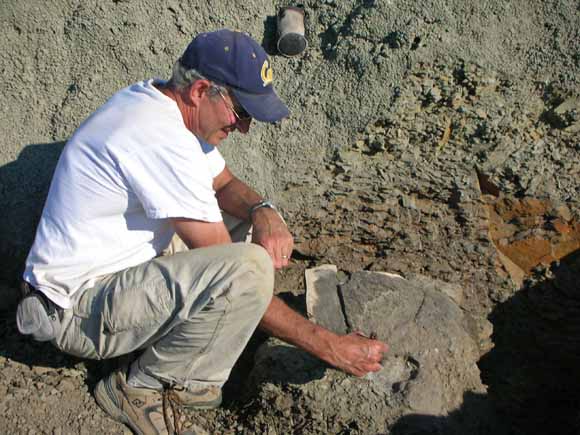 Mark Goodwin
Mark Goodwin earned his B.A. and M.A in Paleontology from the University of California Berkeley and his Ph.D. in Geology from the University of California at Davis. Goodwin studies how dinosaur bones change with growth and how fossil bone is preserved, i.e. what's the difference chemically and mineralogically between an unaltered modern and fossil bone? What is the effect, if any, of the burial environment on the mineral and chemical properties and how do you measure it? Mark also has research interests in the behavior and life history of pachycephalosaurs, or dome-headed dinosaurs, and more recently with the very well known three-horned dinosaur, Triceratops. Fieldwork in California, Montana, Alaska, Israel, and Ethiopia, has provided many new fossils on which to work. He is presently with the Museum of Paleontology, University of California, Berkeley, Calif. For more information, visit http://www.ucmp.berkeley.edu/museum/profiles/goodwin/goodwin_profile.html.
---
---
Reservations: The preferred way to make reservations is simply to email Mike Diggles at mdiggles@usgs.gov by April 8, tell him you will attend, commit to pay, and bring your payment to the meeting. Mike always emails a confirmation; if you don't get one, assume email crashed yet again and email him a second time. A check made to "PGS" is preferred, payable at the meeting.
If you want to pay in advance:
Everyone (including Stanford folks now) Please make dinner reservations by April 8. Contact Mike Diggles, at U.S. Geological Survey, 345 Middlefield Road, MS-951 Menlo Park, CA 94025, Tel.: (650) 329-5404. Send check made out to "PGS" to Mike.
Dinner and the social hour is $35.00; this includes $5 that we use to help pay for students who are only $8.00 (also partially subsidized thanks to the School of Earth Sciences, Stanford University (Note, no-show reservations owe the full price).
Doris, whose wonderful crew prepares our meals, asked that we let you know that people who are late RSVPing and people who show up without a reservation will be welcome but that they will be eating on paper plates with plastic utensils (food supply permitting).
Dues for Academic Year 2011-2012 ($10.00) should be sent to Mike Diggles, U.S. Geological Survey, 345 Middlefield Road, MS-951, Menlo Park, CA 94025. Mike's phone: (650) 329-5404.
Officers: Mireya Berrios, President; Joe Colgan, Vice President; Mike Diggles, Secretary-Treasurer; Elizabeth Miller, PGS Stanford University Coordinator
---
---
---
Date created: March 23, 2012
Last modified: April 20, 2012
Created by: Mike Diggles, Webmaster-Secretary-Treasurer, PGS.


c/o U.S. Geological Survey, MS-951, 345 Middlefield Road, Menlo Park, CA 94025. (650) 329-5404. email Mike Diggles at mdiggles@usgs.gov