(Note: we have to meet on Thursday this month to get Hartley then we're back to Tuesdays next year)
7:30 PM-Meeting, Hartley
---
Anyone wishing to attend the lecture only is welcome at no cost.

This will be the 442nd meeting since 1954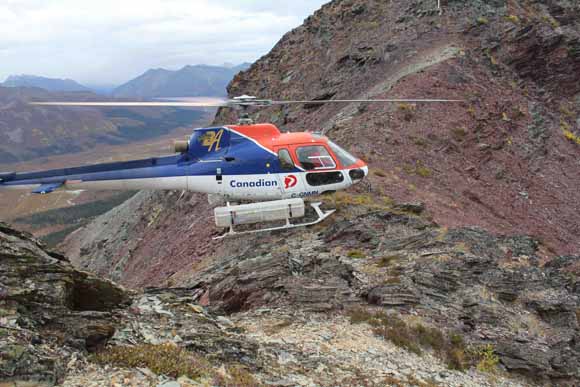 Abstract
Western United States and Canada has had a long and intriguing geologic history. The North American Continent is just a fragment that developed by passive-margin rifting and separation from a Late Proterozoic supercontient ~600 ma. This breakup defined a low paleolatitude, NE trending passive continental margin for western North America. Western North America became the site for a broad, extensive carbonate platform from at least the Late Proterozoic through the Late Devonian (~230 my). Other Paleozoic passive margin carbonate platforms evolved around the world at locations where passive continental margins were located at low paleolatitudes and not receiving large volumes of siliciclastics.
The slowly subsiding (200–20 m/my) western edge of North America, from ~southern Nevada through parts of Alaska (3,000+ miles), became the site of a ~15,000+ foot-thick carbonate platform. On the western margins of this carbonate platform were slopes and either open ocean basins or marginal ocean basins and volcanic arcs. The eastern sides of the platform margins were comprised of shallow-water reefs, back-reef shallow-water shelf lagoons and supratidal flats.
Eleven 3rd-Order eustatic sea level lowering and rising events over a span of ~230my were major factors in strongly influencing the carbonate platform's westerly seaward advances (5–50 miles) and its easterly retreating movements (20–50 miles). Eustatic sea level lowstands and highstands were as much as 300 feet. During the sea level lowstands gravitational collapse of large segments of the reef margins occurred. This resulted in submarine slides and slumps and carbonate debris flows and turbidites to be triggered down slope into mid-slope, base-of-slope and basinal settings. Also, during these sea level lowstands regional large-scale deep karsting occurred in back-reef shelf lagoons and tidal flats.
The Eocene epoch in the Great Basin of western North America was a period of intense hydrothermal activity bought on by a change from shallow subduction and compressional tectonics to renewed magmatism and extensional tectonics. Old northwest-and north-striking, basement-penetrating rift structures were reactivated. These reactivated faults became the conduits for channeling gold-bearing Eocene hydrothermal fluids into Paleozoic carbonate platform gold-host rocks. During the Eocene millions of ounces of submicroscopic hydrothermal gold were deposited. This deposition of submicroscopic gold occurred in open spaces in Cambrian through Devonian carbonate debris flows, turbidites and in shallow-water carbonate karsts that had formed during repeated eustatic sea level lowerings. Nevada's gold constitutes the second largest concentration of gold in the world. The Nevada gold deposits account for ~6 percent of annual worldwide production, making the United States the fourth largest producer of gold.
About the Speaker

Harry Cook
Harry Cook is an Emeritus Geologist with the U.S. Geological Survey in Menlo Park, having retired in 2005. After studying geology at U.C. Santa Barbara and U.C. Berkeley, he joined Marathon Oil Company's Denver Research Center. Here he conducted research on Paleozoic carbonate platforms and basins of Alberta, the Yukon Territory of Canada, the Permian of Texas and in modern carbonate environments. In 1968 Harry moved to U.C. Riverside where he taught geology, was the Director of the Deep Sea Drilling Project X-Ray Mineralogy Lab and a member of the DSDP Advisory Panel on Sedimentary Petrology and Physical Properties. He sailed on Legs 9 and 33 of the DSDP. Leg 9 continuously drilled and cored nine sites to basaltic basement from Tahiti eastward across the East Pacific Ridge and eastward to Panama. Of significant importance to plate tectonics was Leg 9's estimated basement ages, based on radiolaria and planktonic foraminifera, that suggest the rate of movement of the Pacific Plate relative to the East Pacific Rise crest ranged from 6–13 cm/yr.
In 1974 Harry joined the USGS in Menlo Park in the former Oil and Gas Branch. Here from 1974–1995 he studied Paleozoic carbonate platforms in the Great Basin and Paleozoic carbonate platforms in Western Europe and the Former Soviet Union (i.e., Siberia, Kazakhstan and Kyrgyzstan). From 1995–2000 he developed and led a USGS Cooperative Research and Development Agreement (CRADA) with seven-major U.S. and European oil companies to study Paleozoic carbonate platforms in the mountains of Kazakhstan and Kyrgyzstan. The CRADA project resulted in discovering the 3rd largest oil field in the world in the Kashagon Carbonate Seamount in the North Caspian Basin. Kashagon has ~50 billion barrels of oil in place.
In 2005 after retiring from the USGS he founded Carbonate Geology LLC an international consulting company specializing in mentoring exploration geologists in carbonate geology and in developing predictive gold-host models and gold trends for Carlin-Type of gold-hosts in carbonate platforms and seamounts. He consults for numerous major and junior gold companies such as Barrick, Newmont, Almaden, ATAC, Kaminak and Anthill. These studies are being conducted along USA's world-class gold trends in Nevada and Utah and in gold trends in the Yukon Territory and the Northwest Territory of Canada.
---
---
Reservations: The preferred way to make reservations is simply to email Mike Diggles at mdiggles@usgs.gov by Nov. 12, tell him you will attend, commit to pay, and bring your payment to the meeting. Mike always emails a confirmation; if you don't get one, assume email crashed yet again and email him a second time. A check made to "PGS" is preferred, payable at the meeting.
If you want to pay in advance:
Everyone (including Stanford folks now) Please make dinner reservations by Nov. 12. Contact Mike Diggles, at U.S. Geological Survey, 345 Middlefield Road, Menlo Park, CA 94025, Tel.: (650) 329-5404. Send check made out to "PGS" to Mike.
Dinner and the social hour is $35.00; this includes $3 that we use to help pay for students who are only $8.00 (also partially subsidized thanks to the School of Earth Sciences, Stanford University (Note, no-show reservations owe the full price).
Doris, whose wonderful crew prepares our meals, asked that we let you know that people who are late RSVPing and people who show up without a reservation will be welcome but that they will be eating on paper plates with plastic utensils (food supply permitting).
Dues for Academic Year 2013–2014 ($10.00) should be sent to Mike Diggles, U.S. Geological Survey, 345 Middlefield Road, Menlo Park, CA 94025. Mike's phone: (650) 329-5404.
Officers: Brad Buerer, President; Mike Diggles, Secretary-Treasurer; Elizabeth Miller, PGS Stanford University Coordinator

---
---
---
Date created: October 30, 2013
Last modified: October 30, 2013
Created by: Mike Diggles, Webmaster-Secretary-Treasurer, PGS.


c/o U.S. Geological Survey, 345 Middlefield Road, Menlo Park, CA 94025. (650) 329-5404. email Mike Diggles at mdiggles@usgs.gov