7:30 PM-Meeting, Hartley
---
Anyone wishing to attend the lecture only is welcome at no cost.

This will be the 443rd meeting since 1954
Abstract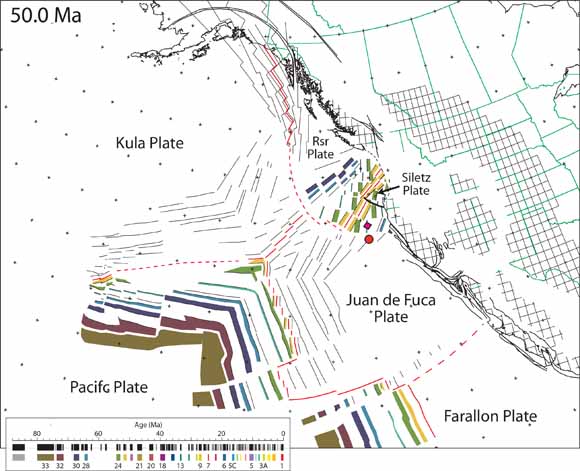 Our forward kinematic plate model depicting motion of the Kula, Farallon, and Juan de Fuca plates as well as the Yellowstone hotspot relative to the Pacific plate reconciles previously conflicting interpretations regarding the origin of Paleogene oceanic terranes currently stranded against the western North America continental margin. By explicitly including a defunct Resurrection plate in our reconstruction of the western North America plate boundary, we are able to account for the Yakutat and Resurrection Peninsula oceanic terranes in Alaska as well as the Siletz and Crescent terranes in Oregon, Washington, and British Columbia as remnants of a Farallon-Resurrection ridge segment that transferred to the North America subduction margin from about 53 to 42 Ma. Moreover, the similarity in age, thickness, and geochemistry between Yakutat basalts and Crescent basalts [Davis and Plafker, 1986, Geology] can be explained by their having previously been adjacent parts of the Resurrection plate. Under a simple model that the Resurrection plate was captured by the Pacific plate at the same time as the Kula plate at ~40 Ma [Lonsdale, 1988, GSAB], the distance between Yakutat and Crescent terranes may have been only a few hundred kilometers at 50 Ma, with both formed near the Yellowstone hotspot. Currently separated by more than 1500 km, this distance is large enough that if previously adjacent, they must have been moving apart for most of the time since their formation.
Accretion of the Farallon plate fragment and partial subduction of the Resurrection fragment complicates the three-dimensional structure of the modern Cascadia forearc. Our new kinematic model of mobile terranes within the Paleogene North American plate boundary allows reinterpretation of the three-dimensional structure of the Cascadia forearc and its relationship to ongoing seismotectonic processes.
About the Speaker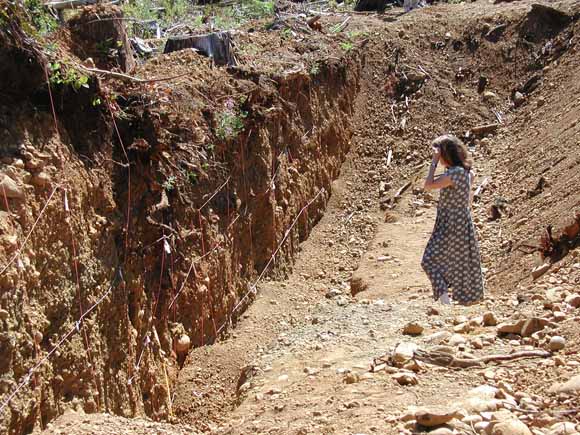 Pat McCrory
Patricia Alison McCrory is a Research Geologist with the U.S. Geological Survey's Earthquake Science Center since 1988. She obtained her undergraduate degree (Earth Sciences) from U.C. Santa Cruz and her Ph.D. (Geology) from Stanford under Jim Ingle, Steve Graham & Norm Sleep. She started working at USGS as a field assistant to Max Crittenden in the Wasatch Mountains of Utah when she was 19 years old—among other things—learning how to drive with a manual transmission in a military jeep. She has worked on research vessels from southern California to Alaska, and down the Emperor seamount chain to Hawai'i—including getting caught in a Force 10 hurricane. She served as Chief Scientist on two NOAA RV McArthur cruises in the Olympic Coast National Marine Sanctuary, focused on mapping active faults and folds offshore Washington. She has also examined faults a mile underwater—on the seafloor off the Columbia River in the Navy's DSV Seacliff submersible. She has always been intrigued by what we can learn from the smaller plate fragments often found stranded along continental margins. Past work includes investigating how the thermal pulse associated with a series of slab windows beneath southern California influenced its breakup into many smaller strike-slip fault blocks; how internal deformation of the Juan de Fuca plate influences the location and abundance of earthquakes in the Pacific Northwest; and more recently how the 3D structure of the Cascadia forearc may hide additional earthquake sources.
---
---
Reservations: The preferred way to make reservations is simply to email Mike Diggles at mdiggles@usgs.gov by Jan. 12, tell him you will attend, commit to pay, and bring your payment to the meeting. Mike always emails a confirmation; if you don't get one, assume email crashed yet again and email him a second time. A check made to "PGS" is preferred, payable at the meeting.
If you want to pay in advance:
Everyone (including Stanford folks now) Please make dinner reservations by Jan. 12. Contact Mike Diggles, at U.S. Geological Survey, 345 Middlefield Road, MS-910 Menlo Park, CA 94025, Tel.: (650) 329-5404. Send check made out to "PGS" to Mike.
Dinner and the social hour is $35.00; this includes $5 that we use to help pay for students who are only $8.00 (also partially subsidized thanks to the School of Earth Sciences, Stanford University (Note, no-show reservations owe the full price).
Doris, whose wonderful crew prepares our meals, asked that we let you know that people who are late RSVPing and people who show up without a reservation will be welcome but that they will be eating on paper plates with plastic utensils (food supply permitting).
Dues for Academic Year 2013-2014 ($10.00) should be sent to Mike Diggles, U.S. Geological Survey, 345 Middlefield Road, MS-910, Menlo Park, CA 94025. Mike's phone: (650) 329-5404.
Officers: Brad Buerer, President; Mike Diggles, Secretary-Treasurer; Elizabeth Miller, PGS Stanford University Coordinator

---
---
---
Date created: January 6, 2014
Last modified: January 6, 2014
Created by: Mike Diggles, Webmaster-Secretary-Treasurer, PGS.


c/o U.S. Geological Survey, MS-910, 345 Middlefield Road, Menlo Park, CA 94025. (650) 329-5404. email Mike Diggles at mdiggles@usgs.gov