7:30 PM-Meeting, Hartley
---
Anyone wishing to attend the lecture only is welcome at no cost.

This will be the 446th meeting since 1954
Abstract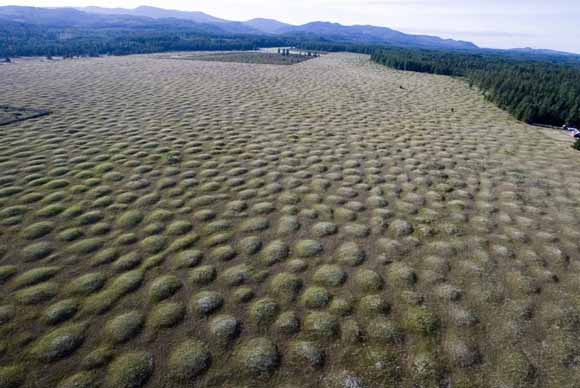 Mima mounds
Mima mounds are ~1-m-high hillocks found on every continent except Antarctica. Despite commonly numbering in the millions within a single field, their origin has been a mystery, with proposed explanations ranging from glacial processes to seismic shaking. One hypothesis proposes that mounds in North America are built by burrowing mammals to provide refuge from seasonally saturated soils. We test this hypothesis with a numerical model, parameterized with measurements of soil transport by gophers from a California mound field, that couples animal behavior with geomorphic processes. The model successfully simulates the development of the mounds, as well as key details such as the creation of vernal pools, small intermound basins that provide habitat for endemic species. Furthermore, we demonstrate that the spatial structure of the modeled mound fields is similar to actual mound fields and provides an example of self-organized topographic features. We conclude that, scaled by body mass, Mima mounds are the largest structures built by non-human mammals, and may provide a rare example of an evolutionary coupling between landforms and the organisms that create them.

Surveying nascent mounds on the Carrizo Plain.
About the Speaker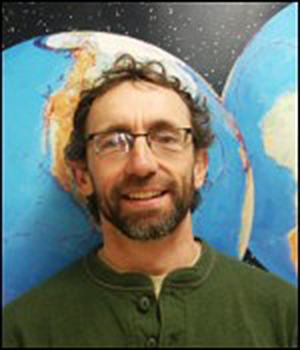 Manny Gabet
Dr. Gabet began his scientific career as an anthropologist before realizing that he was more interested in the dirt that held the fossils then the fossils themselves. He also realized that dirt was a lot easier to find than bits and pieces of proto-humans and returned to U.C. Berkeley to get his Masters degree in Geography to study the geomorphology of tidal channels. From there, he went to U.C. Santa Barbara to work with Dr. Tom Dunne on hillslope sediment transport processes. Desperate to stay in Santa Barbara as long as possible, he took a post-doc position with Dr. Doug Burbank, also at UCSB. The research with Burbank took him to Nepal where he set up a network of river-monitoring stations to estimate the rates of erosion and chemical weathering in the Annapurna region of the Himalayas. Dr. Gabet is now at San Jose State where he has been working on a variety of projects, including investigating the role of fire in amplifying erosional processes, piecing together the geomorphic history of the Sierra Nevada, and examining how the biota shapes the Earth's surface.
---
Reservations: The preferred way to make reservations is simply to email Mike Diggles at mdiggles@usgs.gov by April 6, tell him you will attend, commit to pay, and bring your payment to the meeting. Mike always emails a confirmation; if you don't get one, assume email crashed yet again and email him a second time. A check made to "PGS" is preferred, payable at the meeting.
If you want to pay in advance:
Everyone (including Stanford folks now) Please make dinner reservations by April 6. Contact Mike Diggles, at U.S. Geological Survey, 345 Middlefield Road, MS-910 Menlo Park, CA 94025, Tel.: (650) 329-5404. Send check made out to "PGS" to Mike.
Dinner and the social hour is $35.00; this includes $5 that we use to help pay for students who are only $8.00 (also partially subsidized thanks to the School of Earth Sciences, Stanford University (Note, no-show reservations owe the full price).
Doris, whose wonderful crew prepares our meals, asked that we let you know that people who are late RSVPing and people who show up without a reservation will be welcome but that they may be eating on paper plates with plastic utensils (food supply permitting).
Dues for Academic Year 2013-2014 ($10.00) should be sent to Mike Diggles, U.S. Geological Survey, 345 Middlefield Road, MS-910, Menlo Park, CA 94025. Mike's phone: (650) 329-5404.
Officers: Brad Buerer, President; Mike Diggles, Secretary-Treasurer; Elizabeth Miller, PGS Stanford University Coordinator

---
---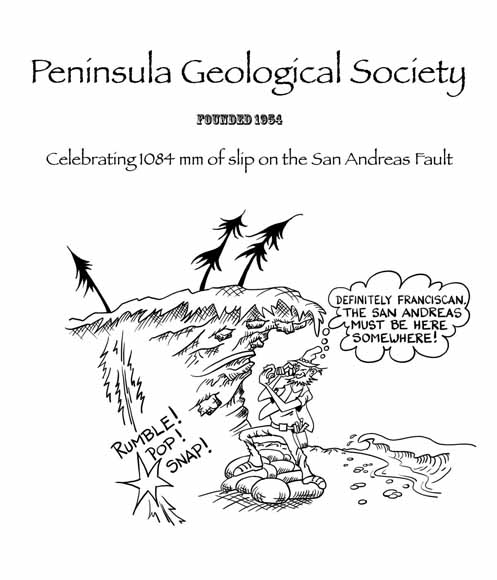 PGS cartoon by Rick Blakely
---
Date created: March 21, 2014
Last modified: April 5, 2014
Created by: Mike Diggles, Webmaster-Secretary-Treasurer, PGS.


c/o U.S. Geological Survey, MS-910, 345 Middlefield Road, Menlo Park, CA 94025. (650) 329-5404. email Mike Diggles at mdiggles@usgs.gov