7:30 PM-Meeting, Hartley
---
Anyone wishing to attend the lecture only is welcome at no cost.

This will be the 447th meeting since 1954
Summary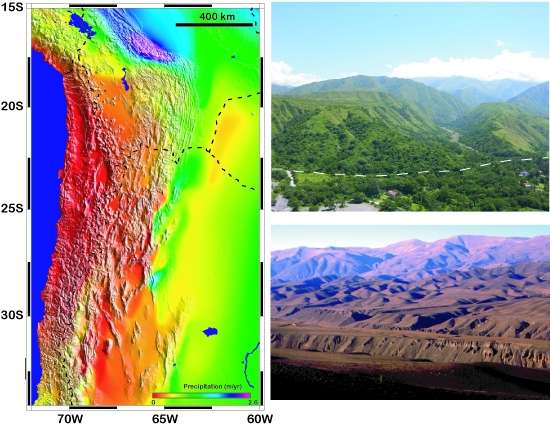 Andes
George heads the Stanford Tectonic Geomorphology Laboratory (STGL). PGS has its hopes up that the opening slide of his presentation on Tuesday will be a photograph of his new baby girl. We have to be sure we have a baby card we'll all sign sitting out with the wine and artichoke dip. George will get an abstract and title to us perhaps before the meeting but for now, we are sure he'll present on landforms and tectonics because "that's what he does." He's not only an expert in this field but knows how to put on a good presentation as well. In 2012, he was one of the three people who received the Walter J. Gores Award for excellence in teaching. This'll be a good presentation. Here is the link to STGL for further reading: https://pangea.stanford.edu/researchgroups/tectonicgeomorph/
About the Speaker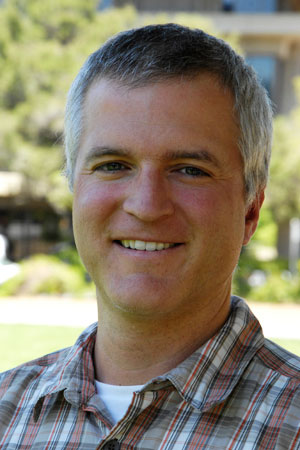 George Hilley (photo by Brooke Donald)
Research
I study the landscape's response to active faulting and folding of the Earth's crust. My students and I use a wide range of tools to study these processes, such as geologic and geomorphic field studies, and numerical models of tectonic and erosional processes. My research spans a broad range of time and spatial scales, from the development of mountain ranges over millions of years through the development of small landforms and watersheds over 10s-100s of thousands of years. For example, at the scale of entire mountain belts, I study how deformation and erosion within the Andes may be coupled, providing a link between deep earth and atmospheric processes. At the other extreme, I study how active uplift along the San Andreas Fault affects the short-term development of small, ~4-km-long landforms. Finally, I have recently become interested in studying large, slow-moving landslides in urbanized areas (and the hazards they pose) using remote sensing methods such as Synthetic Aperture Radar Interferometry.
Teaching
I teach both graduate and undergraduate classes and seminars on the development of mountain belts in tectonically active areas. These courses use both classic field examples, as well as local field excursions in the Santa Cruz Mountains as guides to understanding how active faulting may produce steep topography.
Professional Activities
Terman Fellow, 2006-present; Steering Committee, National Center for Airborne Laser Mapping, 2005- present; Program Committee, NSF-Earthscope Annual Meeting; Alexander von Humboldt Fellow, 2001-02
---
Reservations: The preferred way to make reservations is simply to email Mike Diggles at mdiggles@usgs.gov by May 11, tell him you will attend, commit to pay, and bring your payment to the meeting. Mike always emails a confirmation; if you don't get one, assume email crashed yet again and email him a second time. A check made to "PGS" is preferred, payable at the meeting.
If you want to pay in advance:
Everyone (including Stanford folks now) Please make dinner reservations by May 11. Contact Mike Diggles, at U.S. Geological Survey, 345 Middlefield Road, MS-910 Menlo Park, CA 94025, Tel.: (650) 329-5404. Send check made out to "PGS" to Mike.
Dinner and the social hour is $35.00; this includes $5 that we use to help pay for students who are only $8.00 (also partially subsidized thanks to the School of Earth Sciences, Stanford University (Note, no-show reservations owe the full price).
Doris, whose wonderful crew prepares our meals, asked that we let you know that people who are late RSVPing and people who show up without a reservation will be welcome but that they may be eating on paper plates with plastic utensils (food supply permitting).
Dues for Academic Year 2013-2014 ($10.00) should be sent to Mike Diggles, U.S. Geological Survey, 345 Middlefield Road, MS-910, Menlo Park, CA 94025. Mike's phone: (650) 329-5404.
Officers: Brad Buerer, President; Mike Diggles, Secretary-Treasurer; Elizabeth Miller, PGS Stanford University Coordinator

---
---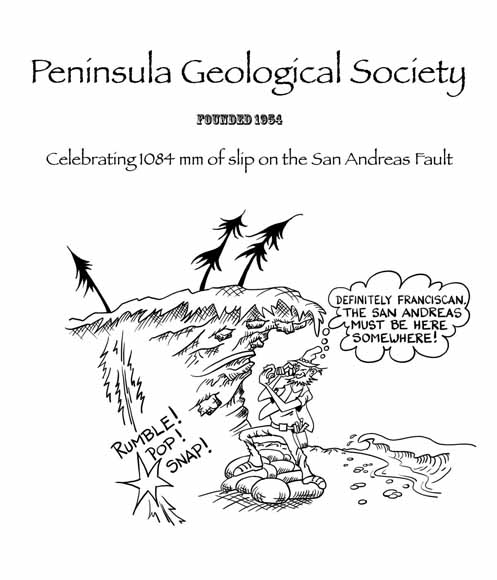 PGS cartoon by Rick Blakely
---
Date created: May 9, 2014
Last modified: May 14, 2014
Created by: Mike Diggles, Webmaster-Secretary-Treasurer, PGS.


c/o U.S. Geological Survey, MS-910, 345 Middlefield Road, Menlo Park, CA 94025. (650) 329-5404. email Mike Diggles at mdiggles@usgs.gov