7:30 PM-Meeting, Hartley
---
Anyone wishing to attend the lecture only is welcome at no cost.

This will be the 449th meeting since 1954 and our 60th anniversary
Abstract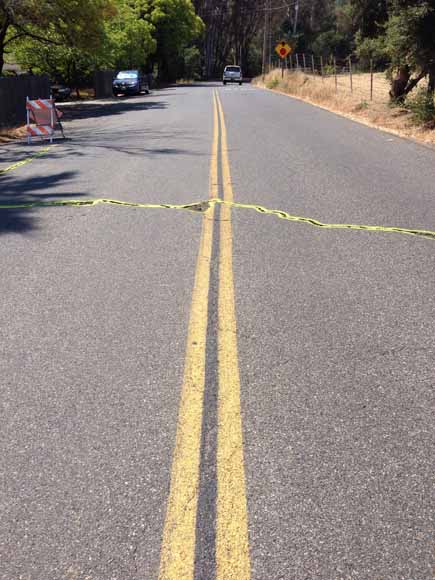 The M6.0 South Napa earthquake of August 24, 2014 was the first earthquake in the San Francisco Bay Region (SFBR) to produce significant, through-going surface rupture since the 1906 San Andreas Fault earthquake and the first earthquake in northern California to rupture through a densely populated area. The earthquake produced over 14 km of surface rupture extending from Cuttings Wharf to just north of Alston Park, in the City of Napa where the rupture affected residential structures, roads, and lifelines, and provides information on the possible effects of future surface-rupturing earthquakes on other faults in the region. The occurrence of surface rupture within the densely populated SFBR prompted a large number of earth scientists representing government, academia, and the private sector to document the rupture. Many of these post-earthquake data collection activities employed relatively new digital technologies including the use of cell phone and tablet-based mapping applications, aerial and ground-based LiDAR, and structure-from-motion photogrammetric techniques. Prior to this earthquake, very little was known about the behavior of this fault system, and the earthquake demonstrated that what was known about this fault system was an incomplete picture. Consequently, this earthquake has sparked a renewed interest in this enigmatic fault system.
About the Speaker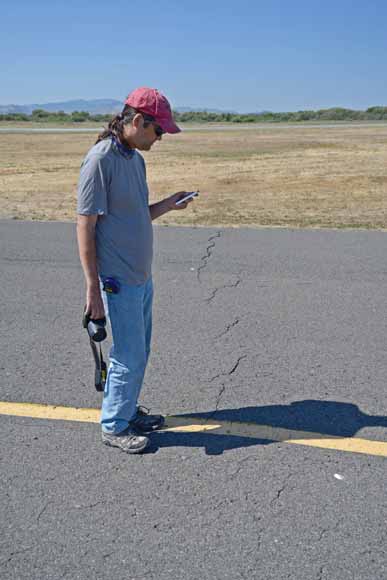 Tim Dawson
Tim Dawson is an Engineering Geologist at the California Geological Survey in Menlo Park, Calif. Prior to working at CGS, he worked at the USGS in Menlo Park, and holds a Masters degree in Geology from San Diego State University and a B.S. in Geological Sciences from the University of Oregon. He is a paleoseismologist by training and has participated in investigations on numerous faults including the San Andreas, Hayward, Garlock, San Jacinto, Denali, and North Anatolian faults. He has also participated in several post-earthquake investigations including the 1999 earthquakes in Turkey, the 1999 Hector Mine earthquake, the 2002 Denali, Alaska earthquake, and most recently was the CGS field team coordinator for the 2014 South Napa earthquake.
---
Reservations: The preferred way to make reservations is simply to email Mike Diggles at mdiggles@usgs.gov by Dec. 7, tell him you will attend, commit to pay, and bring your payment to the meeting. Mike always emails a confirmation; if you don't get one, assume email crashed yet again and email him a second time. A check made to "PGS" is preferred, payable at the meeting.
If you want to pay in advance:
Everyone (including Stanford folks now) Please make dinner reservations by Dec. 7. Contact Mike Diggles, at U.S. Geological Survey, 345 Middlefield Road, MS-910 Menlo Park, CA 94025, Tel.: (650) 329-5404. Send check made out to "PGS" to Mike.
Dinner and the social hour is $35.00; this includes $5 that we use to help pay for students who are only $8.00 (also partially subsidized thanks to the School of Earth Sciences, Stanford University (Note, no-show reservations owe the full price).
Doris, whose wonderful crew prepares our meals, asked that we let you know that people who are late RSVPing and people who show up without a reservation will be welcome but that they may be eating on paper plates with plastic utensils (food supply permitting).
Dues for Academic Year 2014-2015 ($10.00) should be sent to Mike Diggles, U.S. Geological Survey, 345 Middlefield Road, MS-910, Menlo Park, CA 94025. Mike's phone: (650) 329-5404.
Officers: Brad Buerer, President; Sarah Nagorsen, Vice President; Mike Diggles, Secretary-Treasurer; Elizabeth Miller, PGS Stanford University Coordinator

---
---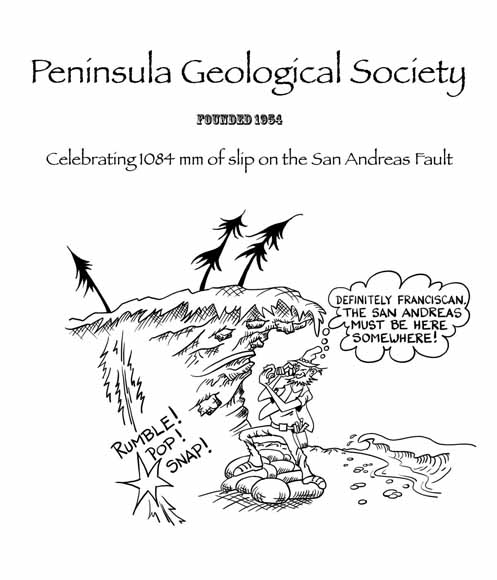 PGS cartoon by Rick Blakely
---
Date created: November 28, 2014
Last modified: November 29, 2014
Created by: Mike Diggles, Webmaster-Secretary-Treasurer, PGS.


c/o U.S. Geological Survey, MS-910, 345 Middlefield Road, Menlo Park, CA 94025. (650) 329-5404. email Mike Diggles at mdiggles@usgs.gov