7:30 PM-Meeting, Hartley
---
Anyone wishing to attend the lecture only is welcome at no cost.

This will be the 454th meeting since 1954
Abstract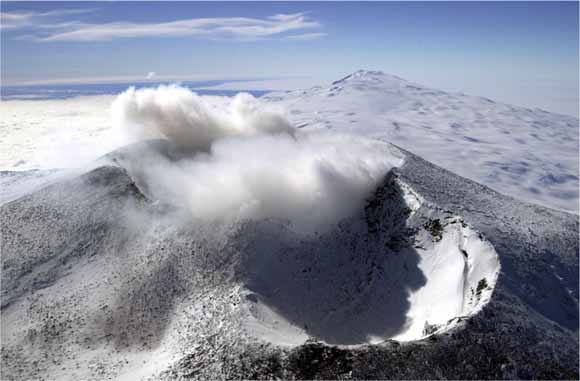 Measurements of active volcanic gas emissions can offer many insights into the current state of a volcano. Melt inclusions provide a snapshot of volatile concentrations throughout a magma plumbing system and tell the story of volcanic degassing from another perspective: magma at depth. Ultimately, the ability to link these two measurements is necessary for understanding the storage and transport of volatiles throughout a volcanic plumbing system. The connection between the chemistries of surface gas and subsurface degassing is something often desired but rarely achieved due to the plethora of complications associated with constraining all possible sources of fluid contributing to surface degassing. In this talk, I will present a new thermodynamic approach to modeling subsurface magmatic fluids and a simple mixing model that is employed at Erebus volcano, Antarctica to link surface gas measurements to their sources at depth.
About the Speaker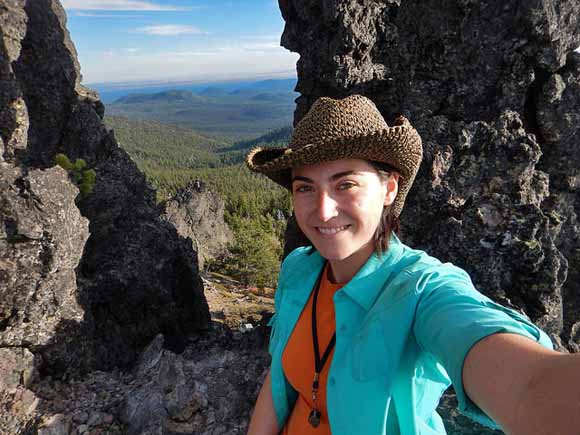 Kayla Iacovino
Kayla Iacovino is an NSF Post-doctoral Fellow at the U.S. Geological Survey (Menlo Park, Calif.). Kayla received her Bachelor's degree in Geological Sciences from Arizona State University in 2010 and her Ph.D. in Volcanology and Petrology from the University of Cambridge in 2014. In her research, she uses experimental petrology to constrain thermodynamic relationships between melt, fluid, and crystals in magmas with applications to natural volcanic systems. During her Ph.D., she worked on Erebus (Antarctica), Villarrica, Lascar, and Puyehue-Cordón Caulle (Chile), and Turrialba (Costa Rica). She is now studying the Millennium Eruption of Paektu volcano, located on the border between China and North Korea.
---
Reservations: The preferred way to make reservations is simply to email Mike Diggles at mike@diggles.com by Apr. 12, tell him you will attend, commit to pay, and bring your payment to the meeting. Mike always emails a confirmation; if you don't get one, assume email crashed yet again and email him a second time. A check made to "PGS" is preferred, payable at the meeting.
If you want to pay in advance:
Everyone (including Stanford folks now) Please make dinner reservations by May 17. Contact Mike Diggles, at U.S. Geological Survey, 345 Middlefield Road, MS-910 Menlo Park, CA 94025, Tel.: (650) 329-5404. Send check made out to "PGS" to Mike.
Dinner and the social hour is $35.00; this includes $5 that we use to help pay for students who are only $8.00 (also partially subsidized thanks to the School of Earth Sciences, Stanford University (Note, no-show reservations owe the full price).
Doris, whose wonderful crew prepares our meals, asked that we let you know that people who are late RSVPing and people who show up without a reservation will be welcome but that they may be eating on paper plates with plastic utensils (food supply permitting).
Dues for Academic Year 2014-2015 ($10.00) should be sent to Mike Diggles, U.S. Geological Survey, 345 Middlefield Road, MS-910, Menlo Park, CA 94025. Mike's phone: (650) 329-5404.
Officers: Brad Buerer, President; Sarah Nagorsen, Vice President; Mike Diggles, Secretary-Treasurer; Elizabeth Miller, PGS Stanford University Coordinator

---
---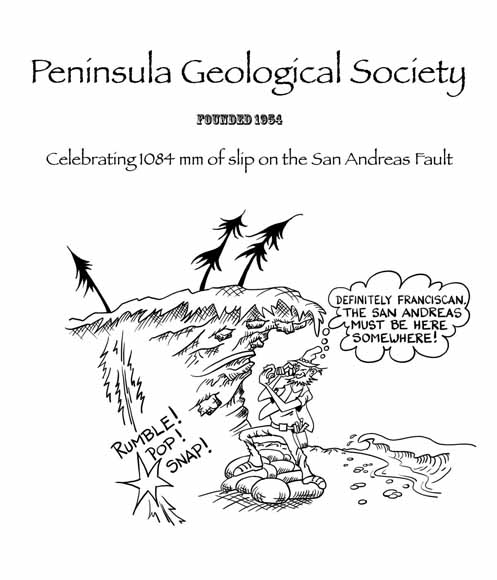 PGS cartoon by Rick Blakely
---
Date created: April 25, 2015
Last modified: September 20, 2015
Created by: Mike Diggles, Webmaster-Secretary-Treasurer, PGS.