7:30 PM-Meeting, Hartley
---
Anyone wishing to attend the lecture only is welcome at no cost.

This will be the 455th meeting since 1954
Abstract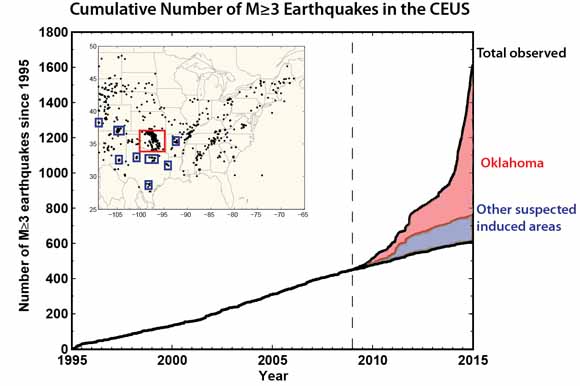 The rate of M≥3 earthquakes in the central and eastern U.S. has increased dramatically since 2009, primarily in areas where oil and gas production take place. Where the rates have increased so has the seismic hazard, making it important to understand these changes. However, quantifying the hazard due to induced earthquakes is complex for a number of reasons. First, the earthquake rates can vary rapidly in space and time and can potentially depend on economic factors. An example of this can be seen in Oklahoma. In 2013, seismicity expanded to the northern part of the state containing the Mississippi Lime, a carbonate formation being exploited for oil and gas, a year or two after the number of wells drilled rose greatly. These rapid rate changes pose a challenge for traditional probabilistic seismic hazard assessments that are based on a time-independent rate of earthquake occurrence. Second, induced seismicity may differ from natural seismicity in characteristics such as clustering, magnitude distribution, maximum possible magnitude, and ground motion. Ultimately, however, the increased earthquake rates in these areas increases the hazard in ways that must be considered in seismic hazard assessments, regardless of whether they are due to natural or industrial causes.
About the Speaker

Andrea Llenos
Andrea Llenos is a research geophysicist at the U.S. Geological Survey in Menlo Park, California. She earned ScB degrees in Geology-Physics/Mathematics and Engineering from Brown University in 2004 and a PhD in Marine Geophysics from MIT and the Woods Hole Oceanographic Institution Joint Program in Oceanography in 2010, and was a postdoctoral scholar at Stanford University and a Mendenhall postdoctoral fellow at the USGS. As a statistical seismologist, her research focuses on detecting and characterizing earthquake occurrence rate changes. These include both natural earthquake swarms (e.g., triggered by slow slip or magma intrusions), as well as induced seismicity (e.g., triggered by wastewater disposal associated with oil/gas production). She also investigates the impacts these variations have on short-term earthquake forecasts as well as longer term seismic hazard, particularly in the central and eastern U.S. Other recent study areas include Oklahoma, Arkansas, the Long Valley Caldera, the Salton Trough in southern California, and the South Napa aftershock sequence.
---
Reservations: The preferred way to make reservations is simply to email Mike Diggles at mike@diggles.com by Oct. 4, tell him you will attend, commit to pay, and bring your payment to the meeting. Mike always emails a confirmation; if you don't get one, assume email crashed yet again and email him a second time. A check made to "PGS" is preferred, payable at the meeting.
If you want to pay in advance:
Everyone (including Stanford folks now) Please make dinner reservations by Oct. 4. Contact Mike Diggles, at (650) 329-5404. Send check made out to "PGS" to Mike.
Dinner and the social hour is $35.00; this includes $5 that we use to help pay for students who are only $8.00 (also partially subsidized thanks to the School of Earth Sciences, Stanford University (Note, no-show reservations owe the full price).
Doris, whose wonderful crew prepares our meals, asked that we let you know that people who are late RSVPing and people who show up without a reservation will be welcome but that they may be eating on paper plates with plastic utensils (food supply permitting).
Dues for Academic Year 2015–2016 ($10.00) should be sent to Mike Diggles, 345 Middlefield Road, MS-910, Menlo Park, CA 94025. Mike's phone: (650) 329-5404.
Officers: [vacant; would you like to serve? Call Mike], President; Sarah Nagorsen, Vice President; Mike Diggles, Secretary-Treasurer; Elizabeth Miller, PGS Stanford University Coordinator

---
---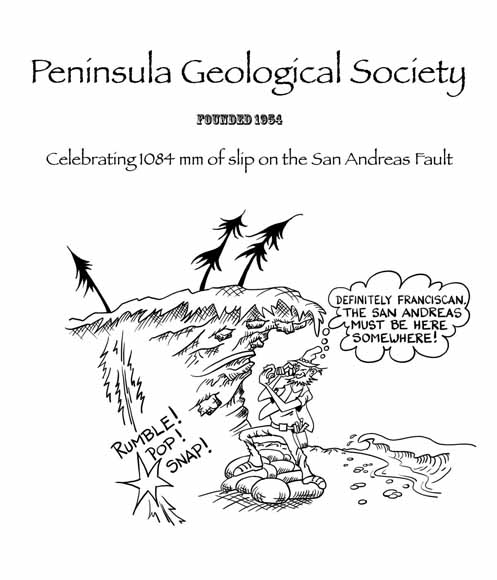 PGS cartoon by Rick Blakely
---
Date created: September 20, 2015
Last modified: November 3, 2015
Created by: Mike Diggles, Webmaster-Secretary-Treasurer, PGS.