7:30 PM-Meeting, Hartley
---
Anyone wishing to attend the lecture only is welcome at no cost.

This will be the 456th meeting since 1954
Abstract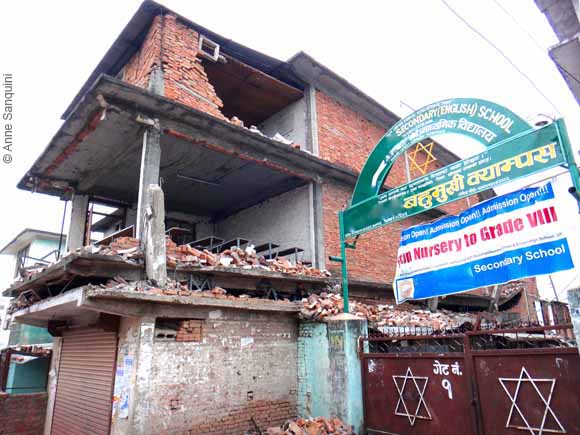 Desks are visible on what appears to be the second floor of a school building; a closer look reveals that it is actually the third floor collapsed onto the second. Photograph ©Anne Sanquini.
Kathmandu Valley, Nepal is an area of high seismicity and poor building infrastructure. A theory-based intervention film was created to accelerate the rate at which communities strengthen their school buildings, featuring local Nepalis who had done so. Sixteen public schools in Kathmandu Valley in need of seismic work were matched into eight pairs. One school in each pair was randomly assigned to view either the intervention film or a film on an unrelated topic. Participant changes in the following factors, which theory suggests may be precursors to action, were tested: 1) earthquake-resistant construction knowledge, 2) belief in its feasibility, 3) intent to support a school strengthening project and 4) willingness to recommend that others build earthquake-resistant homes. Compared to the control schools, communities who viewed the intervention film statistically significantly increased their scores on all four factors. Shortly after testing was complete, many of the school buildings in this study suffered damage or collapse from the M 7.8 earthquake that shook central Nepal in April of this year. All the school buildings in the film survived. The intervention film has been updated to reflect evidence of the effectiveness of earthquake-resistant construction, and is being released to the public, to aid post-disaster recovery. View the film here.
Read the Stanford Report article about Anne in Nepal.
About the Speaker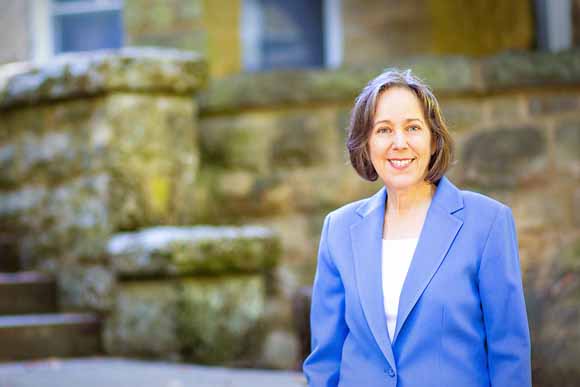 Anne Sanquini
Dr. Anne M. Sanquini recently received her Ph.D. from the Department of Geological Sciences, Stanford University, and is in process of establishing a consulting practice in disaster science. She holds an M.S. in Geology (2010) from San Jose State University and a B.A. in Journalism (1975) from the University of Minnesota. In-between earning these degrees, she worked ~30 years in high-tech marketing and general management. Before entering the doctoral program at Stanford, Anne supported paleoseismic studies at the Earthquake Science Center of the U.S. Geological Survey, Menlo Park. She has been in the Kathmandu Valley, Nepal five times over the past three years as part of her doctoral research study, and was there with her team during the M 7.8 earthquake of April 25, 2015.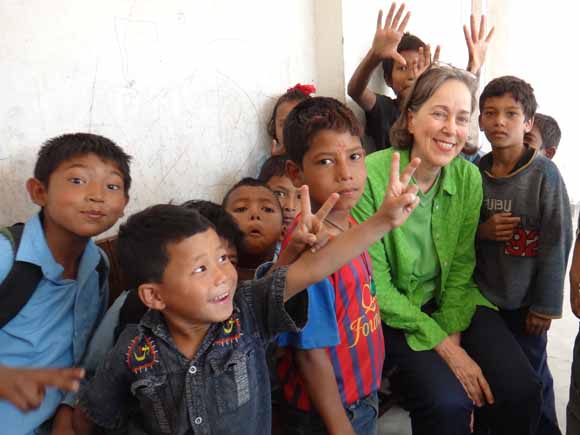 ---
Reservations: The preferred way to make reservations is simply to email Mike Diggles at mike@diggles.com by Nov. 8, tell him you will attend, commit to pay, and bring your payment to the meeting. Mike always emails a confirmation; if you don't get one, assume email crashed yet again and email him a second time. A check made to "PGS" is preferred, payable at the meeting.
If you want to pay in advance:
Everyone (including Stanford folks now) Please make dinner reservations by Nov. 8. Contact Mike Diggles, at (650) 329-5404. Send check made out to "PGS" to Mike.
Dinner and the social hour is $35.00; this includes $1 that we use to help pay for students who are only $8.00 (also partially subsidized thanks to the School of Earth Sciences, Stanford University (Note, no-show reservations owe the full price).
Doris, whose wonderful crew prepares our meals, asked that we let you know that people who are late RSVPing and people who show up without a reservation will be welcome but that they may be eating on paper plates with plastic utensils (food supply permitting).
Dues for Academic Year 2015–2016 ($10.00) should be sent to Mike Diggles, 345 Middlefield Road, MS-910, Menlo Park, CA 94025. Mike's phone: (650) 329-5404.
Officers: Kevin Gill, President; Sarah Nagorsen, Vice President; Mike Diggles, Secretary-Treasurer; Elizabeth Miller, PGS Stanford University Coordinator

---
---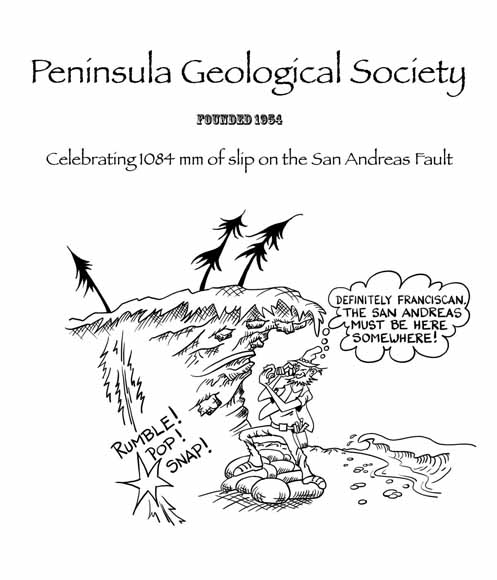 PGS cartoon by Rick Blakely
---
Date created: October 27, 2015
Last modified: November 3, 2015
Created by: Mike Diggles, Webmaster-Secretary-Treasurer, PGS.