7:30 PM-Meeting, Hartley
---
Anyone wishing to attend the lecture only is welcome at no cost.
This will be the 460th meeting since 1954
Abstract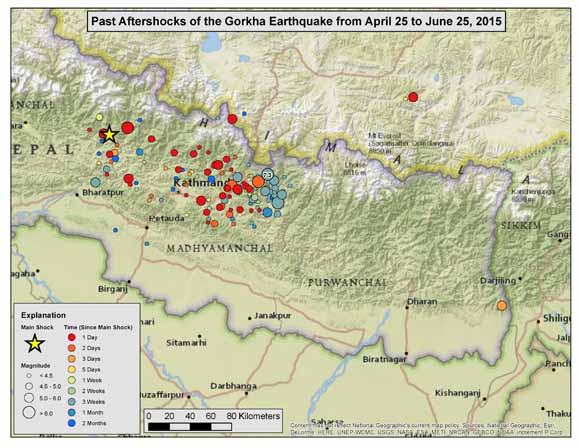 Following the M7.8 Gorhka, Nepal, earthquake of April 25, 2015 the USGS issued a series of aftershock forecasts. The initial impetus for these forecasts was a request from the USAID Office of U.S. Foreign Disaster Assistance to support their Disaster Assistance Response Team (DART) which coordinated U.S. Government disaster response, including search and rescue, with the Government of Nepal. Because of the possible utility of the forecasts to people in the region and other response teams, the USGS released these forecasts publicly through the USGS Earthquake Program web site. The initial forecast used the Reasenberg and Jones (Science, 1989) model with generic parameters developed for active deep continental regions based on the Garcia et al. (BSSA, 2012) tectonic regionalization. These were then updated to reflect a lower productivity and higher decay rate based on the observed aftershocks, although relying on teleseismic observations, with a high magnitude-of-completeness, limited the amount of data. After the 12 May M7.3 aftershock, the forecasts used an Epidemic Type Aftershock Sequence model to better characterize the multiple sources of earthquake clustering. This model provided better estimates of aftershock uncertainty. These forecast messages were crafted based on lessons learned from the Christchurch earthquake along with input from the U.S. Embassy staff in Kathmandu. Challenges included how to balance simple messaging with forecasts over a variety of time periods (week, month, and year), whether to characterize probabilities with words such as those suggested by the IPCC (IPCC, 2010), how to word the messages in a way that would translate accurately into Nepali and not alarm the public, and how to present the probabilities of unlikely but possible large and potentially damaging aftershocks, such as the M7.3 event, which had an estimated probability of only 1-in-200 for the week in which it occurred.
[From AGU 2015, Andrew J. Michael, Michael Blanpied, Shailaja Brady, Nicholas van der Elst, Jeanne L. Hardebeck, Gari Mayberry, Morgan T. Page, Gregory Smoczyk, and Anne Wein]
About the Speaker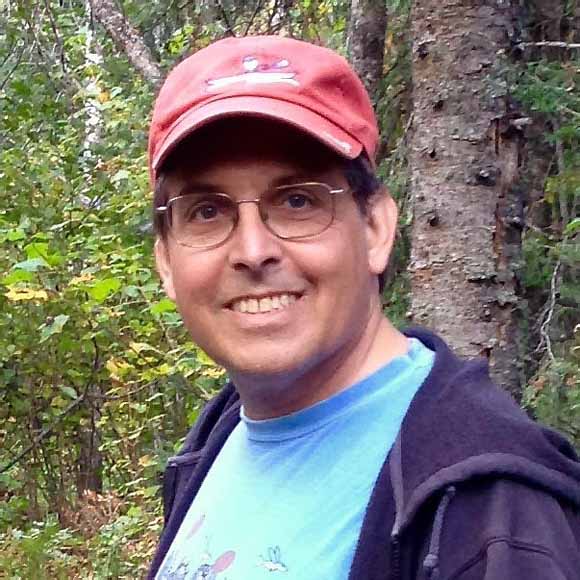 Andy Michael
Andy Michael has been a geophysicist with the U.S. Geological Survey's Earthquake Science Center in Menlo Park since 1986 where he combines observations of earthquake processes and statistical models to determine long-term and short-term earthquake probabilities, to evaluate proposed earthquake prediction methods, and to better understand how stress and structure function as part of the seismogenic process. A graduate of MIT (B.S., 1981) and Stanford University (M.S., 1983, Ph.D. 1986), he has authored over 80 papers and reports. He was the Editor-in-Chief of the Bulletin of the Seismological Society of America from 2004 to 2010, has been on the society's Board of Directors since 2014, and is currently the President-Elect. In 2011, for that work, he received the Society's Distinguished Service award. His outreach efforts include founding the Earthquake Science Center web site (quake.usgs.gov which became part of earthquake.usgs.gov) to facilitate the rapid dissemination of earthquake information and a lecture and performance titled "The Music of Earthquakes," which combines music and seismology and features "Earthquake Quartet #1," his composition for voice, cello, trombone, and seismograms. He is one of the founders of a new online educational resource: The Community Online Resource for Statistical Seismicity Analysis.
He currently works on the USGS Earthquake Probabilities and Occurrence Project, the Working Group for California Earthquake Probabilities, and is a member of the National Earthquake Prediction Evaluation Council.
See also Web of Science Scopus Google Scholar and ORCID.
---
Reservations: The preferred way to make reservations is simply to email Mike Diggles at mike@diggles.com by June 12, tell him you will attend, commit to pay, and bring your payment to the meeting. Mike always emails a confirmation; if you don't get one, assume email crashed yet again and email him a second time. A check made to "PGS" is preferred, payable at the meeting.
If you want to pay in advance:
Everyone (including Stanford folks now) Please make dinner reservations by March 6. Contact Mike Diggles, at (650) 329-5404. Send check made out to "PGS" to Mike.
Dinner and the social hour is $35.00; this includes $1 that we use to help pay for students who are only $8.00 (also partially subsidized thanks to the School of Earth Sciences, Stanford University (Note, no-show reservations owe the full price).
Doris, whose wonderful crew prepares our meals, asked that we let you know that people who are late RSVPing and people who show up without a reservation will be welcome but that they may be eating on paper plates with plastic utensils (food supply permitting).
Dues for Academic Year 2015–2016 ($10.00) should be sent to Mike Diggles, 345 Middlefield Road, MS-910, Menlo Park, CA 94025. Mike's phone: (650) 329-5404.
Officers: Kevin Gill, President; Sarah Nagorsen, Vice President; Mike Diggles, Secretary-Treasurer; Elizabeth Miller, PGS Stanford University Coordinator

---
---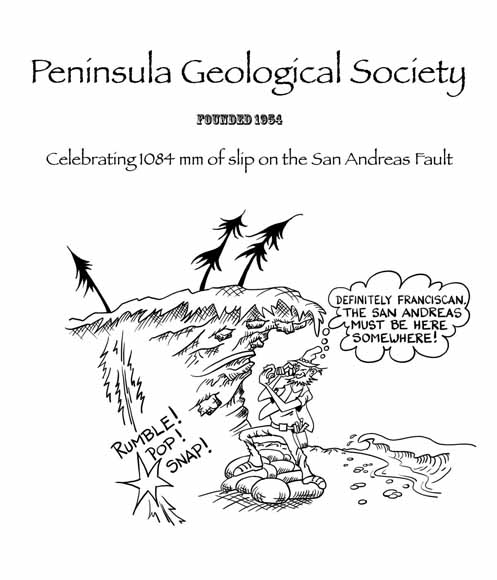 PGS cartoon by Rick Blakely
---
Date created: May 30, 2016
Last modified: May 30, 2016
Created by: Mike Diggles, Webmaster-Secretary-Treasurer, PGS.