7:30 PM-Meeting, Hartley
---
Anyone wishing to attend the lecture only is welcome at no cost.
This will be the 461st meeting since 1954
Abstract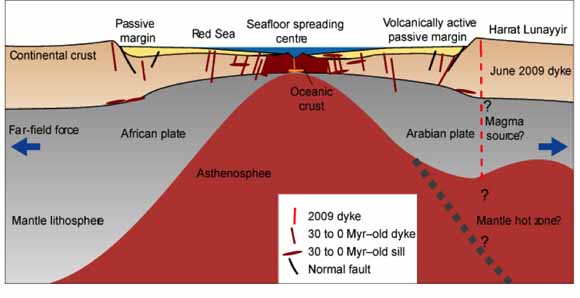 Cartoon credit: C. Ebinger and M. Belachew, Nature Geosci. (2010).
The Afro-Arabian rift includes the Red Sea and East African rift that extends from the Afar Triangle (Ethiopia) to Mozambique in southern Africa. A major breakthrough in studies of the Red Sea portion of the rift system has resulted from the installation, starting in 2009, of 180 broadband seismic stations in Saudi Arabia. The analysis of these seismic data, combined with GPS measurements of plate motions, provide new insights into the evolution of the Red Sea rift.
About the Speaker

Walter Mooney
Walter Mooney is a research geophysicist at the U.S. Geological Survey, Menlo Park, California.
See also USGS Professional Page, Google Scholar, and ORCID".
---
Reservations: The preferred way to make reservations is simply to email Mike Diggles at mike@diggles.com by Nov. 6, tell him you will attend, commit to pay, and bring your payment to the meeting. Mike always emails a confirmation; if you don't get one, assume email crashed yet again and email him a second time. A check made to "PGS" is preferred, payable at the meeting.
If you want to pay in advance:
Everyone (including Stanford folks now) Please make dinner reservations by Nov. 6. Contact Mike Diggles, at (650) 329-5404. Send check made out to "PGS" to Mike.
Dinner and the social hour is $35.00; this includes $1 that we use to help pay for students who are only $8.00 (also partially subsidized thanks to the School of Earth Sciences, Stanford University (Note, no-show reservations owe the full price).
Doris, whose wonderful crew prepares our meals, asked that we let you know that people who are late RSVPing and people who show up without a reservation will be welcome but that they may be eating on paper plates with plastic utensils (food supply permitting).
Dues for Academic Year 2016–2017 ($10.00) should be sent to Mike Diggles, 345 Middlefield Road, MS-910, Menlo Park, CA 94025. Mike's phone: (650) 329-5404.
Officers: [nominations are open], President; Sarah Nagorsen, Vice President; Mike Diggles, Secretary-Treasurer; Elizabeth Miller, PGS Stanford University Coordinator

---
---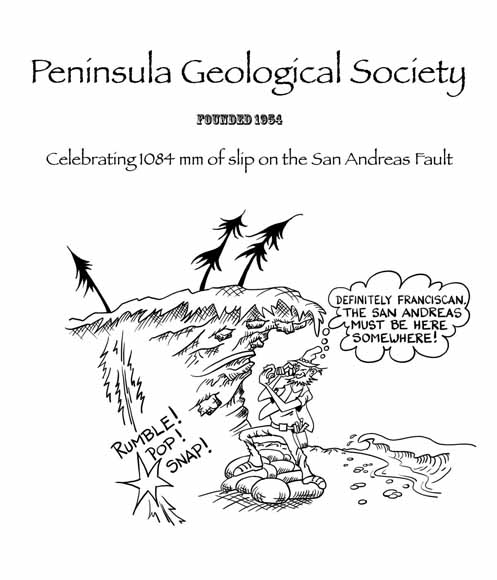 PGS cartoon by Rick Blakely
---
Date created: October 15, 2016
Last modified: October 20, 2016
Created by: Mike Diggles, Webmaster-Secretary-Treasurer, PGS.