7:30 PM-Meeting, Hartley
---
Anyone wishing to attend the lecture only is welcome at no cost.
This will be the 463rd meeting since 1954
We made the minimum attendance!
We have the 22 people we need to support dinner by Doris. We can still take more as long as I hear from you by Monday, March 13 so Doris can buy enough supplies. Truth be known, she can take about two extras either who reserve late or simply as walk-ins. So come join us; Mark is a very good speaker and is an award-winning author.
Abstract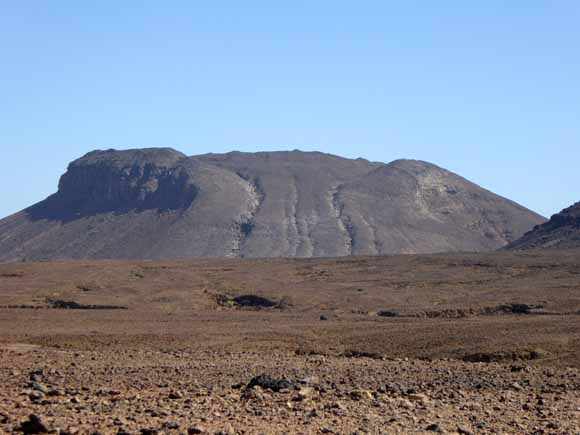 Um Junb. A benmorite dome erupted at 435 ka in northern Harrat Rahat, Kingdom of Saudi Arabia
Harrat Rahat is a large (~20,000 km2) volcanic field located in central western Saudi Arabia. Eruptive products ranging from alkali basalt to trachyte have erupted at Harrat Rahat over the past ~10 m.y., with the most recent eruption occurring in 1256 CE in the northern part of the volcanic field. Despite the volcanic field's young age and close proximity to the two major Islamic cities of Makkah (or Mecca) and Madinah, the eruptive history of Harrat Rahat remains poorly understood. To improve constraints on the eruptive history of Harrat Rahat, the USGS and Saudi Geological Survey are conducting a detailed geochronological, geochemical, and paleomagnetic study of northern Harrat Rahat. These new age data have significant implications for volcanic hazard assessment in central western Arabia.
About the Speaker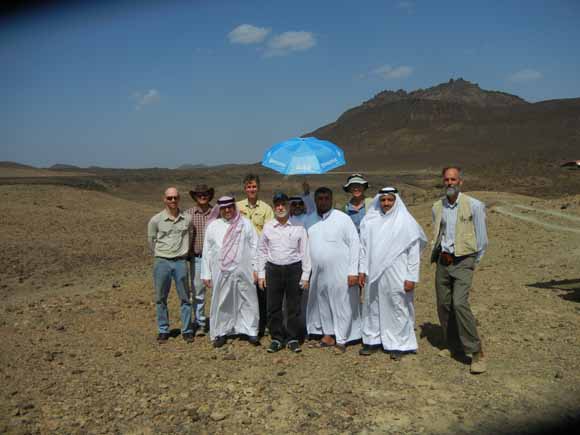 Mark Stelten (left)
Mark Stelten is originally from Durham, North Carolina. Mark received a Bachelors of Science from the University of North Carolina at Chapel Hill in 2008, a Master of Science from the University of California, Davis in 2010 and a PhD from the University of California, Davis in 2014. Mark Stelten is now a research geologist at the U.S. Geological Survey, Menlo Park, California. Mark specializes in geochronology and geochemistry with a focus on 40Ar/39Ar dating of young volcanic rocks for the purpose of volcanic hazard assessments. Mark also uses geochronology and geochemistry to understand the dynamics of magmatic systems underlying active volcanoes.
See also ResearchGate and Google Scholar.
---
Reservations: The preferred way to make reservations is simply to email Mike Diggles at mike@diggles.com by Feb. 13, tell him you will attend, commit to pay, and bring your payment to the meeting. Mike always emails a confirmation; if you don't get one, assume email crashed yet again and email him a second time. A check made to "PGS" is preferred, payable at the meeting.
Dinner and the social hour is $35.00; we have no student price for dinners this year.
Doris, whose wonderful crew prepares our meals, asked that we let you know that people who are late RSVPing and people who show up without a reservation will be welcome but that they may be eating on paper plates with plastic utensils (food supply permitting).
Officers: [nominations are open], President; Sarah Nagorsen, Vice President; Mike Diggles, Secretary-Treasurer; Elizabeth Miller, PGS Stanford University Coordinator

---
---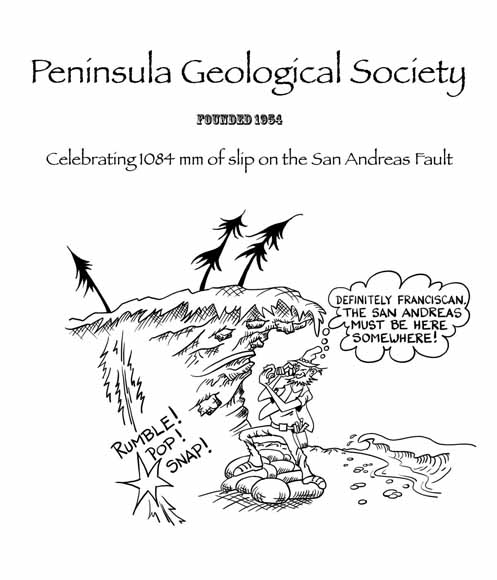 PGS cartoon by Rick Blakely
---
Date created: March 6, 2017
Last modified: March 11, 2017
Created by: Mike Diggles, Webmaster-Secretary-Treasurer, PGS.