7:30 PM-Presentation by Andrea Foster
---
Cost: $35 Students and job seekers. $40 Professionals. You need to pay in advance by June 9, 2019, by going to Venmo or PayPal and sending your payment to Lan Ma using her email address which is misty.ma@gmail.com and choose the "Send money to friends and family" option. Reservation will be confirmed once payment is received.
Also, RSVP to Mireya Berrios (mbberrios@comcast.net) by June 9 and let her know if you'll be having the vegetarian or regular meal option.
This will be the 470th PGS meeting since 1954
Abstract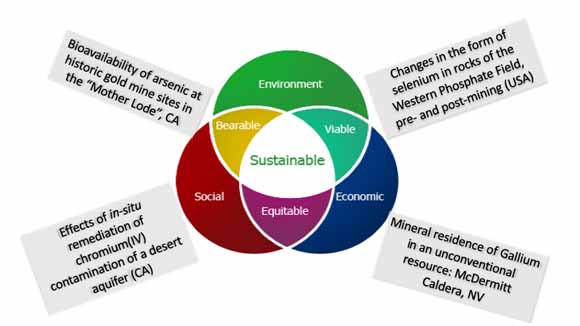 One way to define "sustainability" is meeting the needs of the present while ensuring the ability of future generations to meet theirs (an admittedly human-centric view). Looking back on 20 years as a scientist in the U.S. Geological Survey's Mineral Resources Program, I see that most, if not all, of the research activities in which I have participated pertain to sustainability—but I never realized it until recently, when I had the opportunity to lead a project focused squarely on this issue. I will present several case studies to illustrate how the information I have gained from X-ray absorption and Raman scattering spectroscopic studies has helped address pertinent sustainability issues including: (1) re-use of historically-mined lands in California; (2) ensuring steady supplies of key elements required for a low-carbon future; (3) ensuring safe food and water supplies at home and abroad; and (4) reducing the environmental impact and carbon footprint of modern mining.
About the Speaker

Andrea in the field near Paradise, Calif., (the town devastated by the Nov 2018 Camp Fire). Approximately one month after the fire, she began a field-based project to measure the impact of the fire on the chemical form of chromium (Cr) in high-Cr soils located in the burned area (low-to-moderate fire intensity is shown in this photo). Andrea is gripping (incorrectly!) a portable X-ray Fluorescence Spectrometer, which provides near real-time, multi-element analyses.
Andrea L. Foster graduated high school in Frankfort, Kentucky in 1988 and entered Howard University (Washington DC) the same year as its only declared geology major. She transferred to Indiana University (Bloomington) at the start of her junior year and received a BS Geology (honors) from IU in 1992. Next, she joined Stanford University's Surface and Aqueous Geochemistry group in the (then) Geological and Environmental Sciences Department, earning a Ph.D. degree in 1999. That same year she began a research appointment with the USGS, Menlo Park, and has continued there to the present day. Dr. Foster manages the Environmental Geochemistry and Geomicrobiology Laboratory and currently leads a project entitled Biological Technologies for Sustainable Mining that is funded by the USGS Mineral Resources Program.
---
---
Officers: [vacancy], President; [vacancy], Vice President; [vacancy], Secretary-Treasurer; Elizabeth Miller, PGS Stanford University Coordinator

---
---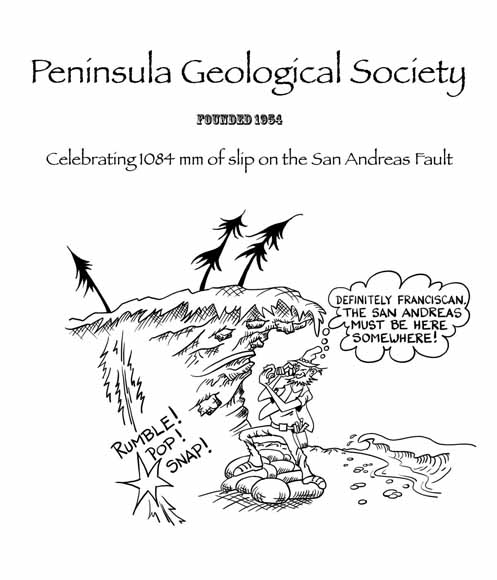 PGS cartoon by Rick Blakely
---
Date created: June 1, 2019
Last modified: June 3, 2019
Created by: Mike Diggles, Webmaster, PGS.