Shastina Climb
June 14, 15, and 16, 2002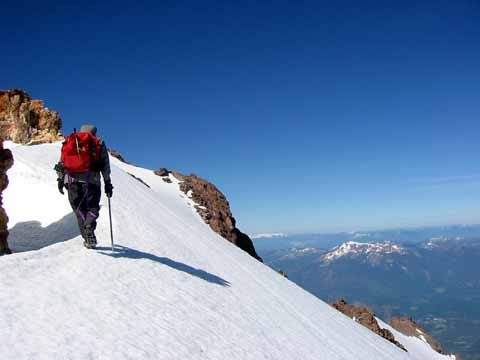 Click here for a collection of different types of map of the Mt. Shasta area (College of the Siskiyous Mount Shasta Project).
Here are some favorite shots from the Shastina mountaineering trip
Friday, we drove to the roadhead and hiked into Horse Camp

Roadhead (020614-1218).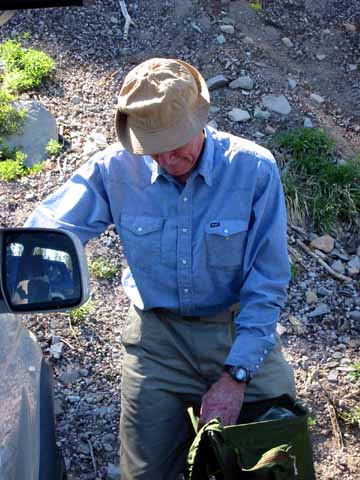 Packing Kelty (020614-1219).

Jim Moore (020614-1221).

Lodge (020614-1222).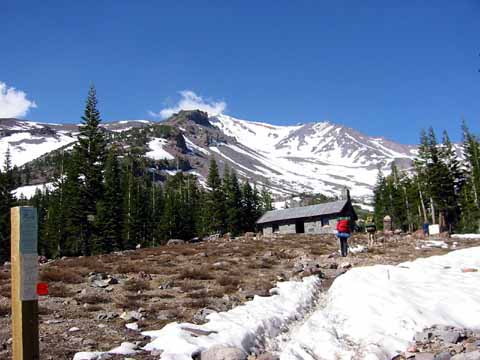 Horse Camp (020614-1223).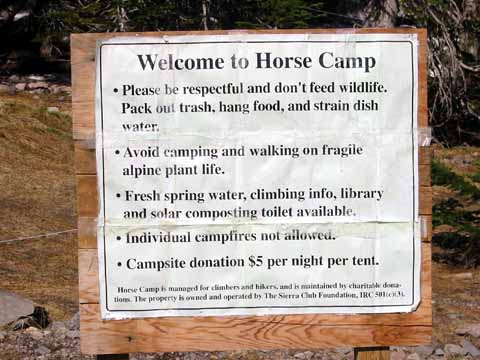 Horse Camp sign (020614-1224).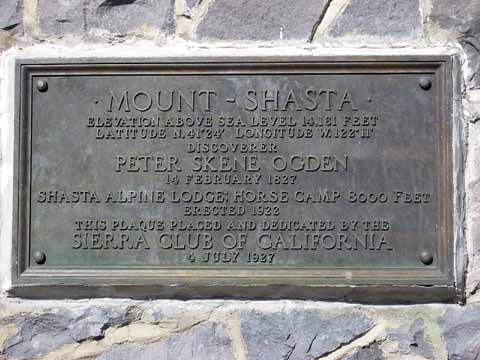 Sierra Club plaque (020614-1225).

First camp (020614-1226).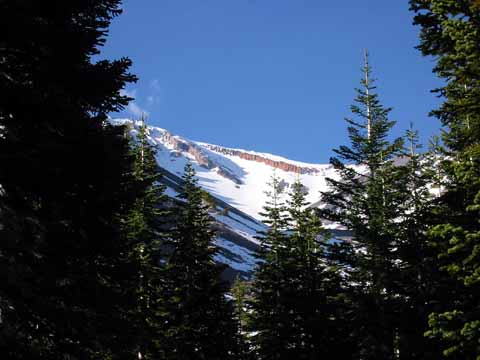 Red Banks (020614-1227).

Apian Way - one of the old lodge caretakers spent his (abundant) free time moving these large stones to build a path that gets you a good mile up the hill from Horse Camp. (020614-1228).

Apian Way (020614-1229).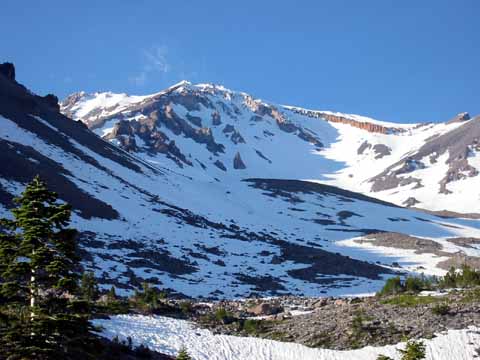 Avalanch Gulch (020614-1231).
Saturday, we moved our camp up to Hidden Valley at 10,000 feet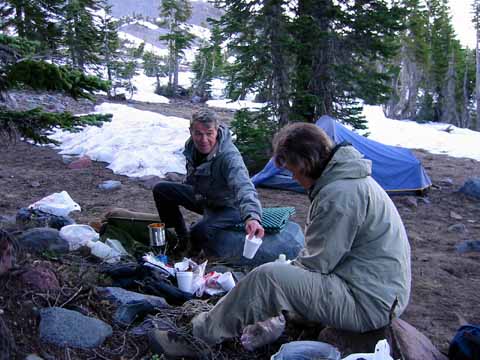 Morning coffee (020615-1232).

Packing up (020615-1233).

Trinity Alps (020615-1234).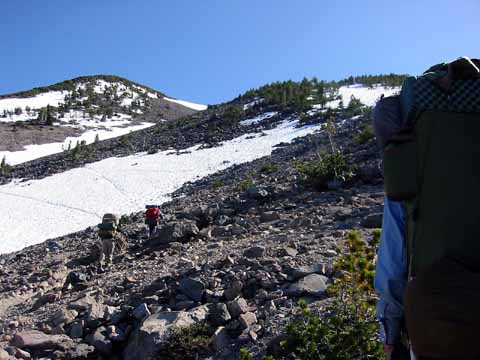 Backpackers (020615-1235).

Rock trail (020615-1236).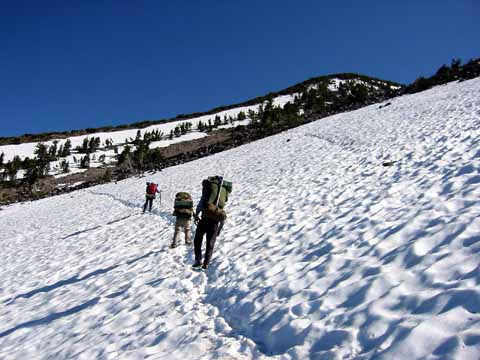 Snow trail (020615-1237).

Mt Lassen (020615-1239).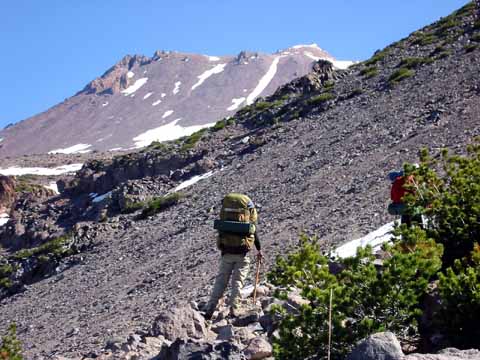 Dry cascade (020615-1240).

Jims load (020615-1241).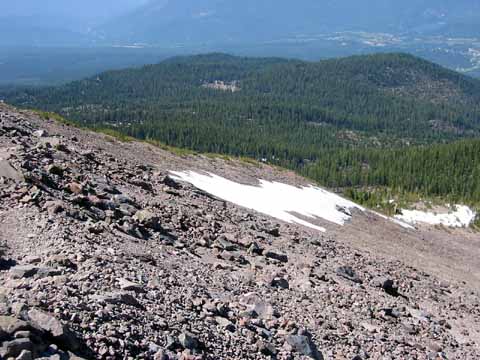 Looking back (020615-1242).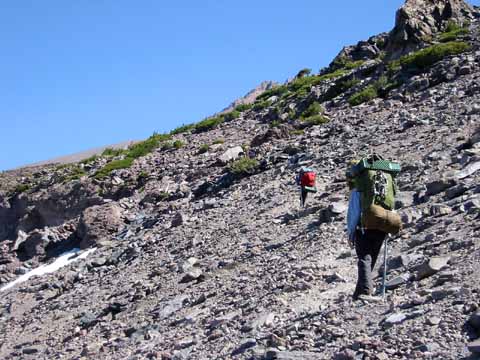 Beside the cascade. It looked dry but we went down to look (020615-1243).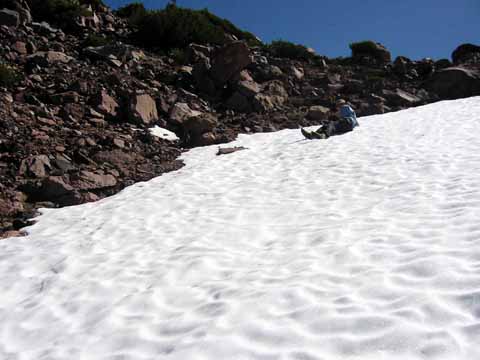 Our first slides (020615-1244).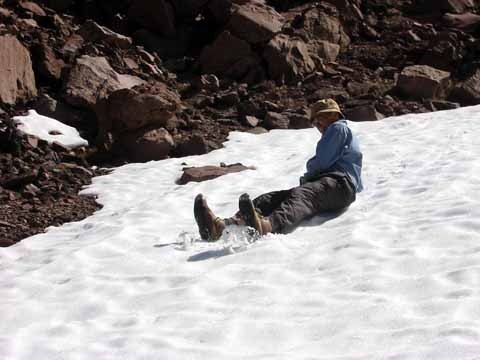 When we got down there, all we found was some damp sand; the snow isn't melting much yet (020615-1245).

We solved the water problem by putting snow out in the sun on our tarps (020615-1246).

Melt detail (020615-1247).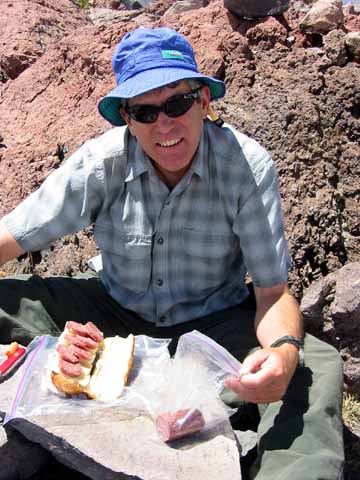 Mikes lunch - lots of calories (020615-1249).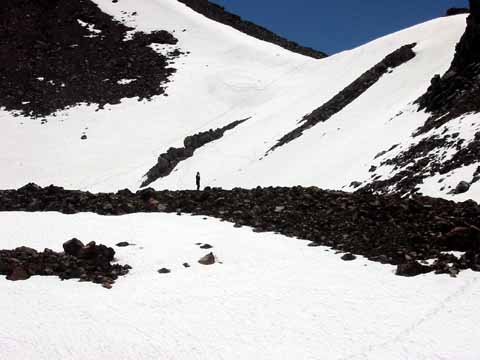 This guy was talking on his cell phone (020615-1250).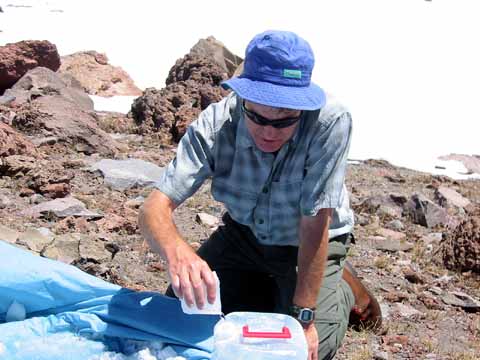 Harvesting our melt water (020615-1252).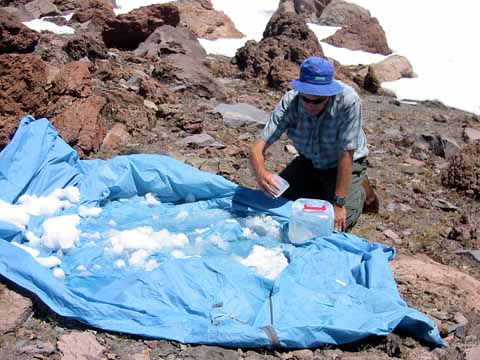 Snow-melt tarp (020615-1253).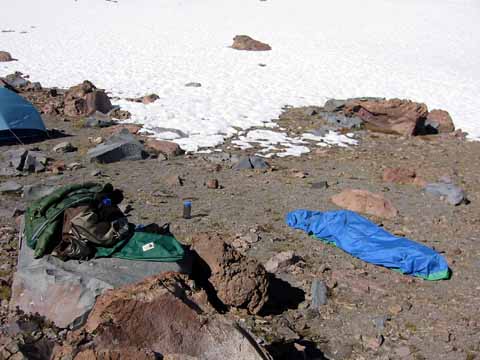 Mikes camp, that's a Gore Tex bivvie bag (020615-1254).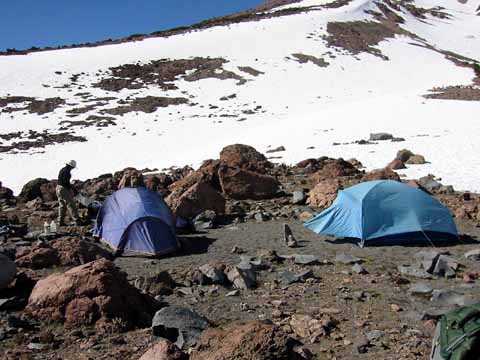 Karen in camp camp (020615-1255).

Camp with Shasta in the distance (020615-1256).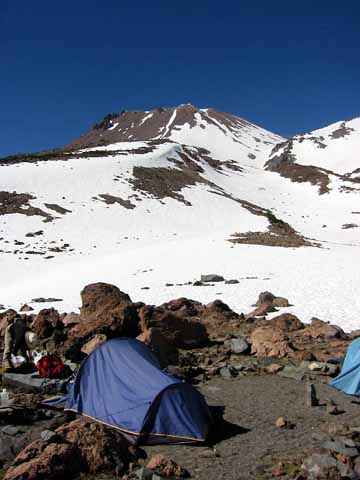 Camp with Shastina in the distance (020615-1257).

Climbing team; half had skis (020615-1258).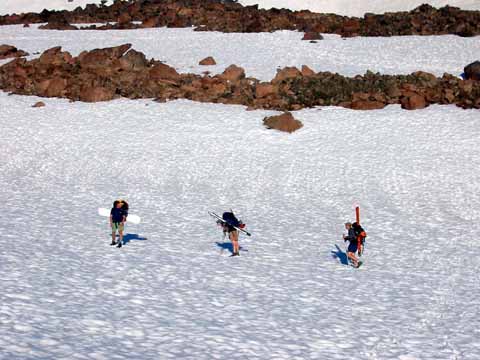 One had a snowboard (020615-1259).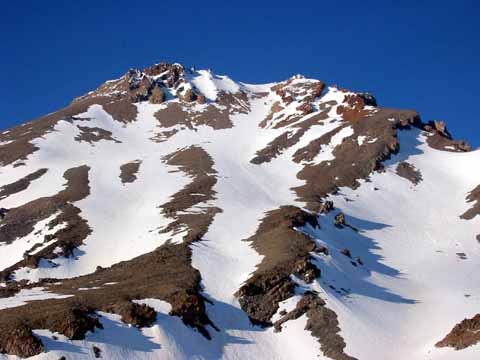 Shastina (020615-1260).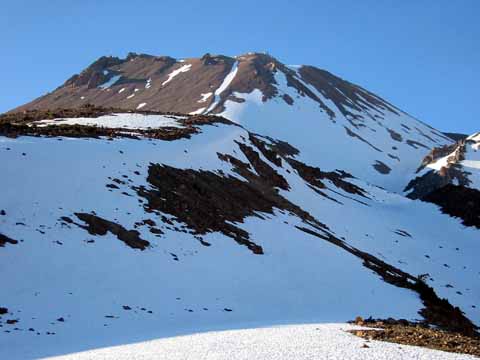 Shastina (020615-1262).

Hidden Valley (020615-1263).
Sunday, we got up at 4:00 AM, got to the summit about 11:00 AM, and were back in Palo Alto before midnight

USGS Shasta Special Map, Charles D. Walcott, Director. Edition of 1897. Reprinted June, 1901. Topography by Eugine Ricksecker. Surveyed in 1884. Scale on original 1:62,500, contour interval 100 feet.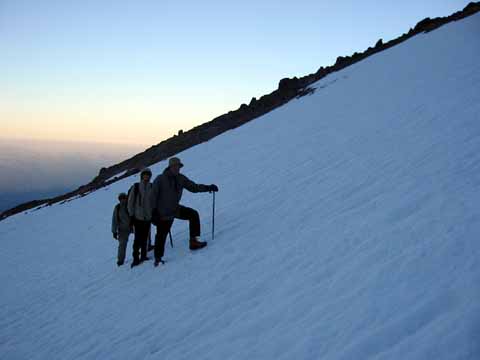 Jim, Karen, and Sonny (020615-1265).

Jim, Karen, and Sonny (020615-1267).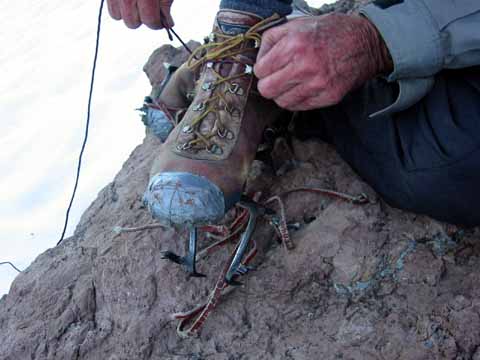 Crampon straps getting a little old (020615-1268).

Jeff (020616-1270).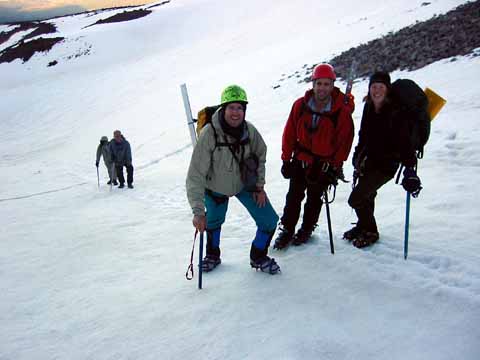 Kurt, Jeff, and Collene. We ran into this other climbing party that included Kurt Manning, one of Mike's coauthors on the Sierra Nevada Ecosystem Project (020616-1271).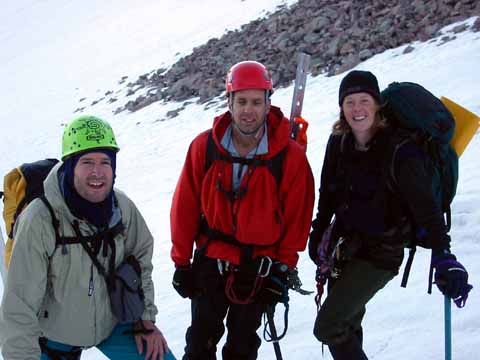 Kurt, Jeff, and Colline (020616-1272).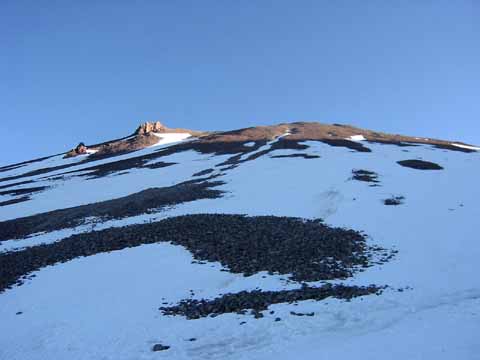 False summit (020616-1273).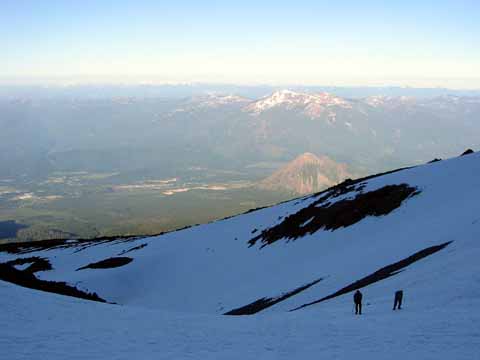 Mt Eddy (020616-1274).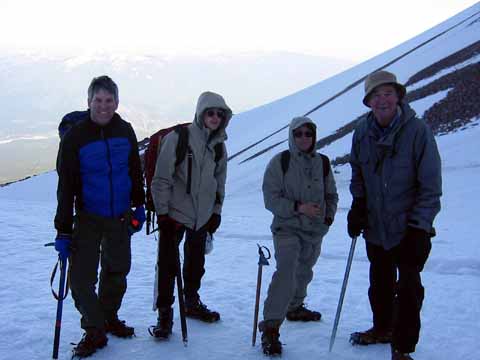 Group shot (photo by Kurt Manning) (020616-1276).

Group shot (020616-1276).

Karen and Jim (020616-1278).

Kurt Manning's tram (020616-1279).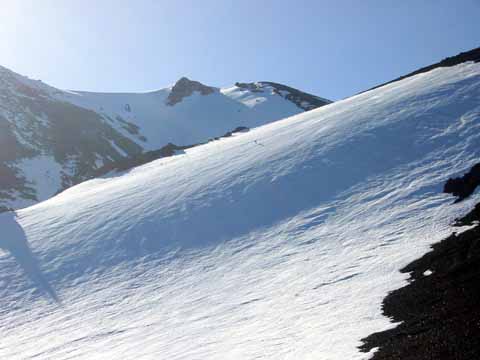 Distant climber (020616-1280).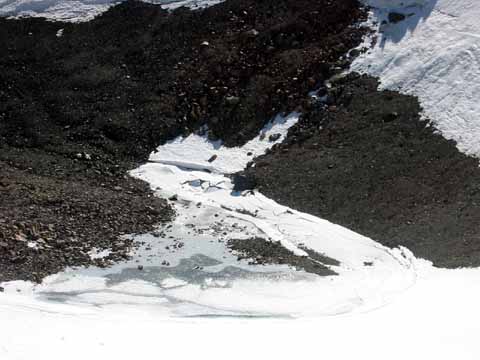 Sisson Lake (020616-1281).

Seracs (020616-1282).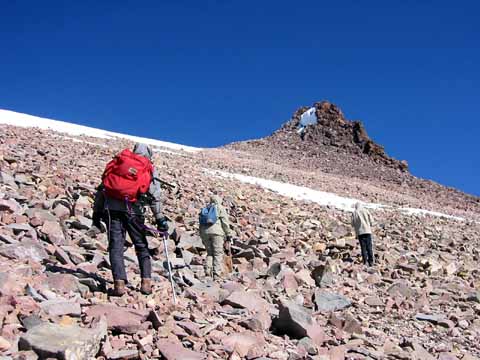 Near the crater rim (020616-1283).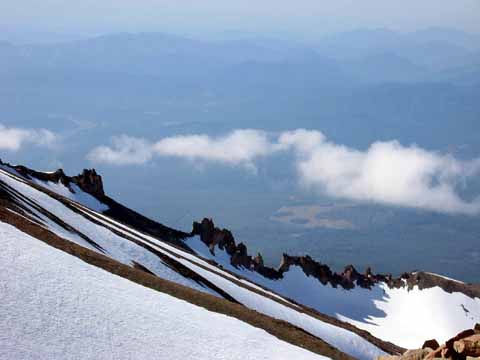 Aretes between Cascade Gulch and Avalanche Gulch (020616-1284).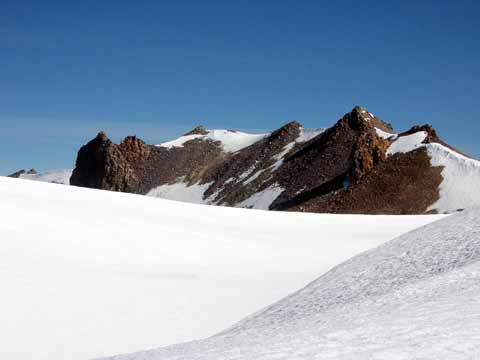 Near the saddle between Shastina and Shasta (020616-1285).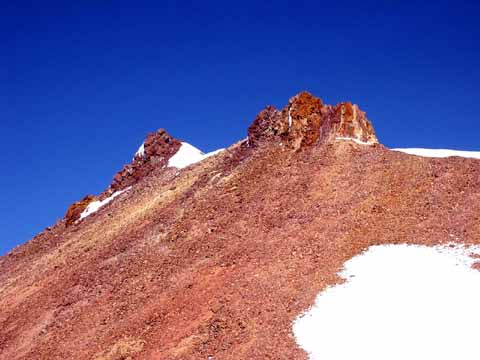 Summit on the left (020616-1286).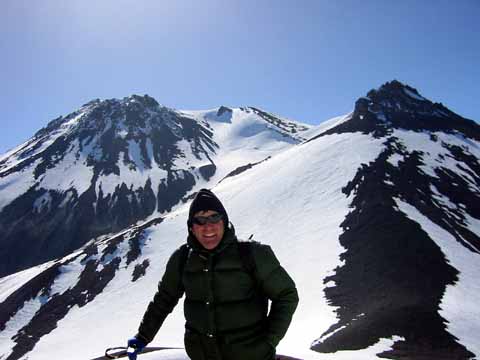 Mike, with Shasta in the background (020616-1287).

South_rim (020616-1288).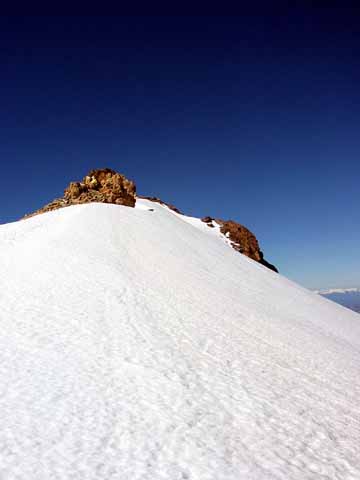 Summit (020616-1289).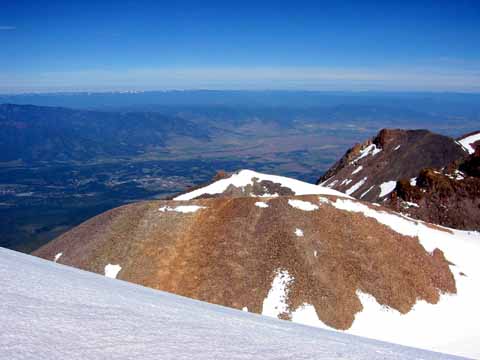 Patterned ground (020616-1290).

Northwest (020616-1291).

North rim (020616-1292).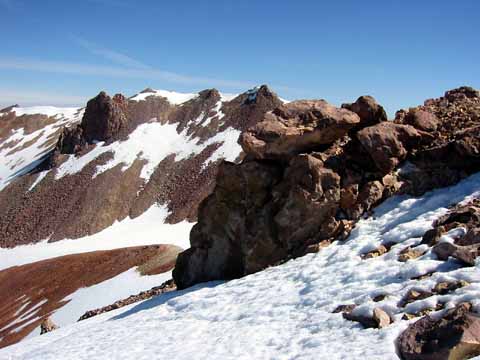 East rim (020616-1293).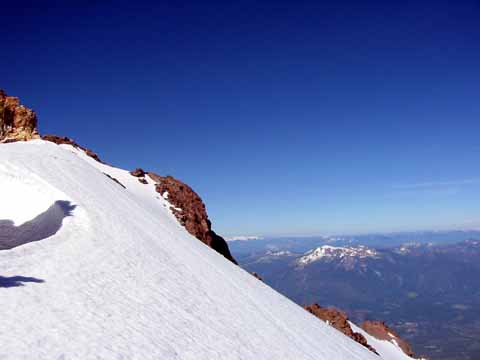 North slope (020616-1296).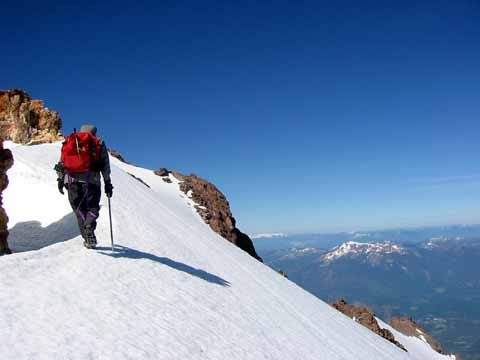 Near the summit (020616-1297).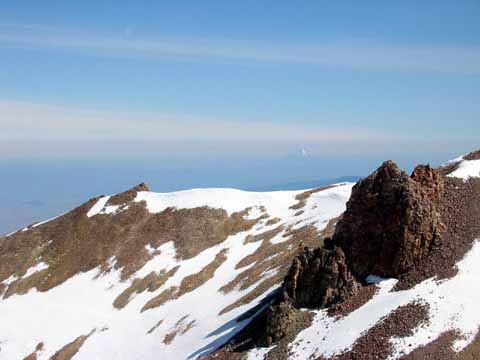 Mt. McLoughlin, 50 miles to the north in southern Oregon (020616-1298).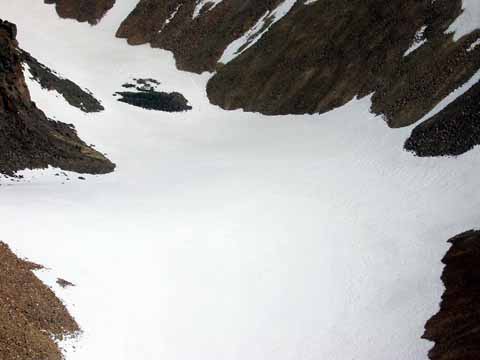 Lake Clarence King under all that snow (020616-1300).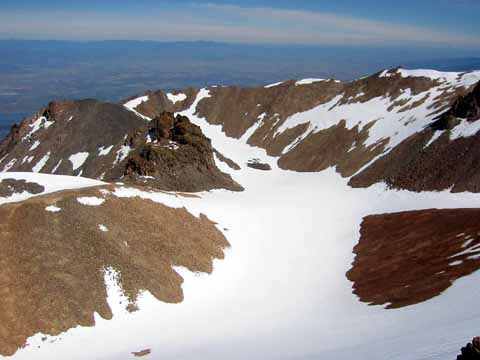 Patterned ground (020616-1301).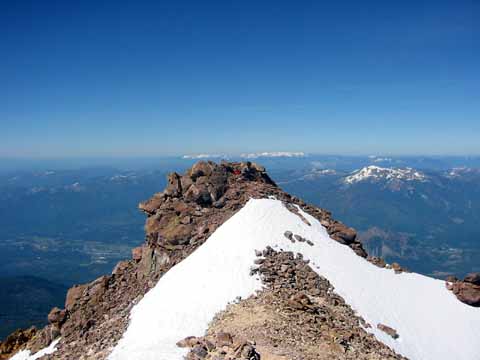 Jim on the summit (020616-1302).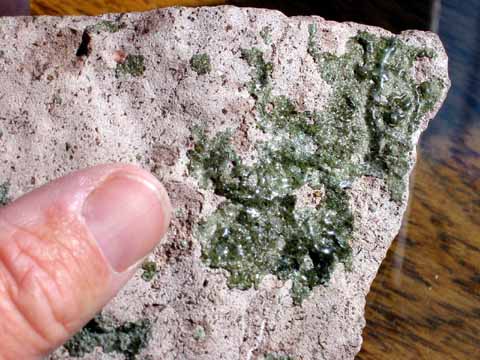 Fulgurites. These are rocks formed when lightning strikes the ground. They are most common in sands. See http://www.crh.noaa.gov/abr/science/fulgu.htm. But we had them on pink rhyolite on the summit of Shastina. They look like somebody melted a green Coke bottle and dribbled the glass on the rhyolite. What happened is that the event reduced the iron from the pink Fe2O3 to green FeO. We don't know if other elements outgassed; it would be fun to do a chem analysis of the green stuff and the red stuff and see if anything is missing. Rhyolite comes out of the ground pretty hot so it has already outgassed once in it's history but I think lightning is a lot hotter.
Update 7/25/2002. Here is a lot more information on fulgurites I received from Andrei M Sarna-Wojcicki at USGS: "...with regard to fulgurites: I obtained a piece of mysterious black cindery material from an amateur geologist who had a cabin high in the Inyo Mountains. He said he found this material at or near the summit of one of the higher peaks there. The terrane was composed of limestone or dolomite. I checked the available geology maps and could not find any volcanics or volcanic vents nearby. We examined the cinders under the microscope. They were very unusual, did not look like scoria - totally opaque. We ran the material on the Kevex ED XRF, and found that the material was mostly CaO and MgO, with smaller amounts of other oxides, so I concluded that this must be a fulgurite, with the vesicular texture produced by evolution of CO2 under the extreme heat of the lightning bolt.
"Subsequently, I ran across an article by one of my former grad school (UCB) colleagues, Erik Essene, who is a prof at the University of Michigan, at Ann Arbor. He had a very interesting article: Essene, E.J., and Fisher, D.C., 1986, Lightning strike fusion: Extreme reduction and metal-silicate liquid immiscibility. Science, v. 234, p. 189-193. I sent him the piece of the 'carbonate fulgurite,' because it seemed to me that similar kinds of reactions had taken place in the carbonate rock after a lightning strike. I don't know if he did anything with that sample. Anyhow, keep on the lookout for black cinders in high limestone terranes."
I wrote Andrei about the melted Coke-bottle stuff and he said "Yeah, I call the stuff 'frozen snot.' That's what it looks like. In my (relatively) misspent youth, I climbed Mount Conness in the Sierra Nevada, together with Malcolm Clark and a bunch of other people (including Lajoie, as I seem to remember), and when we reached the top, there was a cairn of stones, with the usual can inside and a logbook of those who'd made it to the top, and their comments. The cairn was made of boulders and blocks, and it was covered all over with this snot-green glassy stuff.
"'Lechatelierite.' Glass produced in nature by lightning strikes, and artificially by nuclear blasts.
"Essene writes: '...Thermodynamic calculations indicate that temperatures in excess of 2000 K and reducing conditions approaching those of the SiO2-Si buffer were needed to form coexisting metallic and silicate liquids. The phases produced are among the most highly reduced naturally occurring minerals known.' ...Globules of metallic Si were present in the stuff. He goes on to propose that these liquids scavange noble metals very effectively, and that some of the Ir, etc. anomalies such as the K-T Ir layer may have been partly enhanced by the high T and P of the event." (020622-1487).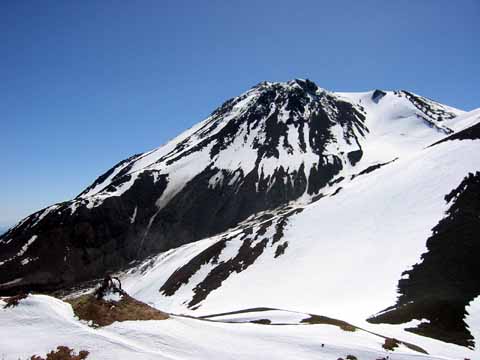 Shasta from Shastina (020616-1307).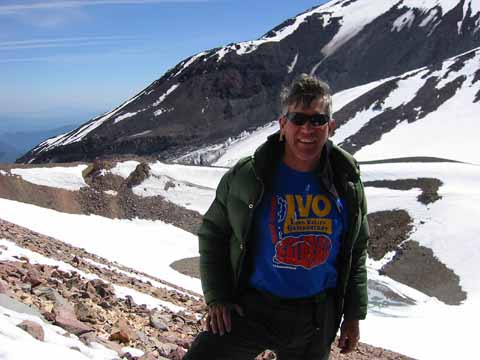 Mike with his Long Valley Observatory T-shirt (020616-1317).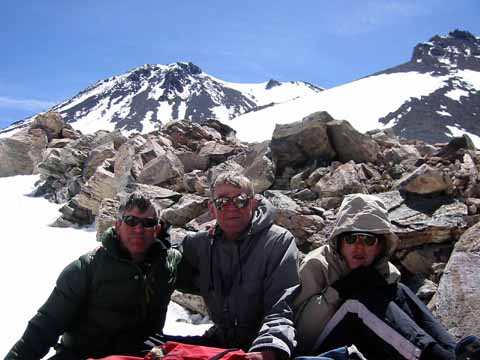 The three lads (020616-1318).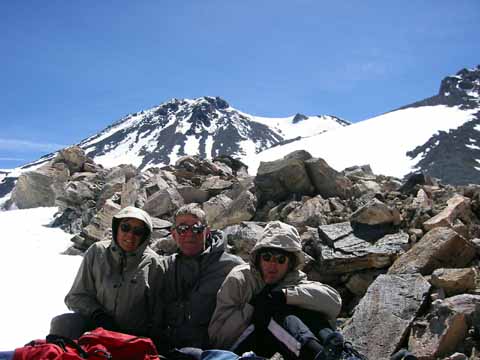 Jim, Karen, and Sonny (020616-1320).

Karen (020616-1322).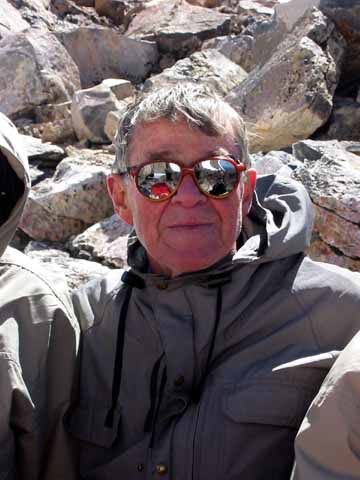 Jim (020616-1323).

Sonny (020616-1324).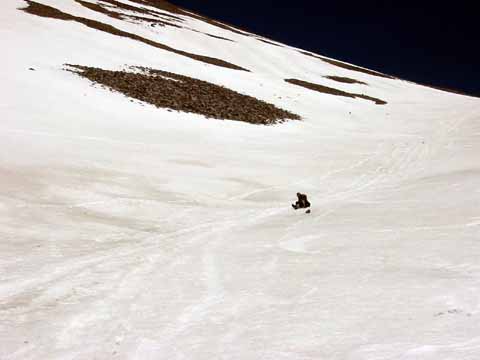 Long slide (020616-1325).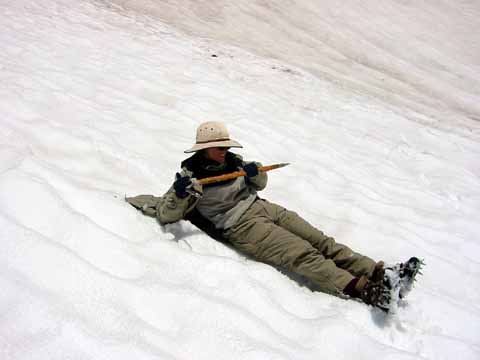 Karen (020616-1326).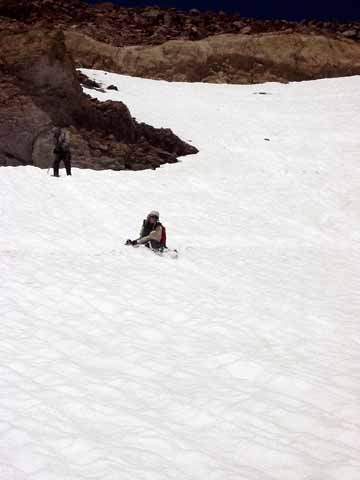 Sonny (020616-1328).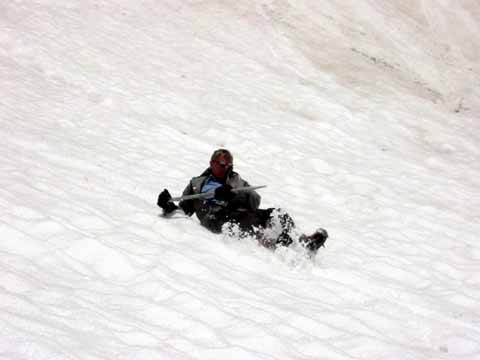 Jim (020616-1331).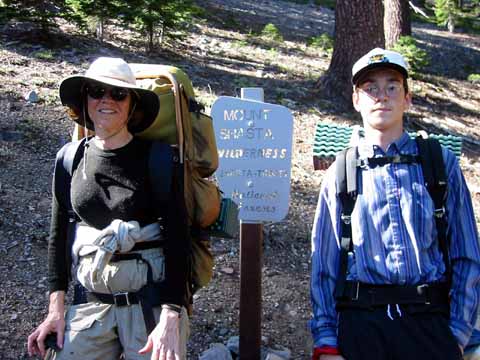 Wilderness sign (020614-1220).
Panorama from the top If you have the band width or the patience, here is a 2.2-megabyte QuickTime VR view from the summit.
---
If you want prints, just contact Mike (mike@diggles.com) with the image number (that silly-looking set of characters in the captions).
---
---
Date created: June 24, 2002
Last modified: September 4, 2006

The URL of this Web site is http://www.diggles.com/shastina/index.html