NCGS, Sierra Buttes and Sixteen-to-One Mine
June 28-30, 2002
Here are some favorite shots from the Northern California Geological Society's field trip to Sierra Buttes and the Original Sixteen to One Mine
Saturday, Woody Brooks took us to the Sierra Buttes Formation, the Elwell, Formation and the Taylor Formation.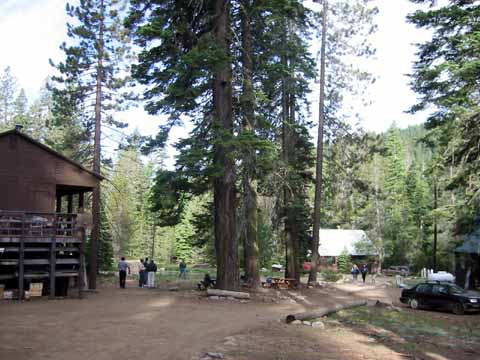 SFSU Sierra Nevada Field Camp (020629-1496)

Jean and Woody (020629-1497)

Woody Brooks (020629-1520)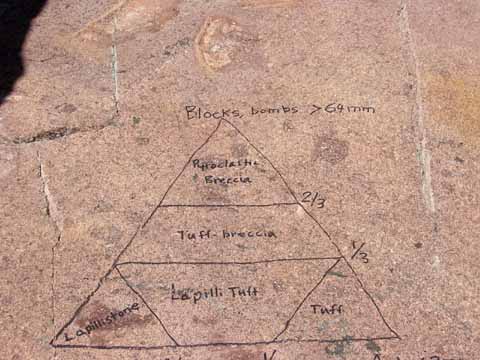 Classification scheme (020629-1528)

NCGS members (020629-1529)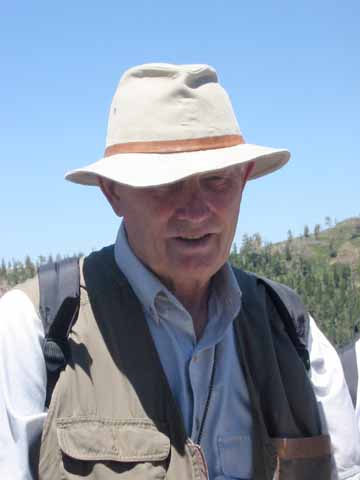 Ray Sullivan (020629-1546)

Columnar joints (020629-1538)
Sunday, we went to the Original Sixteen to One Mine in Alleghany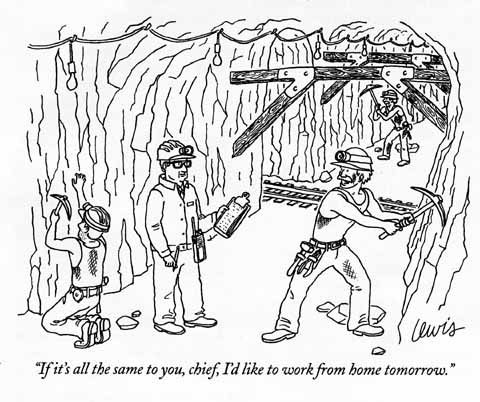 Portal sign (020630-1581)

The mine geologist, Ray Wittkopp, was one of Ray Sullivan's students in the early 1960's (020630-1598)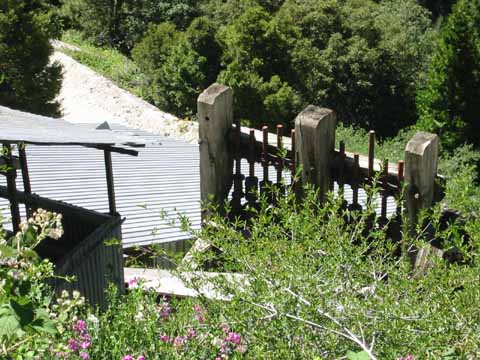 Old stamp mill (020630-1568b_Old_stamp_mill.jpg)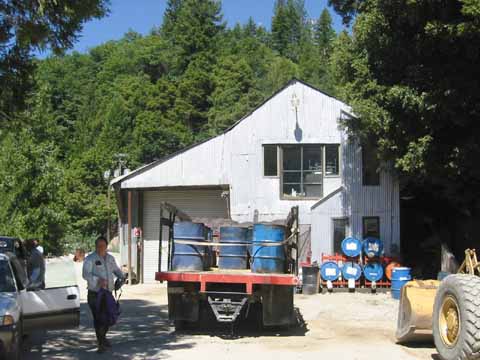 Shed 0 level (020630-1566)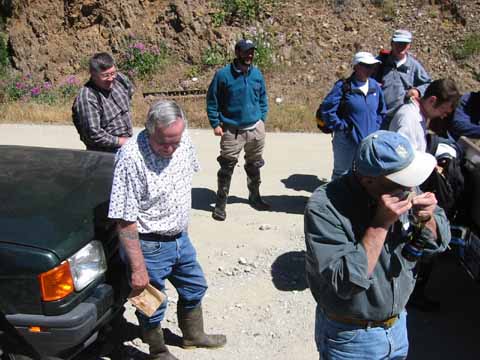 NCGS members (020630-1570)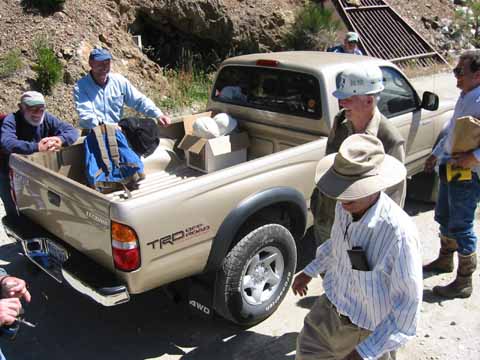 NCGS members (020630-1569)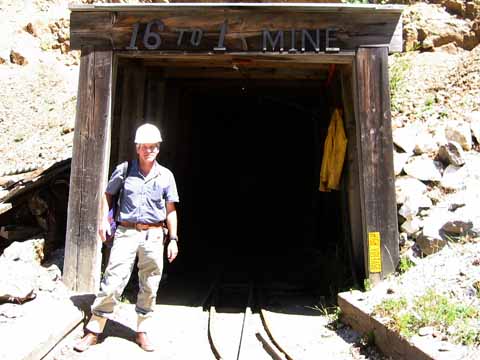 Mike Diggles at the 800-level portal (020630-1580)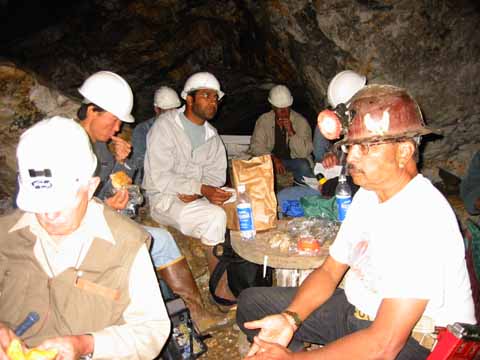 Lunch in "The Ballroom" (020630-1591)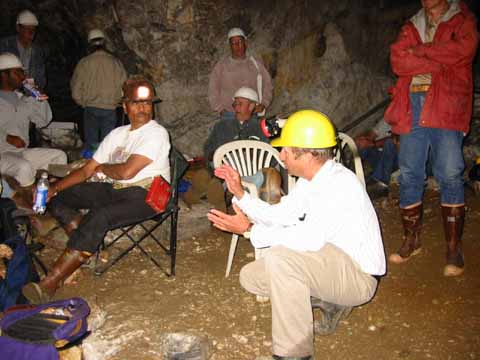 Lunchtime lecture (020630-1593)

Dusty ride back out (020630-1599)

Phil Garbutt holding "The Whopper." The asking price is a cool quarter million bucks (020630-1601)

Before leaving, we hit Casey's (020630-1610)

Casey's (020630-1559)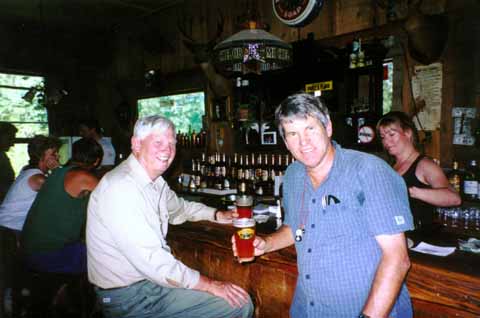 Mike having a beer at his dad's old haunt (Photo by Ray Wittkopp) (020630-by-Ray_Mike_Caseys)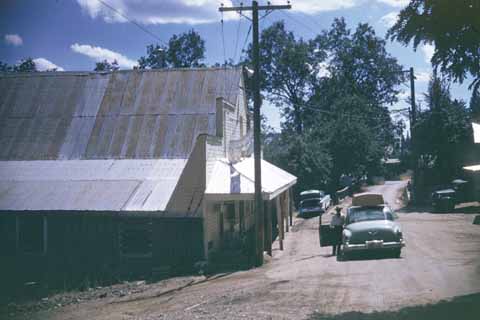 After beer, I went back up to the museum to buy some gold. Here is a shot of the museum building in 1961, which was the Alleghany Supply Company at the time according to Curator Rae Bell. Photo by a young Mike Diggles (6204-07)

Bar dog (020630-1606)

Retiring for a beer (020630-1610)
A bit of Diggles-family mining history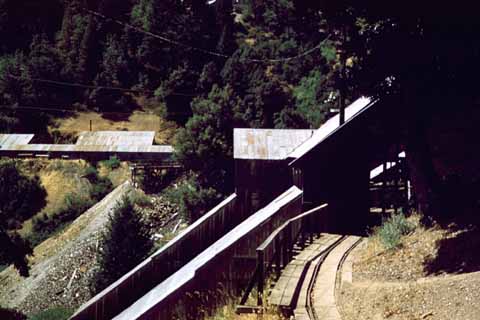 Mill at the Sixteen, photo by Bob Diggles, 1961 (6108D-28)

Cabin where the Diggles Boys lived in the 1930's, photo by Bob Diggles, 1961 (6108D-27)
11/1936 - 12/1938, Robert E. Diggles worked at the Original Sixteen To One Mine, Inc., Allegheny, Calif. Frederick W. Diggles worked there some or all of that time also.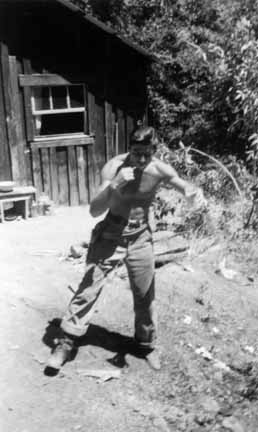 Bob Diggles, same cabin in 1938 (1938_Allegheny_cabin)

Bob Diggles going to work as the skip tender at on the 2,100-foot level, 1938 (1938_RED_in_skip-b.jpg)
---
If you want prints, just contact Mike (mike@diggles.com) with the image number (that silly-looking set of characters in the captions).
---
---
Date created: 06/30/2002
Last modified: 04/29/2003

The URL of this Web site is http://www.diggles.com/sixteen/index.html