July 14, 2001 Mt. Williamson Climb
I had a great time with Anna and Stephane over the middle weekend of July. We did most of what we planned to do on our hike. Alan didn't make it cuz he had to pay off a ticket. The other three of us took off Friday and hiked about 11 miles up nearly 6,000 feet from Owens Valley to the top of Shepherd Pass.

New! A QuickTime VR panorama from the summit

Sunrise. (0107B-01)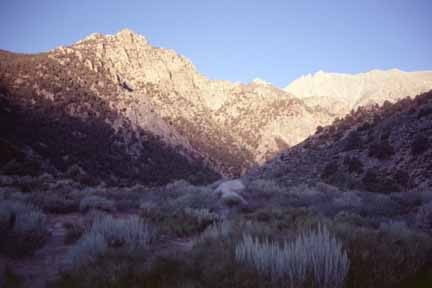 Symmes Creek. (0107B-02)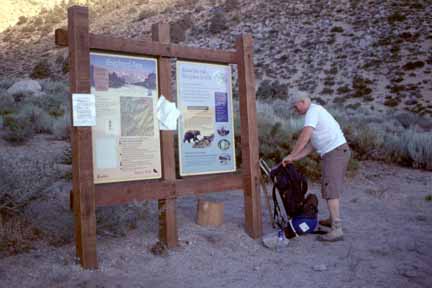 Stephane at the trailhead. (0107B-04)
We probably climbed over 6,000 feet because we had to go up, over, and down the ridge between Symmes Creek and Shepherd Creek and that duplicated at least 500 feet.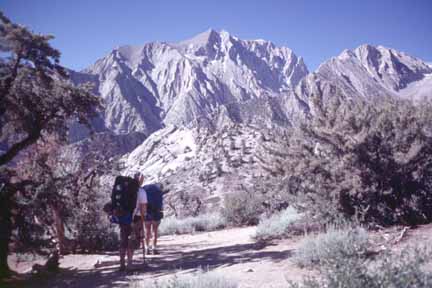 Anna and Stephane at the canyon divide. (0107B-05)

Mares tails. (0107B-08)
Stephane's body wasn't happy with the altitude; he had a bit of a constricted chest (no pulmonary edema or anything bad like that) and a headache. The next morning his breathing was fine but the headache was still no fun and didn't seem likely to go away so it seemed like a bad idea for him to go higher. We decided he could stay at that elevation if he wanted and just day-hike around or languish in camp so he did a little of both of those things. By the end of his day, the headache was still there but he did OK exploring a bit; it would have gotten worse for sure if he had added elevation so staying at 12,000 feet turned out to be a good compromise idea.

Anna at the base-camp tent. (0107B-10)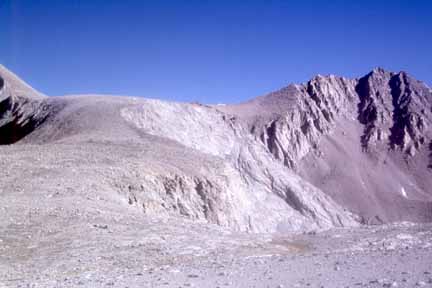 Shepherd Pass. (0107B-11)
Anna and I went on and climbed Mt. Williamson Saturday. The approach from base camp to the foot of the mountain was over all sorts of boulder fields and ridges and we blew three hours just getting to where the climbing began.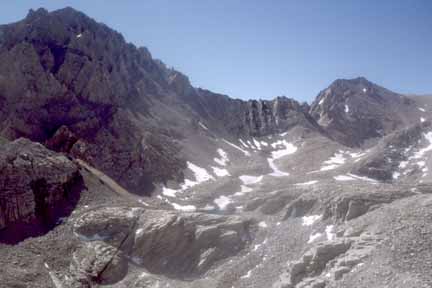 Williamson Bowl. (0107B-12)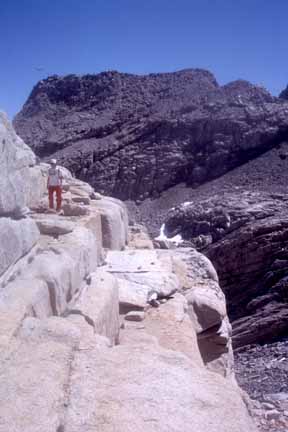 These jointed granitic blocks looked like a Mayan temple. (0107B-13)
We spent another five hours getting to the summit ridge and a fair part of that time was Anna waiting for me to catch my breath; I could have been in much better shape for this if I had my act together the last month.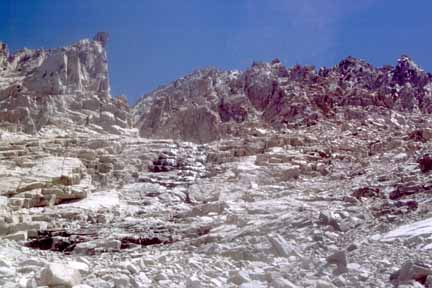 Water spot that is the landmark to start up into the notch. (0107B-14)
Just before the summit ridge, there is an upper Third Class pitch up a 60-foot chimney. It is really fun because it has a chalk stone (boulder) stuck in it half way up and you get to wiggle under it and come out on top of it and continue climbing. We took some climbing hardware for anchors and protection in case either of us wanted to use a rope on the ascent but we were both happy with the solid foot- and hand-holds so we didn't rope up. We decided that going DOWN this thing would be more difficult because you can't see where your feet should go; downclimbing is always tougher. So, since we didn't want to lug the rope past here anyhow, we rigged it by doubling it through a fixed sling at the top and I taught and demonstrated to Anna how to do a short little body rappel before we continued the climb.
Once on the summit ridge, it was a short walk to gain another 300 feet or so to the summit itself at 14,300 feet. This is the second-highest peak in California. We could see 12 other 14,000-plus-foot peaks to the north and south and only one, Mount Whitney, was above us. We could see the Palisade group to the north and even White Mountain Peak in my old thesis area to the northeast. I've been up five of those peaks; three with Daddy. Anna and I took the obligatory photo of ourselves with the self timer and lots of other shots. We signed the register; she wrote about Stephane and I wrote about Mary Jane .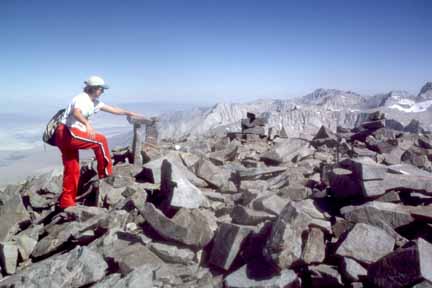 Anna summiting Mt. Williamson. (0107B-15)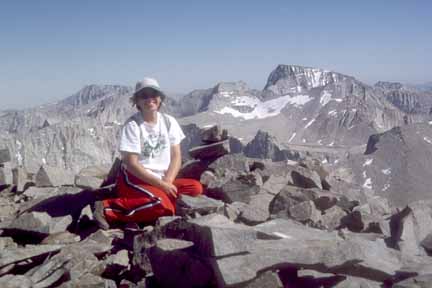 Anna with Mount Whitney in the background; the only peak in California higher than she is. (0107B-16)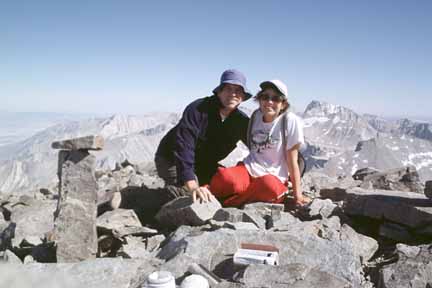 Mike and Anna on the summit; the obligatory self-timer shot. (0107B-18)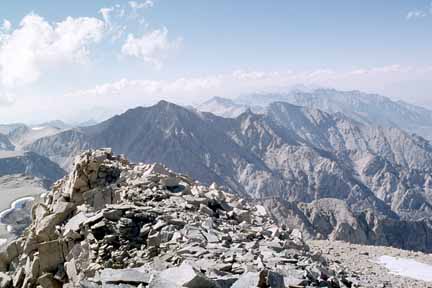 Panorama shot 1, Junction Pass, Mt. Keith (13,976'), Mt. Bradley (13,264'), Palisades (Thunderbolt Peak, 14,003'; North Pal, 14,242'; Mt. Sill, 14,153'; Polemonium Peak, 14,080'; Middle Pal, 14,012'; Split Mountain, 14,042'). I climbed North Pal and Split Mountain in 1975 with Daddy; here are summit shots of climbing North Pal, the summit of North Pal (7507B-21), and the summit of Split Mountain (7507).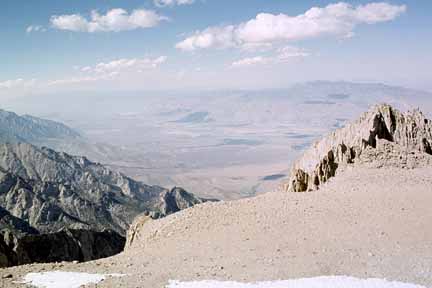 Panorama shot 2, Northern Owens Valley, Independence, White Mountain Peak (14,246') in far background. (0107B-20)

Panorama shot 3, Inyo Mountains, Mazourka Canyon, Mount Inyo (10,975'). (0107B-21)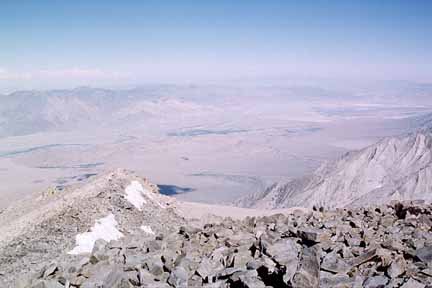 Panorama shot 4, New York Butte (10,668'), Lone Pine, Owens Lake (dry). (0107B-22)

Panorama shot 5, Mt. Langley (14,026'), Mt. Muir (14,015'), Keeler Needle (14,240'), Mount Whitney (14,495'), Mt. Russell (14,086'). (0107B-23)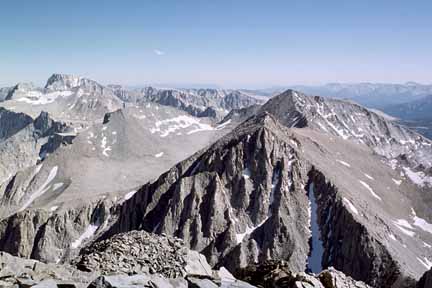 Panorama shot 6, Mount Whitney (14,495'), Mt. Russell (14,088'), Trojan Peak (13,947'), Mt Barnard (13,989'). (0107B-24)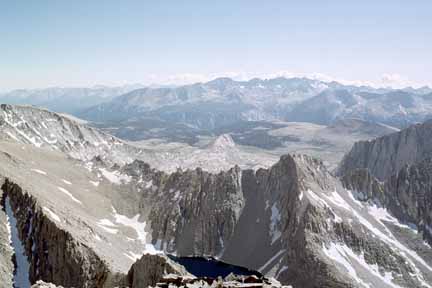 Panorama shot 7, Lake Helen of Troy, Mt. Versteeg (13,451'), Kaweahs. (0107B-25)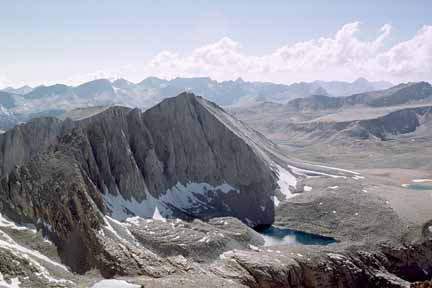 Panorama shot 8, Mt. Tyndall (14,019'), Mt. Brewer (13,570'), Diamond Mesa, Caltech Peak (13,832'). (0107B-26)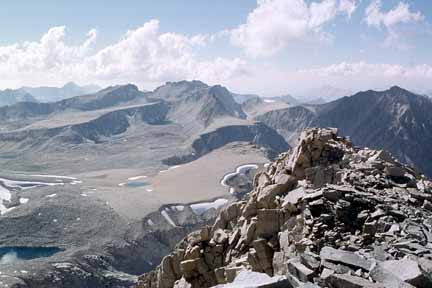 Panorama shot 9; Diamond Peak (13,126'), Shepherd Pass, Forester Pass, Junction Peak (13,845'), Junction Pass, Mt. Keith (13,976'). I climbed Junction Peak in 1968 with my friend Karen; here is a summit shot. (0107B-27)

Polemonium eximium or sky pilot; a flower that only grows above about 12,000 feet. (0107B-28)

On the way down, we practiced the rappel once more, then Anna did a rappel down to the top of the chalk stone. She crawled back under the stone and waited at the top of the rest of the chimney while I did my rappel down and across the outside of the stone just to show off to your kid. The final rope work was Anna getting to the bottom and then me being dumb and getting a little rope burn on my neck. It looks cool; Mary Jane asked me to have somebody photograph it so she can see what a studly climber I am . The rope rig worked just as advertised; we doubled it through the sling at the top so all we had to do was pull one end and the other went up, through, and fell down the sixty feet in a heap.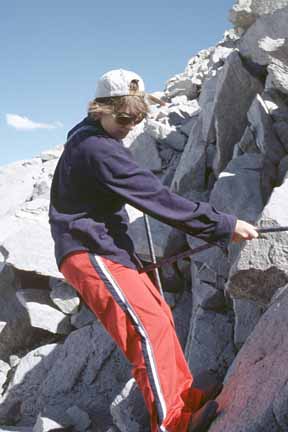 Anna rappelling; this was one of her practice rappels down the back side. (0107B-29)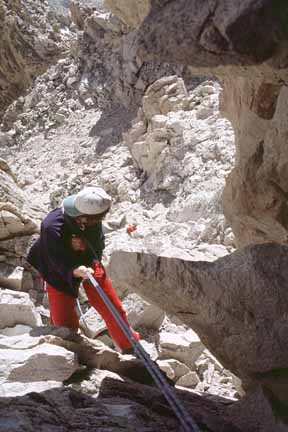 Anna descending the first half of the chimney. (0107B-30)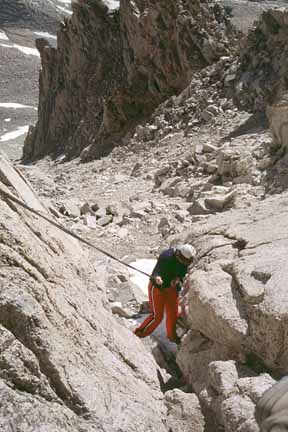 Anna descending the second half of the chimney after climbing down behind the chalkstone. (0107B-31)

Anna at the, uh... end of her rope. (0107B-32)

By now it was past 5:00 PM and we had a long way to go but breath was no longer a problem. We got down to the bottom of the mountain and still had that long approach to knock off. I'm pretty proud of myself for the next part: It turns out that there is a pair of lakes snuggled up against the west side of the bowl under Mount Tyndall and the long approach was east of them. We had been quite a ways from the lakes up on these ridges and moraines in the morning but the fact that those lakes are there at all means that no new material had fallen to their eastern side from the slopes and cliffs to the west; if it had, the lakes would have had to fill in first to mess up the east side so all we had to do is hug the east side of the lakes and we were nearly guaranteed stable rock and solid soil. We did the three-hour trip across that part in half the time. So I earned back some of the time I ate up huffing and puffing on the way up and it was a good thing too because it was getting downright dark out by the time we got to the sandy flats before the camp. We still had another mile or so to go but it was easy and we did fine and kept the flashlight off.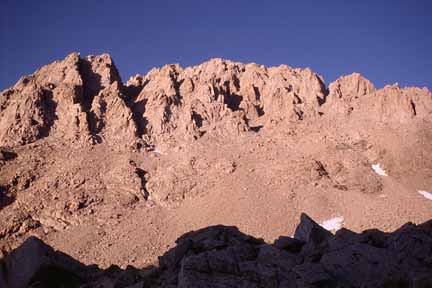 Mt. Williamson in late-afternoon alpenglow. (0107B-33)

Well, it was sure too late for us to be out and poor Stephane was worried about us. We came over the last hill hooting and hollering and flashing our light at the camps down there where our tent was pitched. Stephane had enlisted the help of some other climbers who came looking for us about 20 minutes before we would have gotten down. I was glad that we would have had help had we needed it and also glad that we didn't inconvenience those folks more than we already did. Stephane was quite happy to see us as you can imagine.

We got to sleep in a bit on the third day. We packed up our stuff and headed the 11 miles back down to the desert. We had to fill up with water at every possible creek but we never ran low and drank oodles of water on the way out. We got to the cars after about seven hours of hiking, creeks stops, lunch, and snacks. I brought a large Coleman ice chest in the car that contained 20 pounds of ice and three beers. Here we were, three days later, and there was still a tiny bit of ice, a lot of water, and the beers were still cold; what a treat!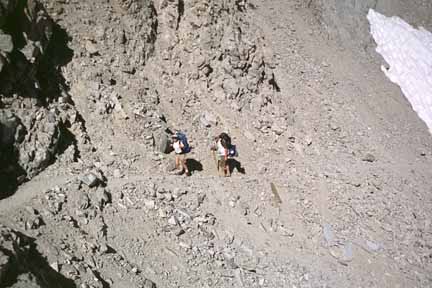 Anna and Stephane on the Shepherd-Pass trail. (0107B-34)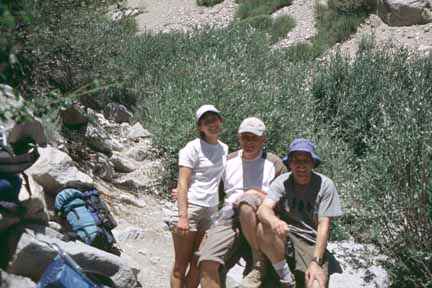 Anna, Stephane, and Mike photographed by another climber we met the day before. (0107B-35)

Well, we drove out the dirt road to Hwy. 395 after hugs and more photos. A&S headed to LA and I headed to Bishop. I got myself a cheap motel, took a quick shower, and went to a favorite restaurant of hikers and geologists: Whiskey Creek. I chowed down on a huge salad and became quite carnivorous and had a steak - all washed down with an Ansel Adams Amber Ale from Mammoth Brewing Company. I phoned the pay phone in the lodge in Montana where Mary Jane was working on her evening assignment so we got to talk and swap adventure stories (and romantic phrases). Back at my motel, clean as I was, I filled the tub and soaked my sore muscles in the hot water before bed.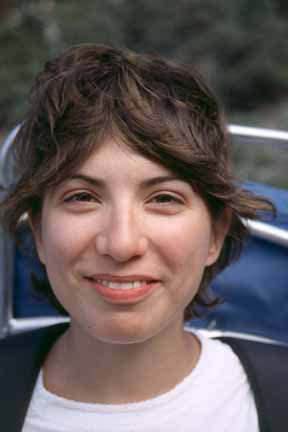 Anna. (0107B-36)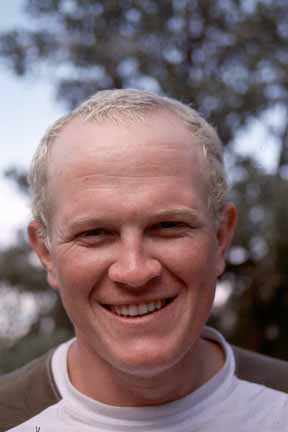 Stephane. (0107B-37)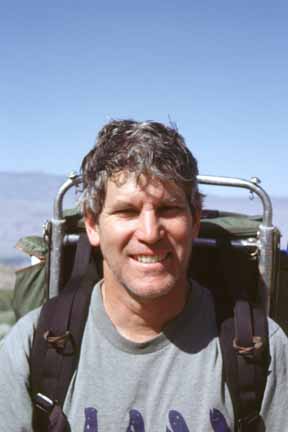 Mike. (0108A-01)

The next morning, I ran out to the White Mountain Research Station for a visit, then to Lee Vining for visits to the Mono Lake Committee's office and the Inyo National Forest ranger station, then to El Portal where I visited the fellow from Yosemite National Park for whom I published three CD-ROM's of supplements to the Environmental Impact Statement for the Yosemite Valley Plan.

Five days later and my Kelty pack is still full of clutter but at least the dirty clothes and dishes are out. I had a total blast with Anna and Stephane; you have a couple of neat kids there, Barby; keep 'em! As Daddy always said, "They know how to swim so you can't drown them; and they're too big to flush down the toilet..."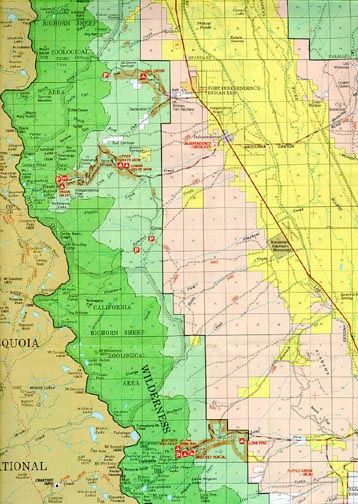 small-scale map. (fsi)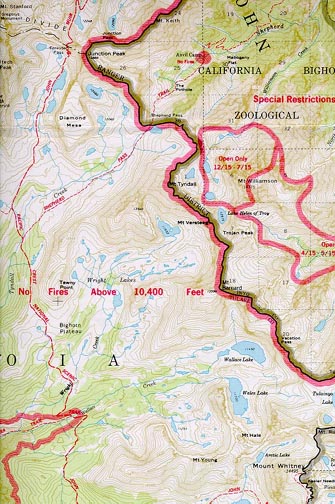 medium-scale map. (shepherd)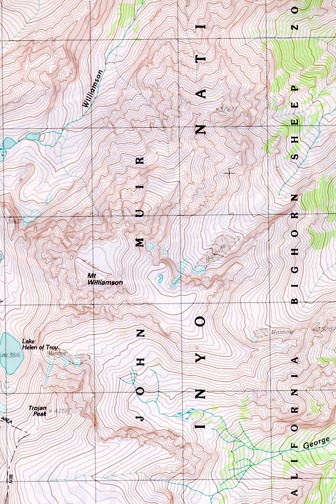 larger-scale map. (wmson)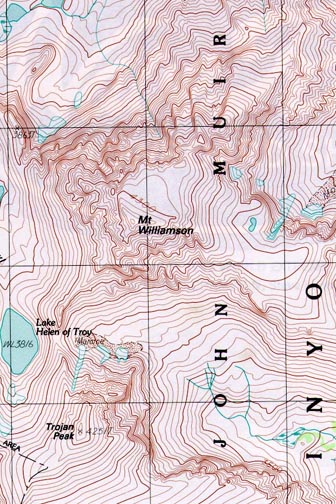 largest-scale map. (wlliamson)

Here are some extra shots from those older climbs: