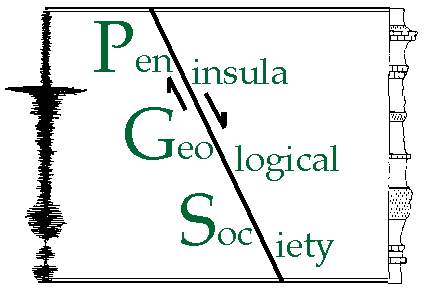 See Below, The Big Sur Field Guide revised book is here at last (May, 2001)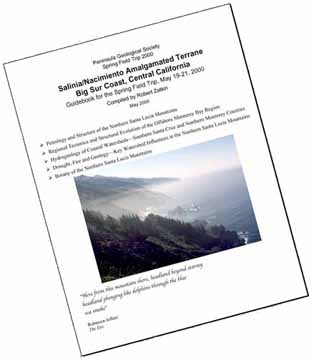 PENINSULA GEOLOGICAL SOCIETY
Field Trip
May 19, 20, and 21, 2000
Salina/Nacimento amalgamated terrane, Big Sur coast, central California
Gary Ernst, Nick Johnson, Gary Greene, Barry Hecht, and Jeff Norman, trip leaders. Robert Zatkin, organizer and guidebook compiler. Bob Coleman and Michael Diggles, graphics
To view or print PDF files on this Web server, you need Adobe Acrobat Reader which is available for free using this button:
PDF Field guide and maps
The field guide is provided as a PDF file (Adobe Reader 8.0 or higher required). This PDF contains thumbnails, bookmarks, and a hot-linked table of contents. The guidebook can be printed on standard 8½" x 11" printers. In March 2001, Robert Zatkin and Mike Diggles revised the book that was used on the trip the previous May. This new version contains 222 pages including six color sheets.
The print-version of the field guide is 169.4 MB. That used to be considered "large" but we've now (2010) put it online here. It will take people with slow connections a long time to download so if you want, contact Mike Diggles (mdiggles@usgs.gov) and he will put a copy on a CD-ROM and mail it to you. Also contact Mike if you want a paper copy.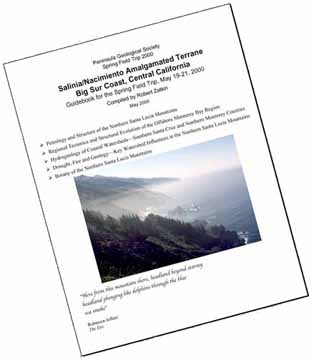 CLICK HERE for the PGS Big Sur Field Guide , high-resolution version (PGS-Big_Sur_field_guide_300.pdf, 169.4 MB).

We also made a screen version (low resolution) with high compression (low-quality) for online viewing. View the 72-dpi PGS Big Sur Field Guide (PGS-Big_Sur_field_guide72.pdf, 12.8 MB).
PDF photo album
CLICK HERE to view a photo album of the field trip. This file consists of 24 photographs in PDF form (Acrobat Reader 3.01 or higher required; PGS00-05b.pdf, 964 KB).
Related site
http://www.pelicannetwork.net/ is the Pelican Network, a site that has links to all sorts of resources along the Big Sur coast.
---
Officers: Gary Ernst, President; Mike Diggles, Vice President; Vicki Langenheim, Secretary; Janice Sellers, Treasurer

Date created: May 2, 2000
Last modified: October 11, 2010
Created by: Mike Diggles, Secretary/Webmaster, PGS.


c/o U.S. Geological Survey, MS-951, 345 Middlefield Road, Menlo Park, CA 94025. (650) 329-5404 email to mdiggles@usgs.gov
Back to PGS Home Page